---
What is luxury? To some it may be the little things
---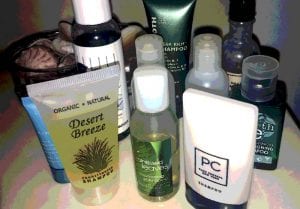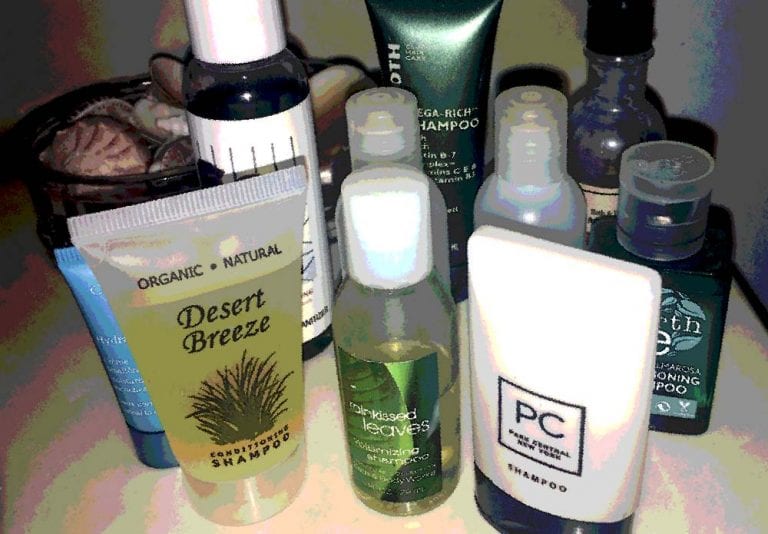 Luxury in a hotel means different things to different people. For some, it's beautiful decor. It may be room service. Incredible service sometimes spells luxury. Often it's little things, like the kind of deluxe hotel mini-toiletries we wouldn't splurge on at home.
Many travelers enjoy bringing little bottles of the lovely "potions and lotions" home. Maybe it's just having these pampering treats a little longer, maybe they want to be reminded of the trip or the hotel. (It's not just women either. A Cabinet member made headlines last year for asking his staff to get extra Ritz Carlton lotion.) Hotel mini-toiletries have a special place in many travelers' hearts and baggage.
It is hardly like stealing robes. What's the cost of a few tiny bottles?
The practice of putting shampoo, conditioner, body wash, and lotion in small bottles does contribute to waste. Plastics waste is a problem these days. So, increasingly, hotels are considering doing away with the practice, and only putting toiletries in large reusable and refillable bottles.
Recently, Intercontinental Hotels Group (IHG) announced that it will switch to bulk-size bathroom amenities in guest rooms across its entire portfolio of hotel brands, ranging from the more budget-oriented brands like Candlewood Suites and Holiday Inn Express, up to luxury brands like Intercontinental and Regent. (And Marriott has just announced their plans to follow suit by next year.)
READ ALSO: Hotel safety is still primarily on the shoulders of guests
IHG group says it would mean the removal of 200 million miniature plastic bottles per year. Now, maybe in their lower-priced brands no one will care that much, but guessing that at the higher end it will make a difference.
So here's a potential idea. Much as newspapers are now on request only at some hotels, what if IHG, particularly at their luxury level, institutes the large refillable bottles, but offers guests, on request, the chance to take a few miniature bottles of their favorite item home? Guests could request a limited number, either free or for an additional token fee.
(Some hotels already sell large bottles of bathroom amenities in their gift shops, but at very high prices. And with TSA regulations, those larger bottles are generally too big to put in carry-on luggage.)
ALSO ON TRAVELERS UNITED: How consumer advocates fight the hotel fee lobby
Can lodging chains look at other environmental savings other than hotel mini-toiletries?
Perhaps hotel chains could look at other options. Recyclable paper packets? Or, again, either on request or at a reasonable price, hotels could give guests a single reusable three-ounce bottle, and allow them to fill it with one item of their choice. (Of course, this policy COULD be abused, but guests can do that with any empty bottle.)
Clearly this is a first world problem. But I love the memories a scented item from a vacation hotel brings. This traveler can't help but think that maybe some chains should think before completely throwing the bath gel out with the bathwater.
Janice Hough is a California-based travel agent a travel blogger and a part-time comedy writer. A frequent flier herself, she's been doing battle with airlines, hotels, and other travel companies for over three decades. Besides writing for Consumer Traveler, Janice has a humor blog at Leftcoastsportsbabe.com (Warning, the political and sports humor therein does not represent the views of anyone but herself.)