---
10 tips for staying safe in hotels
---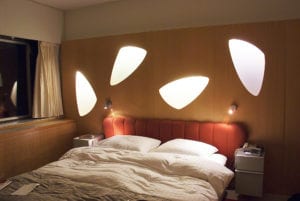 Hotel security and hotel safety have been in the news lately. Both Hilton and Disney changed their "Do Not Disturb" policy. While the new policy will help make hotel guests safer, it's still incumbent on guests to take personal responsibility for their own safety.
If you haven't heard about the new hotel safety policy at Hilton, quickly being adopted by hotels worldwide, it states that if guests don't have their room serviced for 24 hours, the hotel's management will check the room. Guests can no longer keep hotel personnel out of their room for days on end.
While they've denied the connection, it's hard to imagine the mass shooting at the Mandalay Bay Hotel in Las Vegas didn't contribute to the hotel safety change. Of course, many big hotels also have to deal with drugs, prostitution and other problems, so this change is a welcome approach.
Do not disturb vs. Room Occupied
Disney has expanded the Hilton policy. They're replacing "Do Not Disturb" signs with "Room Occupied" signs. It's a small difference, but it helps set the right tone. At Disney, housekeepers may enter occupied rooms, even with the sign displayed, but they must knock on the door and clearly identify themselves.
READ ALSO: When is a best-room-rate a scam? Plus, more hotel lies
Some guests may think they're losing privacy because of these hotel safety changes. I don't think so. My wife and I recently stayed at two hotels using a Disney-type policy. On two occasions housekeeping knocked at the door late in the morning. From behind our door, we told them we weren't ready and asked if they could come back in a half-hour. They left us alone. We were soon out the door. While out, they entered our room to both see it for inspection and clean it. When back at the hotel we put the "Do Not Disturb" sign back on the door until the next day when we left the room. We never felt the policy reduced our privacy.
Ten tips to make hotels safer
While the new "Do Not Disturb" policy helps make our stays in hotels as guests safer, we have to take a commonsense approach to enhance our own safety while traveling. I've got ten tips to help you help yourself stay safe during your hotel stays.
• If you remember to do anything during your hotel stay, this is it: Whenever you're in your room, lock the door, including deadbolts, security chains, and swinging security locks.
• Stay at hotels that utilize restricted access. I prefer hotels that require the use of room keys to call elevators and which restricts everyone to stopping only on their floor. I also prefer hotels that have one-way stairwells. They allow you to leave the hotel in an emergency, but do not permit anyone to enter any floor from the stairs.
• Don't accept a room on the ground floor.
It may be convenient, but for safety sake, it's not a good idea. These rooms are targets for thieves and others. If you're staying at a motel with doors that open directly to the outside instead of a hallway, get a room that overlooks an interior courtyard, if there is one. I no longer stay at motels with doors that lead directly outside. They're security nightmares for guests.
 Stay on floors four through six
• Many safety experts suggest staying somewhere between the fourth and sixth floors. Once you're up to the fourth floor the rooms are high enough to be difficult to break into. Most fire department ladder trucks throughout the world are able to reach to the windows on the sixth floor, so from a fire safety standpoint, you can still be saved in case of a fire emergency.
• If the personnel at the front desk announce my room number aloud when I'm picking up my key I immediately ask for a new room assignment and explain why. You don't know who's in the lobby.
At the front desk reveal as little identity as possible
• Likewise, don't announce your first name at check-in, if at all possible. Use your first name's initial, or just use a title: Mr., Ms., Mrs., Dr. Reveal as little of your identity as possible in the hotel to make it harder for a thief to impersonate you to gain access to your room. Speak quietly when discussing the room.
• Some hotels are now letting guests check in online, choose a room, set up their credit card to pay their bill, and turn their smartphone into their room key, so guests never need to go to the front desk to check in. That's a big security help, as it eliminates problematic check-ins.
• Similarly, if your hotel supplies door hangers to put in food or cleaning requests, never put your name on the hangers.
ALSO IN TRAVELERS UNITED: Timely complaints while traveling can be fixed now
Make sure window locks work
• If your room windows open, check their locks when you get to your room after check-in. If they don't work, get another room. If your room has a connecting door to the room next door, at the least make sure it has a dead bolt lock that works. Better yet, get another room.
• If any lights are out in the hallways or parking lot of your hotel, report it to hotel management and ask them to replace the lights immediately.
Travelers should be pleased that hotels are making excellent changes to improve guests' security, but it's still important for travelers to take commonsense measures to keep themselves safe.
(Image: Room at Copenhagen Radisson Blu Royal Hotel. Copyright © 2010 NSL Photography. All Rights Reserved.)
After many years working in corporate America as a chemical engineer, executive and eventually CFO of a multinational manufacturer, Ned founded a tech consulting company and later restarted NSL Photography, his photography business. Before entering the corporate world, Ned worked as a Public Health Engineer for the Philadelphia Department of Public Health. As a well known corporate, travel and wildlife photographer, Ned travels the world writing about travel and photography, as well as running photography workshops, seminars and photowalks. Visit Ned's Photography Blog and Galleries.