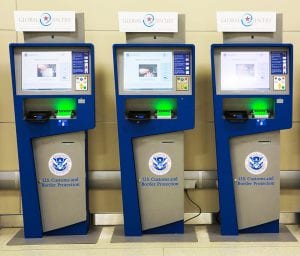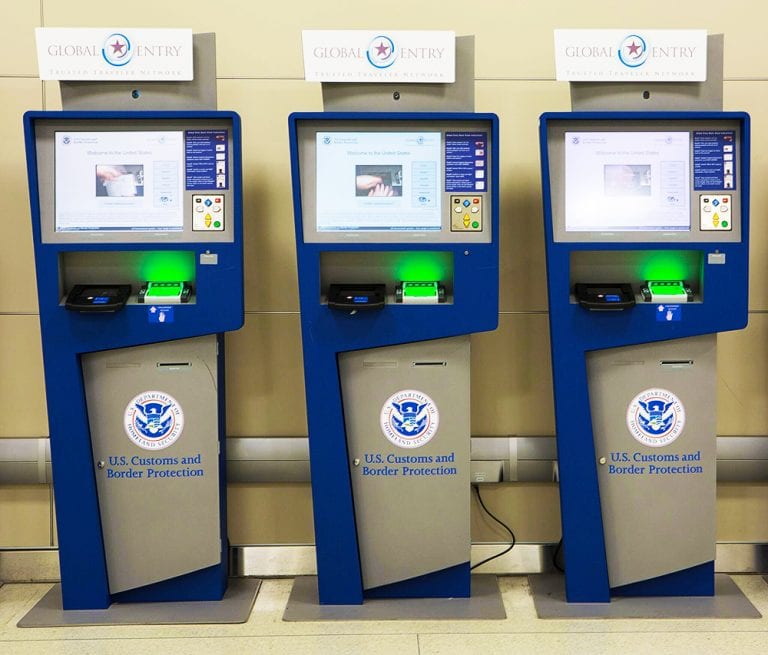 Air travel today isn't easy. For U.S. air travelers, the U.S. trusted traveler programs, PreCheck and Global Entry, can make it significantly easier.
For many, airport security has become unwieldy and is periodically very time-consuming. If you're flying internationally, returning home can be drudgery, often taking and hour or more to get through passport control and customs.
To negotiate airport security in the U.S. and for help getting through U.S. passport control and customs far more quickly and easily, PreCheck and Global Entry can be big timesavers.
What is PreCheck?
PreCheck is TSA's (Transportation Security Administration) airport security program which allows pre-vetted travelers to use expedited security lanes at more than 200 U.S. airports, traveling on airlines which have joined the program, for both U.S. domestic and departing international flights.
ALSO ON TRAVELERS RIGHTS: How to miss or get kicked off your flight
Passengers passing through Pre-Check security lines often avoid full body scanners and/or enhanced pat-downs and instead pass through metal detectors. Travelers in Pre-Check lines don't have to remove their belt, shoes, or lightweight jackets. They can keep their liquids baggie, laptops and other electronic gear in their carry-on luggage while going through x-ray inspection. With rare exceptions, PreCheck airport security lines take less time to traverse than standard lines.
If you've ever waited in the snaking, long standard lines, or like me carry a lot of electronics in your carry-on, you understand how valuable PreCheck can be.
What is Global Entry?
Global Entry is CBP's (Customs and Border Protection) expedited clearance program which allows pre-vetted travelers returning to the U.S. to use automated kiosks at many airports, instead of waiting in long lines to have passport and customs documents reviewed while answering CBP officers' questions. Global Entry members automatically qualify for TSA PreCheck.
If you've ever returned to the U.S. on an international flight and arrived at CBP passport control only to find three or four wide-body planeloads of passengers ahead of you, you know how time-consuming CBP intake can be.
After returning from Paris, years ago, and waiting behind three planeloads of passengers for an hour and twenty minutes to have CBP check my passport and customs form, I applied for Global Entry as soon as I got home.
READ ALSO: Passports — Global Entry, CBP Kiosks, Renewals by app and online
Soon after being accepted into Global Entry, I traveled to South America. Upon returning to the U.S. at Newark Liberty International Airport, I found that passengers from five wide-body aircraft were already in line at CBP. As I walked past them to the Global Entry kiosks, I was smiling from ear to ear. Within two minutes I was done at the kiosk. Within five more minutes, I got my luggage, turned in my kiosk receipt to the CBP officer and headed home.
I later found out that when I arrived at my home two hours later, some passengers on our flight were still waiting in line at CBP at the airport.
Both PreCheck and Global Entry are open to U.S. citizens and others. Check with the program to determine your eligibility. Membership in both programs lasts for five-year terms. TSA PreCheck costs $85 and Global Entry costs $100.
PreCheck or Global Entry programs essential tips:
• If you fly internationally just once every five years or so, but fly enough that you've decided to join PreCheck, seriously consider paying $15 more every five years for Global Entry. For that $3 per year difference, you'll have PreCheck privileges and be able to avoid lengthy CBP lines when returning to the U.S. from an international journey.
• If you've decided to enroll in PreCheck or Global Entry for the first time, do it now. Both programs require an in-person interview and fingerprinting. It's taking several weeks to several months to initially process applications and appointment times aren't plentiful in many locations.
• Members of either program don't automatically get to use the PreCheck security lines at the airports upon approval. If you have a frequent flier account with an airline, you'll need to enter your new trusted traveler membership number into your profile. Then, when you purchase a ticket through the airline, that number will be part of your reservation. That will tell TSA you're a PreCheck member for your flights. For existing reservations or for airlines for which you don't have an account, you need to enter your trusted traveler number for those individual flights.
• PreCheck and Global Entry renewals are currently taking months, for many members. Renew as soon as it's available; six months before expiration for PreCheck and a year for Global Entry. Your effective date of renewal will be the same no matter how early you renew.
• If you apply to renew your PreCheck or Global Entry membership before they expire, you'll be able to use either for up to a year past their expiration. If they expire before you apply to renew, you'll have to wait, possibly months, until approval, to use them again.
I recommend both of these programs
If you fly twice per year or more, I recommend either of these programs to decrease security hassles at the airport. Of those flights, if just one every five years may be international, I recommend you purchase Global Entry membership. It's worth the small extra cost.
After many years working in corporate America as a chemical engineer, executive and eventually CFO of a multinational manufacturer, Ned founded a tech consulting company and later restarted NSL Photography, his photography business. As a well known corporate, travel and wildlife photographer, Ned travels the world writing about travel and photography, as well as running photography workshops, seminars and photowalks. Visit Ned's Photography Blog and Galleries.