---
New passport programs can speed travelers through passport control — first, you need a passport!
---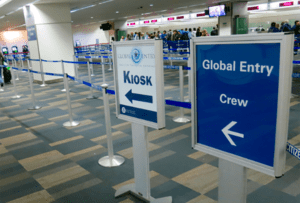 The coming post-pandemic start-up of international travel means the need for passport renewals to travel. Plus, the lack of personnel and crowded flights means the need to navigate customs and border protection in Europe or other destinations. And, when returning to the US, these passport renewal tips make reentry as painless as possible when returning from overseas.
The State Department announced that the wait time for new passports is now 18 weeks. This means that anyone who is planning to travel in the next six months should begin renewal now. They should get their materials together. No foreign travel will be possible until their new passport is issued and in their hands. Start today. Get any necessary passport renewals done for the next 12 months, at least.
1. Passport issuing times are now around 18 weeks. 
Already, it is too late to get a passport for travel this summer. So travelers should make sure that actions they can take have already been completed.
The State Department currently has an application backlog of between 1 and a half million to 2 million applications, which is "somewhat higher" than normal, Deputy Assistant Secretary for Passport Services Rachel Arndt told reporters in a news briefing.
"We as a department continue to recover from the effects of COVID-19 while we work to meet passport demand as U.S. citizens increasingly seek to travel overseas again," Arndt said. "However, the pandemic's disruptions continue to have a ripple effect on all steps of the passport process, including the amount of time it currently takes us to process a passport application."

She added: "U.S. citizens who wish to travel overseas this summer and do not currently have a

passport

may need to make alternate travel plans."
Travelers can renew their passports from home with this app available for both iPhones and Android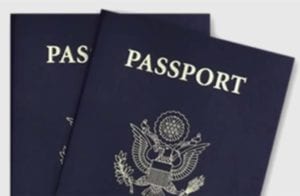 . It is registered by the US government as a safe, secure, and confidential agent. Simply send your signed application and passport to ItsEasy with the included trackable shipping label. The company will pre-check all of your documents. ItsEasy.com will submit government payment, print and attach your passport photo, and securely deliver your documents to the US State Department for processing.
Other issues cannot be completed from the app, but for passport renewals, this app will save you time.
The Automated Passport Control Program is CBP's version of self-check-in for customs operations. American and Canadian passport holders approved for Electronic System for Travel Authorizations (ESTA) and have visited the U.S. after 2008 can use the system. Upon landing at an airport where this automatic passport control is in operation (you can see the full list here), go to an available kiosk, scan your passport and fingerprints, confirm your flight information, tap in your Customs Declaration Form information, and take a photo. Travelers will receive a receipt from the machine, which they will show, along with their passport, at the check-out point.
Getting through passport control is one of the most time-consuming exercises. These two programs can be time-savers.
2. Enroll in Global Entry
Global Entry is the single best system for anyone who is planning to travel abroad. The time saved when arriving from overseas back to the US is amazing. Avoid long immigration passport lines. New flight connections come into play. These allow elite frequent fliers to stand by for earlier outgoing flights.
The steps needed for Global Entry are easy but can be time-consuming. Travelers must apply for Global Entry and pay a $100 fee for a five-year membership. After a customs and border protection (CBP) review, applicants will go through an interview. They are fingerprinted and (hopefully) be enrolled in the system.
Another big bonus for Global Entry — membership includes the TSA's PreCheck program. PreCheck members pass through their own dedicated line at US airport security checkpoints. This security system includes the ability to pass without the full-body scanner, with shoes on, and with computers left in bags. It is almost like the old days.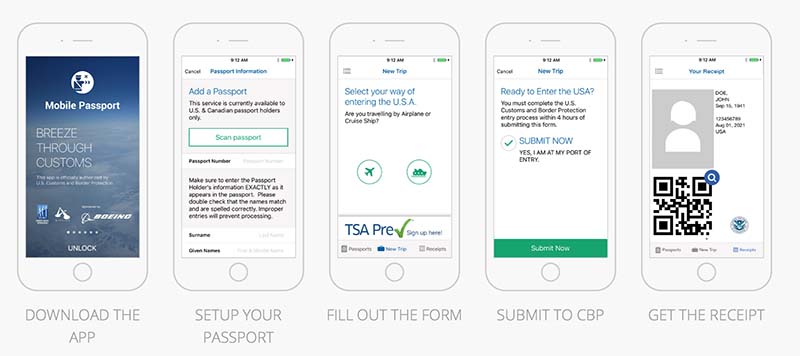 3. Sign up for Mobile Passport to help with passport US entry.
This new Mobile Passport program, based on a smartphone app, is in place at 26 airports and three cruise ports. CBP and Airport Councils International (an airport association) made this app possible.
Currently, the app works at the following airports as of the day of publication — Baltimore, Boston, Chicago, Dallas, Denver, Fort Lauderdale, Honolulu, Houston, Houston Hobby,  Kansas City, Los Angeles, Miami, Minneapolis, New York, Newark, Oakland, Orlando, Philadelphia, Phoenix, Pittsburgh, Portland, Sacramento, Salt Lake City, San Diego, San Francisco, San José, San Juan, Seattle, Tampa, Washington Dulles, and West Palm Beach. The updated list can be found on the website as well.
Upon landing, follow the Mobile Passport Control signs. Set up your profile for future trips, and use a kiosk for your reentry into the US. It is easy, private, and free.
Set up profiles for entire families that contain everyone's passport numbers and other necessary data. Answer some questions about your trip — the same questions asked today.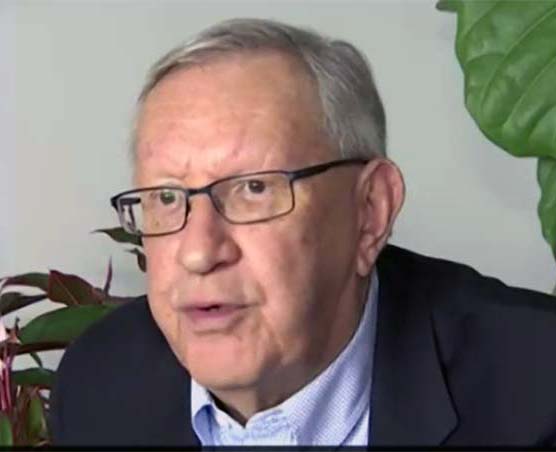 Charlie Leocha is the President of Travelers United. He has been working in Washington, DC, for the past 11 years with Congress, the Department of Transportation and industry stakeholders on travel issues. He was the first consumer representative to the Advisory Committee for Aviation Consumer Protections appointed by the Secretary of Transportation from 2012 through 2018.