---
Sometimes passengers need to get paid seat assignments
---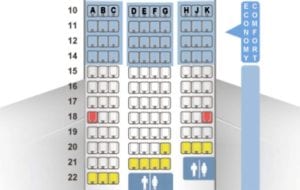 Whether you don't have status with a particular carrier, or you're just flying on a fare or an airline that doesn't allow for free seat assignments, there are times when paid seat assignments are worth it.
For many travelers, especially those who have been flying for many years, paying for seat assignments doesn't seem right. Full disclosure — I fly enough with United that usually I don't need to pay for seats. However, that doesn't help with other airlines when it comes to paid seat assignments.
Here are the 6 times passengers will really want paid seat assignments
1. When you want to sit with friends or family members.
As airlines get better and better at monetizing seats, there are fewer and fewer available at the airport. Moreover, since airlines increasingly charge for all decent seat assignments, including those without extra legroom, it increases the chances that anyone you ask to swap has paid a premium for THEIR seat.
2. When working during the flight.
Extra room doesn't just benefit your legs; it means more room for your laptop or papers. I'm 5′-3″, and while I don't need the legroom so much, it's zero fun trying to open a computer in a tightly packed seat, especially if it's not an aisle seat.
3. If you're a woman.
In this case, I might be gender biased, but my experience in having the middle seat is that however much you might assume those seated on the aisle or window might give you the armrests as a consolation, they normally don't. Plus, it does seem like the chances of being between two large people is higher than you think.
4. When you need to make a tight connection.
Or, if you want to get off the plane in a hurry. In this case, legroom might not be the only priority. Depending on how large the plane and how efficient your fellow passengers are, it can take a good 10-15 minutes to get from the back of the plane to the door. I guarantee that it will seem MUCH longer if you're worried about missing a flight or an event.
Some large planes also have two exit rows. The second exit row can be fantastic as far as space is concerned, however, it will also slow you down getting off the aircraft.
READ ALSO: Scores of passengers suffer illness on airlines
5. If you want to sleep on the plane. Possibly, this is obvious. If you don't want someone climbing over you, the ONLY option is a window seat.
6. If you know you need to get up and move around. While I've been on planes in middle or window seats where everyone cheerfully accommodates each other, I've also been and seen the situation where the person on the aisle falls asleep, and then their seatmates are trapped!
Any passenger who can't stand the idea of paying for a seat can book tickets on airlines that provide seat assignments for free. (Hint, in a few cases travel agents might have preferred deals with carriers and their agency fee might be less than you'd pay if you booked online.)
Travel these days is stressful. Travelers spend a fair number of hours in their airline seat. If they get off the plane completely miserable, or if they miss a connection, it may cost them far more than an extra fee for paid seat assignments.
Janice Hough is a California-based travel agent a travel blogger and a part-time comedy writer. A frequent flier herself, she's been doing battle with airlines, hotels, and other travel companies for over three decades. Besides writing for Travelers United, Janice has a humor blog at Leftcoastsportsbabe.com (Warning, the political and sports humor therein does not represent the views of anyone but herself.)