---
Travel insurance can be a lifesaver but not always.
---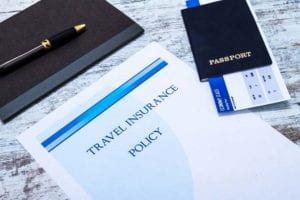 Some years ago, one of my friends was traveling on a cruise when his traveling companion had a heart attack off the coast of South America. His friend was transferred to a hospital ashore. Later, he needed to be Medevaced home to the U.S. where he went into intensive care. He eventually recovered.
Fortunately, he had medical travel insurance which included emergency evacuation.
According to a survey commissioned by the Points Guy, only 21 percent of travelers purchase travel insurance. An amazing 49 percent of travelers polled admitted to not being sure of what travel insurance covers, so it's not surprising so few people purchase it, especially considering its added cost to a trip.
From the questions I get about travel insurance, I've concluded that many travelers find the policies highly complex and therefore difficult to be sure what's covered and what's not.
To help you understand travel insurance better, here are ten potential major loss areas that travel insurance policies may or may not cover.
Natural disasters:
With the recent volcanic eruptions in Hawaii, many are asking if travel insurance will cover them if their destination closes before they leave on their trip. Most policies include natural disaster coverage. Typically volcanic eruptions are covered, however, most policies require disasters that stop you from going to your destination completely. For example, if a flood, earthquake or eruption makes a destination uninhabitable or inaccessible, you're covered. In the case of Hawaii, my understanding is that if you're scheduled to fly to the side of Hawaii's Big Island away from the eruption and want to cancel your journey, you're likely not covered as they're open for business.
Many policies won't cover natural disasters that began before the trip was purchased. If you purchase a Hawaiian vacation today, but the eruption gets worse and your flight next month is canceled due to too much volcanic ash in the air, your coverage would be likely excluded.
Dangerous activities:
While traveling, if you want to go mountaineering with ropes and/or other special equipment, hang gliding, scuba diving, snowboarding or other risky activities, and you are injured during the activities, your travel insurance policy is unlikely to cover your injuries.
Your belongings:
Most policies won't cover many valuables. Items such as contact lenses, hearing aids, securities, currency, legal papers, tickets, etc. aren't covered. Keep them with you or in carry-on baggage.
Tour operator failures to provide every contracted travel arrangement:
It happens more often than many think. Parts of trips or activities for which travelers contract and pay get canceled. Many travel insurance policies won't cover a missed part of a trip according to circumstances. It happened to me on a cruise. A side-trip to Moscow was canceled. Fortunately, the tour operator gave me a full refund. Otherwise, I would have been out of luck.
Travel to get medical treatment:
If you're traveling to obtain medical treatment, don't bother to purchase travel insurance. I know of no policy which covers travel problems incurred when traveling for that purpose.
Illegal drug use or intoxication:
Many travelers feel freed from their normal life while traveling away from home. If problems occur on a journey while intoxicated above the legal limit, for example, you won't be covered.
Pre-existing conditions:
Many policies don't cover pre-existing medical conditions. Even if your policy covers pre-existing conditions, there is generally a "lookback" period of 90 to 180 days. Simply put, the policy won't cover you during your trip for a medical condition that existed from the date you purchased the policy, "looking-back" for the defined period, if during that time the condition first occurred, got worse, became acute or if it would prompt a reasonable person to get a medical diagnosis and/or treatment. For medical conditions that haven't changed in a long time, but suddenly get worse during the trip, you would likely be covered. Typically, you need to purchase the policy within a short time of first booking any part of your trip to have this coverage.
Mental health:
Every travel insurance policy I've read won't cover mental, nervous or psychological disorders diagnosis or treatment.
Pregnancy and childbirth:
Travel insurance policies generally don't cover normal pregnancy or childbirth except for unforeseen complications of pregnancy. Some policies may not even cover pregnancy complications.
Medical evacuation:
Some policies may not cover the cost of special medical evacuation, such as by helicopter or airplane. Those that don't generally offer the coverage for an additional premium. Some policies don't cover medical evacuations home. Personally, I never travel internationally without full evacuation coverage.
NOTE: If you're a senior citizen from the U.S. using Medicare, travel insurance, or at least travel medical insurance, is essential, in my opinion, if you're traveling internationally. Medicare only covers medical problems in the U.S.
In the policy that you're considering for your next trip, there may be other coverage exclusions, in addition to the ones I've described. It's important to carefully read the text of the policy you want before you purchase it. If you're working with a quality travel agent, they should be able to assist you to get the right policy to meet your needs.
After many years working in corporate America as a chemical engineer, executive and eventually CFO of a multinational manufacturer, Ned founded a tech consulting company and later restarted NSL Photography, his photography business. Before entering the corporate world, Ned worked as a Public Health Engineer for the Philadelphia Department of Public Health. As a well known corporate, travel and wildlife photographer, Ned travels the world writing about travel and photography, as well as running photography workshops, seminars and photowalks. Visit Ned's Photography Blog and Galleries.