---
Using the British railway system — Part 2
---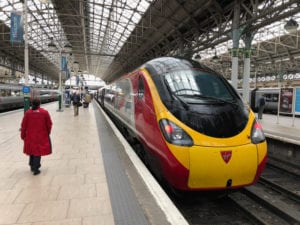 The first part of Malcolm Kenton's outline of using the British railway system explained differences between the US and UK railway systems. He explained BritRail Pass, apps to help navigate the UK system, and the makeup of the system, with many different companies blended into a single system.
This article continues with the overview of British railway system travel by explaining the UK railway ticketing process, the use of smartphones and smartwatches, how to find your train, the difference between first- and second-class tickets, and Britain's sleeper trains.
The truth about tickets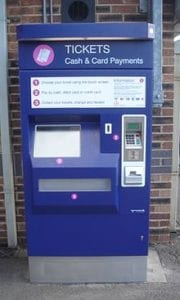 If you're not using a BritRail Pass, you will generally have to buy a separate ticket for each one-way or round-trip (single or return trip in British parlance) ticket for each ride. The vast majority of British trains have unreserved seating in both Standard and First Class, so you only need to buy a ticket valid on the date you plan to travel from your origin to your destination, and it can be used on any train run by any operator between those points, including routings requiring one or more changes of train along the way. The main exception to this is that on certain routes, generally those heavily used by commuters, you must buy the higher-priced peak ticket in order to travel on the route before 9:00 AM, but off-peak tickets are good any time after 9:00 AM. For cities and towns with more than one station, such as London, you can buy a ticket that is valid to or from any city terminal.
Most stations have ticket agents who will be happy to help you buy the right fare for your trip. But the automated ticket vending machines are well-designed and amazingly versatile, with large touch screens that guide you to the least expensive ticket for your desired origin-destination pair. There are also a number of apps, including each train operator's own app, that allow you to buy and pay for tickets on any National Rail route. Many of these apps, however, charge fees on top of the base fare, so it's best to just buy tickets at the station.
You can also pay a small fee (generally £5 to £10) atop the fare to reserve a seat on certain routes, in either First or Standard Class. You can do this on a ticket machine, with an agent or on any British rail app.
Just tap and go in London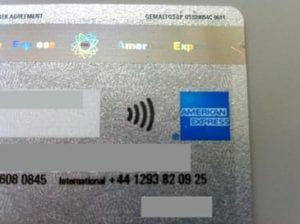 If you're just traveling within greater London — on National Rail services as well as the London Overground, London Underground, Docklands Light Railway, trams and buses — and you have a smartphone or smartwatch with contactless payment (Apple Pay, Samsung Pay, Android Pay, etc.) setup, or a contactless credit card, there's no need to buy a ticket or get an Oyster farecard (though you may want one to add to your collection). You only need to tap your phone, watch or card against the sensor at the fare gates when entering and exiting the rail system, or when boarding a bus, to pay your fare. Any US-based Visa, MasterCard or AmEx will work. Most US rail transit systems haven't yet gotten this high-tech!
This does not work throughout the British railway system. A word of caution, though: If you're taking a National Rail service to a destination more than a half hour from central London, check with a rail employee to make sure contactless payment works at the destination station. I got tripped up by this when I rode from Gatwick Airport station to Brighton and back on my last day in the UK, after spending the night at an airport hotel and before taking a late afternoon flight home (my 8-day BritRail Pass had expired). I tapped my Apple Watch to open the faregates at Gatwick, but when I got to Brighton, my watch would not open the gate. The gate monitor told me that contactless is not accepted at Brighton and that I had to go to the fare machine and buy a return (round-trip) ticket and give her the outbound ticket. I was charged £20 from the tap of my watch, a charge I would have avoided had I known that contactless wouldn't work at the other end, along with the £10.50 round-trip fare paid at the machine in Brighton.
If you plan to take a lot of transit rides on the same day in London, it may be worth buying a Day Travelcard, which can be purchased from the machine or from an agent at any Underground or Overground station. In addition to unlimited rides on the entire Transport for London rail and bus system throughout the day (after 9 AM), it also gets you discounts to attractions including the Emirates Air Line and an aerial cableway over the Thames in East London that offers magnificent panoramic views. Like a rail pass, it saves you from having to worry about the fare for each ride — just insert it in the fare gate at rail stations or show it to the driver when boarding a bus.
Finding your train
This part of the British Railway system is easy. At larger stations, there is ample electronic signage digitally displaying the current time to the second and indicating which platform each train is departing from, the departure time (expressed in 24-hour time), the stations served and the operator, along with the number of coaches (the Brits use "coach" or "carriage" instead of "car" to refer to the individual cars on a train) and whether First Class is available. Digital signs at each platform show the next, second and third trains to depart from that platform. At smaller stations with only two, three or four tracks, keep in mind that British trains, like road traffic, use left-hand running, so if you're facing north at a station on a north-south line, northbound trains will usually be on the left-hand track(s) and southbounds on the right-hand track(s). The same is true of urban rail transit systems.
Is First Class worth it?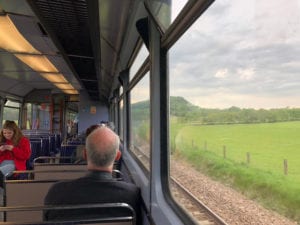 If you're paying for each British railway system trip separately, I would say it's only worth it on trips over two hours long — but these are also where the fare premium is highest. A First Class BritRail Pass entitles you to sit in the First Class section of any train in any seat that is not reserved. On shorter-distance routes that offer it, First Class only offers a slightly more comfortable seat than Standard in a quieter, generally less crowded, section of the coach. But on longer routes with separate First Class cars (particularly on Virgin Trains, the Great Western Railway or the TransPennine Express), it offers much more spacious seating, often around tables for two or four, and complimentary drinks and snacks.
Most longer-distance trains have on-board food service in the form of a cart that an employee pushes through the aisle. If you're in First Class, each time the cart passes through, you will be able to choose a complimentary non-alcoholic beverage (tea, coffee, soda, sparkling or still water) and a muffin, pastry, bag of potato chips (called 'crisps' in the UK) or the like. On Great Western, First Class passengers also get a cold sandwich, and on Virgin Trains on weekdays, First Class passengers get a hot meal along with an alcoholic beverage.
Hotels on rails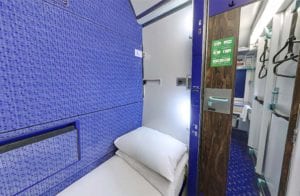 Britain's railway system has overnight sleeper trains that run every night in both directions on three routes: London-Scotland and London-Cornwall. The Caledonian Sleeper (right), an independent operator, runs from London Euston to Edinburgh and Inverness to the east and to Glasgow and Fort William to the west via the West Coast main line. The Great Western Railway operates the "Night Riviera" between London Paddington and Penzance. These trains are a great way to avoid the cost of a hotel and get in a full day of adventure at each end. Each of these offers both Standard and First Class berths. They cost the base Standard or First Class fare for the origin-destination pair plus a sleeper supplement, which varies based on demand. If you have a BritRail Pass, this covers the base fare, so you only need to pay the supplement. Be sure to reserve a sleeper well in advance if traveling on weekends or around bank holidays. You can do this on the Caledonian Sleeper or Night Riviera website (remember to only pay the supplement if you plan to use a BritRail Pass, which must be valid for both dates covered by an overnight journey that starts before midnight and ends afterwards).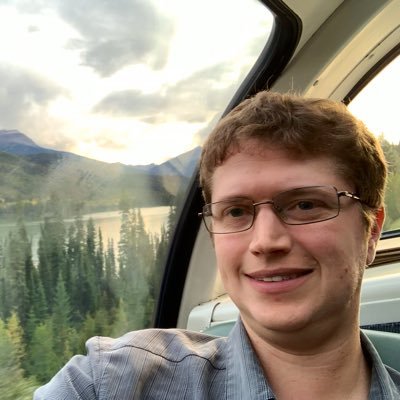 I am a writer, researcher, multimedia communications professional, and photo/videographer.
I am focused on achieving sustainable economic development and human-scaled communities through a robust multi-modal transportation system centered around a network of high-performance local, regional, and inter-regional passenger trains and frequent and reliable rail transit (streetcars, light rail, commuter rail and subways/metros).