---
Losing a credit card may mean a hotel reservation cancellation
---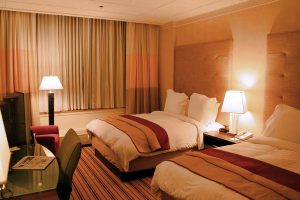 No one wants to lose a credit card or have the number stolen. However, on top of the hassle of getting it replaced, when travelers have made future hotel reservations with that card, they may find a hotel reservation cancellation.
This isn't when a deposit is charged at time of booking, charges that are already made are fine. And, in theory, with reservations that are simply guaranteed, travelers can present any card they want for payment upon arrival. In theory.
A disconcerting trend lately is that hotels are pre-authorizing the card to make sure it's valid. The results — twice this month it has resulted in my clients showing up and being told, sorry, we're full. They faced hotel reservation cancellation.
In both hotel reservation cancellation cases, clients had given me credit cards that were correct at the time we made their flight and hotel reservations. But, one had their card stolen, another lost it, so they had new numbers.
Again, in both cases, the hotel ran the card early on the day of arrival.
For the first hotel reservation cancellation, at a Holiday Inn Express in Davis, California, the hotel attempted to call our office but reached the wrong branch. Our receptionist gave the hotel the correct number, and who knows what happened after that. Perhaps they got busy. We never got called. The client showed up about 9 p.m. and the clerk said they had no room. The town was pretty full and the only option turned out to be a rundown 1-2 star property a few miles away.
In the second hotel reservation cancellation case, a Hilton Garden Inn in Stony Brook claimed they had no way to contact the client or agency, which Hilton told me was flat out wrong, as they send contact information with all bookings to the hotels directly. Again, it was late in the evening, and they refused to give the traveler a room, saying they were full. At least, in this case, there was an acceptable Holiday Inn about a mile away. (Curiously enough, he was traveling with a co-worker, who I had also booked, and she had no problem getting her room, so the hotel wasn't THAT oversold.)
It's not that hotels shouldn't be able to make sure a card is valid. We've often in the past had hotels contact us soon after booking to advise of a credit card issue, but then there's time to reach out to the traveler and get their correct card in time to keep the reservation.
Not all hotels are pre-authorizing every credit card on the day of arrival. They're doing it when they are close to full. Their defense in these cases is that they might not be able to be compensated if the person was a no-show. But personally, I've never, as a travel agent, made a booking where a person both didn't show up and had used a fake card. The properties simply want to be able to turn people away without having to compensate them.
Whether it's fair or not, the best thing for travelers to do if they have made hotel bookings in advance and their credit card number changes for any reason, is to reach out to the hotel, booking site, or your travel agent, and get a valid card to guarantee the booking. It might take a little time, but it beats being told they are potentially sleepless in Seattle, or wherever their reservation was.
Janice Hough is a California-based travel agent a travel blogger and a part-time comedy writer. A frequent flier herself, she's been doing battle with airlines, hotels, and other travel companies for over three decades. Besides writing for Travelers United, Janice has a humor blog at Leftcoastsportsbabe.com (Warning, the political and sports humor therein does not represent the views of anyone but herself.)