---
In 2020, with fewer passengers, airlines faced record complaints
---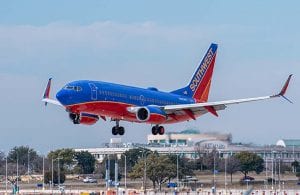 The Wall Street Journal has released its Middle Seat Scorecard 2020 best airline ranking. Southwest ranked the best. And, Delta came out the second-best. Anyone who flies often can understand these rankings. These two airlines provide the best passenger service year after year.
The worst airlines according to the ranking — United and American. During the pandemic months of 2020, these airlines were poster children for airlines that cared little for their customers. In between, Alaska Airlines and JetBlue bookended the low-cost carriers. Among the low-cost carriers, Spirit, Allegiant, and Frontier fleshed out the rankings.
Southwest has always ranked highest for customer service with passengers. In 2020 it outscored Delta in this 2020 best airline ranking
Personally, I registered pleasure at seeing Southwest Airlines at the top of the ranking. According to the WSJ's Scott McCartney:
It was the first time since 2009 that Southwest ranked first in the Scorecard. One area of improvement was baggage handling. Because Southwest offers to carry two bags for free instead of charging fees for checked bags, it carries a lot more checked baggage per person than other airlines. That has slowed baggage handling in the past.

At the end of 2019, Southwest started scanning baggage tags as other airlines do, using hand-held devices to help make sure the right bag gets on the right flight. The airline also started monitoring the health of baggage systems at its major airports to reduce outages.

Mr. Van de Ven [Southwest's chief operating officer] says the two baggage improvements moved Southwest up in baggage rankings. "It was the best baggage performance in our recorded history," he says.
Delta Air Lines through the entire pandemic period has kept the middle seat open and operated on time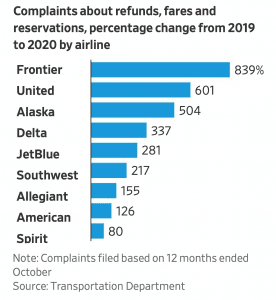 Southwest, as well, limited the load factors on all flights through November. Therefore, both Delta and Southwest effectively kept the middle seats open during this 2020 best airline period. This allowed passengers more space and the ability to social distance should they feel the need.
Delta still had the best on-time arrival rate, even though it slipped to second place in the overall rankings after three straight years on top. Remarkably, Delta bumped only five passengers in 12 months. The airline was generous with incentives to get passengers to voluntarily give up seats on overbooked flights so it didn't have to bump them against their will. One area where Delta was worst in the industry in 2020 was in two-hour tarmac delays, when planes sit off the gate with passengers onboard either waiting to take off or to arrive.
United Airlines was the bete noir when it came to refunds. This has the biggest impact on passengers and record complaints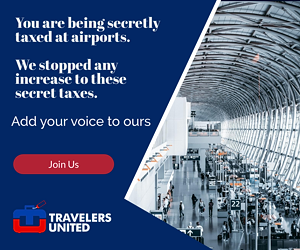 United Airlines, once it shifted into survival mode, has no mercy for its customers. It changed its refund policies retroactively at least three times. Its lawyers were certain that these illegal moves would not stand any courtroom examination. However, they abused their passengers anyway. Eventually, through an outcry from Travelers United and other major consumer organizations, the Department of Transportation (DOT) sent a memorandum to airlines "reminding" them of the law as they racked up record complaints.
The first change attempted by United was to claim that any change up to 48 hours was simply a schedule change. Of course, that did not sit well with business travelers who pay extra to be able to change flights if their morning flights are delayed and that they miss scheduled meetings. Next, United moved the delayed departures to six hours. DOT reminded the airline that the operative contract of carriage was the one in effect when tickets were purchased. Eventually, United returned their "significant" schedule change to two hours and they began to process refunds.
American Airlines had few refund complaints, but the worst bumping and mishandled baggage statistics 
In AA's case, the biggest problems found passengers denied boarding and mishandled baggage. The WSJ noted that during the pandemic AA deployed "new technology to better manage overbooking, and how many passengers it bumps from its flights." Another way to look at this is that AA is attempting to keep its planes full at the expense of passengers.
The poor record of mishandling baggage displays a problem where AA gets to provide poor service and keep their baggage fees. Again, concern for the passengers is limited to requiring them to return to the airport or wait for their checked baggage. But, the airline has no requirement to refund the baggage fees, even though AA did not deliver baggage on time.
---
READ ALSO:
FTC can stop hidden lodging fees. Why won't it?
How President Biden's call for a federal mask mandate can help stop the pandemic
Why the WSJ Airline Ranking only tells a part of the story
---
No record complaints for the poorest customer service on record
Airlines only recorded small changes to customer service in airline rankings in spite of operating up to 90 percent fewer flights. It is astounding that even with the pandemic and far less system stress, airlines cannot deliver good passenger service.
Without a focus on the passenger, the airline system will not change. And without consequences (significant enforcement fines) airline behavior will not shift. It is time that your DOT starts to focus on you when you are traveling and fines airlines when they do not follow their own rule to help you.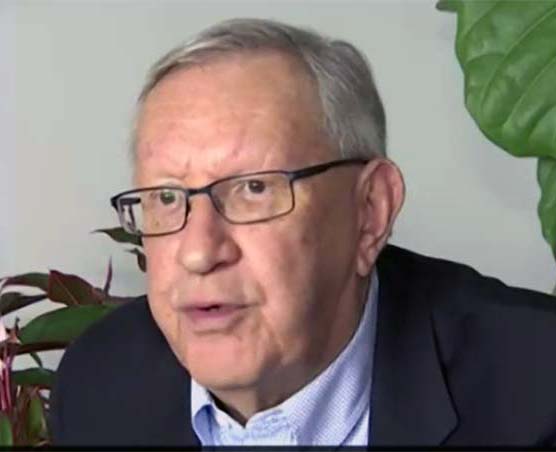 Charlie Leocha is the President of Travelers United. He has been working in Washington, DC, for the past 11 years with Congress, the Department of Transportation and industry stakeholders on travel issues. He was the first consumer representative to the Advisory Committee for Aviation Consumer Protections appointed by the Secretary of Transportation from 2012 through 2018.