Like everyone who travels often, there are specific hotel room features I consider crucial. More often than not, I can determine if a hotel has those features by checking hotel review websites, along with the hotel's own site.
Here's the list of hotel room features I look for when making a reservation:
Free hi-speed Wi-Fi Internet access:
I use Wi-Fi Internet access in my hotel room for communication with family, friends and business associates while away from home, as well as for research, news, and entertainment. Many hotels continue to charge for Wi-Fi access, while others give free slow speed access, but charge a fee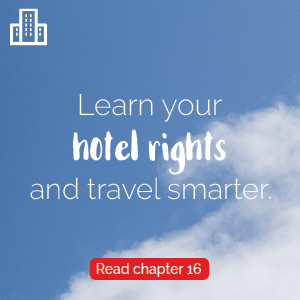 for high speed access. Some give their loyalty members, and guests who make their reservation directly with the hotel, free high speed Wi-Fi access, but charge their other guests. Like many business travelers today, I rarely stay in hotels that charge for my Wi-Fi access.
Electrical Outlets:
Years ago, when hotel room telephones were all that travelers needed to stay in touch with family, friends, and business associates, business travelers' briefcases were filled with pens, thick manila file folders and paper notebooks, not computers. Today's leisure and business travelers have laptops, tablets, smartphones, digital cameras, and all sorts of other gear needing power to operate and recharge batteries.
Unfortunately, too many new hotel rooms aren't well designed for modern guests, and too many upgraded and renovated hotel rooms, while receiving a great face-lift, got no practical upgrade.
Electrical outlets hidden behind beds and television stands just don't "cut-it," nor do outlets in the middle of walls, near no place to safely put expensive devices while they charge. Rooms need several fully available duplex outlets, easy to reach and strategically placed at desks and night tables. Guests shouldn't have to unplug lights or other electrical devices to free an outlet.
Lighting:
Some hotels, especially the mid-level variety, continue to have inadequate room lighting. They either have too few light fixtures or use light bulbs producing insufficient lumens. Last year in Morocco, I stayed in a very nice hotel, which I can't recommend, in which there were nine light fixtures in the room. Despite that, in the evening the room was dimly lighted, even with all fixtures on. None had bulbs larger than 25 watts. I used a flashlight to read while in bed.
In some hotels, having an inadequate number of outlets can affect room lighting. When lighting is already minimal, needing to unplug a light to charge a smartphone or use a laptop will make minimal lighting even worse.
Towels, lots of towels:
It's not really a room feature, but you can usually determine in reviews if the hotel you're considering skimps on leaving towels in rooms, which may and often does indicate the hotel's quality. If a room is reserved for two guests, at least four full-size bath towels should be stowed in the bathroom before the guests' arrival. Towels don't dry quickly in typical hotel rooms, so guests need a second towel to have a dry one ready for their morning shower.
Room safe:
When traveling internationally guests need a place to safely leave their passport in their hotel room. Even when traveling domestically it's important to have a safe place to leave extra cash, a second credit card, a camera, a tablet and other valuables when out of the room. I prefer room safes large enough to fit my 15" laptop, but it must be at least large enough to fit standard size tablets.
If the room safe isn't bolted down, it's worthless.
Luggage stowage:
I've been in too many rooms which have no luggage racks, and space designed to stow just one piece of luggage, despite the room being set up as a room for two. These days, many if not most travelers use a standard piece of luggage and a carry-on bag. Two travelers mean two standard bags and two carry-ons, so hotel rooms should be able to accommodate the standard bags without requiring guests to use chairs or the floor to open and use them.
Blackout curtains:
It's time for all hotels to install black-out curtains. Good looking curtains that give guests privacy but don't stop much light aren't good enough. Hotel guests need blackout curtains to block outside light at night to help guests get to sleep and block the harsh bright sun early in the morning to allow guests to sleep past dawn.
Hair Drier:
With diminished weight limits ever more stringently enforced in many parts of the world for air travelers, it's become important for hotels to provide quality hair driers.
Guest controlled air conditioning and heating:
Every time when I've been in a hotel in which I can't control my room's temperature, I've found that the hotel has set it so that I'm either freezing or sweating. Every guest should be able to control their hotel room's temperature to suit themselves.
Guests who research hotel room features carefully, in addition to their general quality, service, location and cost, will typically have a better hotel experience, as they will know what to expect and what's included in their room charge before making their reservation.
(Image: The Grand Hotel, Stockholm, Sweden – Copyright © 2016 NSL Photography. All Rights Reserved.)
After many years working in corporate America as a chemical engineer, executive and eventually CFO of a multinational manufacturer, Ned founded a tech consulting company and later restarted NSL Photography, his photography business. Before entering the corporate world, Ned worked as a Public Health Engineer for the Philadelphia Department of Public Health. As a well known corporate, travel and wildlife photographer, Ned travels the world writing about travel and photography, as well as running photography workshops, seminars and photowalks. Visit Ned's Photography Blog and Galleries.