---
Global Entry is a government program that works wonderfully
---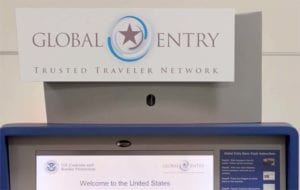 Last month, my wife and I traveled to Europe. Upon our return to the U.S., while heading to Customs and Border Protection's (CBP) passport control, we had an experience that made us believers in Global Entry.
We learned, unsurprisingly, that three other flights were arriving within 30 minutes of ours. That meant that about 1,000 international passengers were all headed to passport control within a half hour of each other. Arriving at the passport control hall we saw more than 300 passengers already in line.
My wife and I are Global Entry members. At passport control we went to the Global Entry kiosks. After a quick scan of our passports and fingerprints, then a fast photo, followed by clicking off answers to a few customs' questions (we had virtually nothing to declare), the kiosk printed our receipt. It took about a minute.
While more than 500 passengers remained queued at passport control, with more joining them every second, we walked to baggage claim.
About twenty minutes later our flight's luggage began to appear. Fewer than a dozen passengers from our flight had made it to the carousel. Most were Global Entry members like us. We got our luggage a few minutes later, turned in our kiosk receipt and headed home.
Why Enroll in Global Entry:
If you travel internationally even once per year, I believe it's worth the $100 cost to join Global Entry for five years. Eliminating the stress of waiting for an hour or more in the long snaking lines at passport control is alone worth the cost of membership. U.S. citizens, nationals, and permanent residents have the bonus of being able to use the Transportation Security Administration's (TSA) PreCheck lines, where you can keep your shoes and belt on, and your liquids, laptop, and other electronics in your bag, and rocket through TSA security checkpoints.
Global Entry eligibility:
U.S. citizens, permanent residents, and the citizens of Argentina, India, Colombia, the United Kingdom, Germany, Panama, Singapore, South Korea, Switzerland, Taiwan and Mexico are eligible for Global Entry. Canadian citizens and residents are eligible for Global Entry benefits through the NEXUS program. U.S. citizens, nationals and permanent residents are TSA PreCheck eligible. There is no minimum age requirement, but those under the age of 18 require consent from their parent or legal guardian to apply.
Prerequisites for applying for Global Entry membership:
Applicants can have:
• No convictions for any criminal offense and no pending criminal charges or outstanding warrants, including for driving under the influence;
• No violations of any customs, immigration or agriculture regulations or laws in any country. (Even being stopped at the airport, having accidentally brought in a piece of fruit from a foreign nation, can make you ineligible.);
• No ongoing investigation by any federal, state or local law enforcement agency of the applicant;
• No inadmissibility to the U.S. under immigration regulations.
Applying for Global Entry:
1. You must create an online Trusted Traveler Program account. Each person, including minors, must have a separate account.
2. Log into your account and complete the application. At the end of the application you'll be required to pay a $100 non-refundable fee. The term of the membership is five years.
3. Wait. It typically takes one to two weeks to complete the review of Global Entry applications and run a background check on the applicant. CBP sends an email to the applicant when they have completed their review and changed the applicant's status.
4. Log into your account. If you're conditionally approved, you'll be instructed to schedule an interview with CBP at a Global Entry Enrollment Center within 30 days. Most international airports have a Global Entry Enrollment Center. There are a few non-airport locations. Unfortunately, some states have no enrollment centers.
The Interview:
Bring your valid passport(s) and one other form of identification to your interview. Most people use their state driver's or non-driver's license as their second identification. If you're a lawful permanent resident, you must present your machine readable permanent resident card. Bring a print-out of your conditional approval notification letter. Present a good appearance, because CBP will take a headshot of you to be included in your file and placed on your Global Entry ID card.
Arrive at the enrollment center on time. The interview will take ten to fifteen minutes. You'll be asked a few questions. Answer them honestly. They'll electronically scan your fingerprints, take a headshot photograph, and show you how to use the Global Entry kiosk. When done, you'll get your "Known Traveler Number." You can start using it immediately for TSA PreCheck. You'll get a Global Entry ID in the mail. It's not used when you return to the U.S., but when you get it, activate it immediately. At the kiosk you only need your passport.
Even at $100 for a five-year membership, I believe Global Entry membership is a bargain for international travelers, especially because it includes TSA PreCheck for U.S. citizens, nationals and permanent residents. If you have the American Express Platinum card, the Chase Sapphire Reserve card and some other top credit cards, Global Entry is free. The cards will reimburse your membership fee.
After many years working in corporate America as a chemical engineer, executive and eventually CFO of a multinational manufacturer, Ned founded a tech consulting company and later restarted NSL Photography, his photography business. Before entering the corporate world, Ned worked as a Public Health Engineer for the Philadelphia Department of Public Health. As a well known corporate, travel and wildlife photographer, Ned travels the world writing about travel and photography, as well as running photography workshops, seminars and photowalks. Visit Ned's Photography Blog and Galleries.