---
Take a hike in parks and wildlife refuges during the COVID-19 pandemic
---
In the U.S. since March, many of us have been in lock-down or at least stuck at home much of the time. Now that we can get out of the house to a degree, we can take a hike in wildlife refuges and parks. It is a great way to exercise and relieve the stress of living through the COVID-19 pandemic.
Hiking permits exploration of the natural world and its amazing habitats, landscapes, flora, and fauna. There's something special when you personally take a hike through a field of lavender. Take a hike in the mist of a rainforest. enjoy the exhilaration of seeing a butterfly pollinating or an osprey grabbing a fish from a lake.
John Muir said, "In every walk with nature one receives far more than he seeks." He was right.
---
SEE ACCOMPANYING STORY ABOUT LOCAL CONWAY, NH,
HIKING AREAS BEING OVERRUN BY VISITORS.
BE RESPONSIBLE. MAINTAIN SOCIAL DISTANCING.
---
When you take a hike you must make changes to how you go down trails to protect yourself from contracting the virus from others
If traveling to distant hiking destinations, make health and safety decisions about transportation, accommodations, and dining. The discussion today is limited to talking about safe hiking once you've arrived at your destination.
Health and safety are always important on hikes. During the COVID-19 pandemic, it's more important than ever. Dealing with the coronavirus on hiking trails at local, state, and national parks, as well as wildlife refuges, is no different than when walking on city streets. Public health experts recommend social distancing, wearing masks, and making sure our hands are washed regularly.
Social Distancing is a key precaution
The American Hiking Society correctly points out, "Social distancing isn't just about protecting yourself, it's about protecting those at highest risk of contracting COVID-19 and succumbing to extreme symptoms."
• Going to a popular location? Consider hiking at off-peak times to avoid crowds on the trails. Times vary according to location and the sights at each location. Now that many people have returned to work, early morning or late afternoon hikes are less crowded. The same is true for hikes on weekdays compared to weekends.
• While hiking, stay at least six feet away from anyone who is not a member of your family with whom you are living. If you can distance yourself further, do it.
• While hiking, if you encounter runners, give them more space. Runners exhale more forcefully than walkers. They expel their breath's respiratory droplets much further than six feet. Scientists from Belgium and the Netherlands did a simulation study about runners and social distancing. Based on the study, increase social distancing to at least ten yards from runners, especially if you cross their slipstream.
Carefully consider hiking partners
The safest people to share a hike with are your immediate family with whom you're already living.
Going to hike with a few friends? Limit them to the same group each time you hike. For your health and safety stick with individuals who are following the same COVID-19 precautions as you are in their daily lives.
Skip carpooling. It's really impossible to properly socially distance in a car. The air in cars lingers unless the windows are wide open.
---
READ ALSO
Will the Lone Ranger learn to love his face mask?
How to travel as a pedestrian during lockdown
---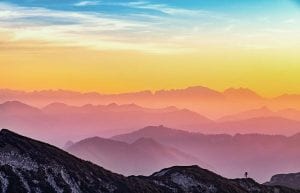 Yes, you need a face mask when you take a hike
Always bring a face mask when you hike. At this time, some locations require face masks both indoors and out. Wear it, if required. Often on popular trails in parks and wildlife refuges, there are times when it's impossible to adequately social distance. Sometimes trails are so narrow they push hikers too close to each other. When that happens, put on your mask or step aside. You have a moral responsibility to try to protect everyone around you.
There are important items to pack before you take a hike during this pandemic
Unless you can verify that facilities at your hiking destination are open, assume they're closed. If they're closed, you'll need to bring some specific items with you. In addition, unless you're going to be out for a very short time, think about something to drink and a meal, or at least a snack.
These days many have concerns about public lavatory sanitation almost everywhere. Therefore, try to avoid all public lavatories. Pack sanitizer wipes. Wipe down everything you touch. Also, pack travel toilet paper.
At this time, many restaurants are closed and those that are open are crowded with little or no social distancing. Therefore, bring snacks for hiking, and if it's a long hike, a meal. You need to have water anytime you take a hike. That remains important during the pandemic.
Don't forget to bring hand sanitizer to sanitize your hands before and after using a lavatory. Use it before you eat and before you touch your mouth, nose, or eyes at any time if you can't wash with soap and water.
Hiking is a great way to see nature in action and get good exercise, too. During the COVID-19 pandemic, we all need to take the extra precautions discussed above to stay safe and keep healthy while hiking.
---
Featured image: Adult Osprey with large fish in talons in the Heislerville Fish and Wildlife Management Area Copyright © 2017 NSL Photography. All Rights Reserved.
Hikers on narrow trail photo by Holly Mandarich on Unsplash
Mountain sunset photo by Simon Berger on Unsplash
After many years working in corporate America as a chemical engineer, executive and eventually CFO of a multinational manufacturer, Ned founded a tech consulting company and later restarted NSL Photography, his photography business. Before entering the corporate world, Ned worked as a Public Health Engineer for the Philadelphia Department of Public Health. As a well known corporate, travel and wildlife photographer, Ned travels the world writing about travel and photography, as well as running photography workshops, seminars and photowalks. Visit Ned's Photography Blog and Galleries.