Travel as a pedestrian in your own neighborhood
Amid the restrictions of quarantine, I'm sustained by my favorite form of travel — walking. It's still safe for most people to spend time outside getting exercise. And as experts affirm, the outdoors may preserve your sanity during a lockdown. When I travel as a pedestrian in my home city of Washington, DC, it's my daily salvation.
The absence of traffic is a once-in-a-lifetime boon for the urban pedestrian. There are so few cars moving in DC that some residents have 'taken to the streets' in a new way. They're walking in the street rather than on the sidewalk. It's easier than stepping off the curb to ensure social distancing. Washington's ubiquitous motorcades have all but disappeared and sirens are largely silenced. I'm intent on savoring the fresh air and quiet. It won't last.
As an urban dweller and a passionate pedestrian, I know every block of my DC neighborhood, Foggy Bottom. Or I thought I did. In the pre-COVID-19 world, I was habitually in a hurry. Walking meant a dash to catch a Metro train or to shop for groceries. Today, I'm relishing my daily escape from lockdown and discovering new treasures on foot in my neighborhood and beyond. These days, I have no destination, just the rare luxury to explore and observe something new in familiar places.
Add imagination and whimsy when you travel as a pedestrian
I live in a historic neighborhood. Across the street is the infamous Watergate building. I overlook row houses from the1800s and the campus of George Washington University. Lately, I've had the time to look beyond the familiar facades. Behind the buildings are hidden alleyways and 19th-century mews. In the absence of students, I've ambled about the innards of the GWU campus.
Behind chic row houses, I've discovered ancient carriage houses and workers' flats that are now hipster havens. Street art and historic preservation are a counterpoint to the general decay of the alleyways. I recently learned that in the 1790s the area was called "Funkstown" after Jacob Funk, the original landowner.
Neighbors on the street are scarce, but I see evidence of their activity. Spring cleaning is in high gear, judging from the curbside detritus. I marvel at small details such as the past-its-prime Christmas tree tossed along the sidewalk. Bright summer hammocks are optimistically newly-hung nearby.
Walking through the deserted quad of GWU I stopped to admire a life-sized statue of George Washington. He is seated on a bench looking dignified but approachable. On a whim, I outfitted him with an extra COVID-19 mask I had on hand, and took a photo. Passing by some days later I was elated to find George still wearing the mask. But now he also had a bouquet of fresh flowers tucked under his arm! A lone man in his own mask sat next to George on the bench. It made my day to discover that others had picked up on my whimsy.
The city's jewels devoid of tourists
The National Mall is Washington's best-known attraction and always an incredible place to walk. It stretches 1.9 miles from the Lincoln Memorial to the Capitol building, Droves of tourists, scooters, bicycles, special events, and marches create a "buzz" that is enjoyable in small doses. During the COVID-19 lockdown, the Mall is sheer paradise. As I travel as a pedestrian, I share the vast space and monuments with a sparse scattering of locals. The grass is untrammeled, every path is immaculate and no noise mars the experience of this national treasure.
I made my annual springtime pilgrimage to the gardens at the Smithsonian Castle, but sadly found them closed to visitors. Though I missed my close-up encounter with the spring flowers, I happily took photos through the gates. Continuing to the Southwest Waterfront to stroll along the Potomac Channel, I found a no-go zone. Dozens of police cars blocked every entry point to this popular waterscape. Police had cordoned off the entire area with yellow tape, and I hastily reversed my direction.
---
READ ALSO ON THE TRAVELERS UNITED BLOG:
How to take an inward journey in the COVID-19 world
Why do souvenirs bring back happy travel memories?
---
Open to pedestrians: Georgetown Waterfront and the C & O Canal
The best of city tableaus, water views, and woodlands are found along the Georgetown Waterfront and C & O Canal. The waterfront park, a former derelict parking lot, has been likened to a Joni Mitchell song in reverse: They unpaved a parking lot and put up paradise. The National Parks Service manages the waterfront park, which links to 225 miles of trails and parkland along the Potomac River.
The walkways along the waterfront are plenty wide for social distancing, and the views are panoramic. The Kennedy Center shimmers above the water. Across the river, the Rosslyn skyline rises above Roosevelt Island and is bookended by the graceful Key Bridge.  About one mile long, you needn't walk in a straight line through the park. To add an element of play, walk the park's labyrinth, follow the paths around the rain gardens, and view the granite etchings of old Georgetown near the water's edge.
After passing under the Key Bridge you can walk, hike and bike almost endlessly. The beautifully wooded 7-mile Capital Crescent Trail to Bethesda starts here. The trail runs parallel to the C&O Canal tow-path, a 184-mile-long trail where mules traditionally pulled barges of goods up and down the canal alongside the Potomac. I prefer to take my bike along these trails to cover more distance. There are numerous entry points and parking areas serving the C & O Canal in Washington, DC, and Maryland.
Out in the woods in the middle of the city
With another four weeks or more of lockdown, I've made a list of lesser-known parks and trails to visit. This past week I ticked off Battery Kemble Park. On a high ridge in the Palisades neighborhood, the park contains remnants of Civil War weaponry once intended to fire across the Potomac River into Virginia. The downward sloping trail opens into lush meadowland, with a stream running along the border. The scene is reminiscent of a romantic English landscape painting. Several idyllic picnic grounds stand in readiness. I will celebrate this place with a picnic with friends when the future permits.
Curious to explore more, I crossed through a residential area and stumbled upon the Trolley Trail. Closed over 60 years ago, this was the route of a trolley that ran from Georgetown to Glen Echo Park. Parts of the trail are in disrepair, but I followed a short stretch and made my way down the path to Maddox Branch. I found a perfect spot to rest on large flat rocks in the stream overlooking Fletcher's Cove and the Potomac River.
I'm fortunate to live within reach of so much history and beauty. On reflection, when I travel as a pedestrian, it gives me a sense of purpose and direction. Solitary moments in nature instill peace and a sense of safety. These provide me some balance in the COVID-19 world and a feeling that "all's right with the world."  Soon, I hope.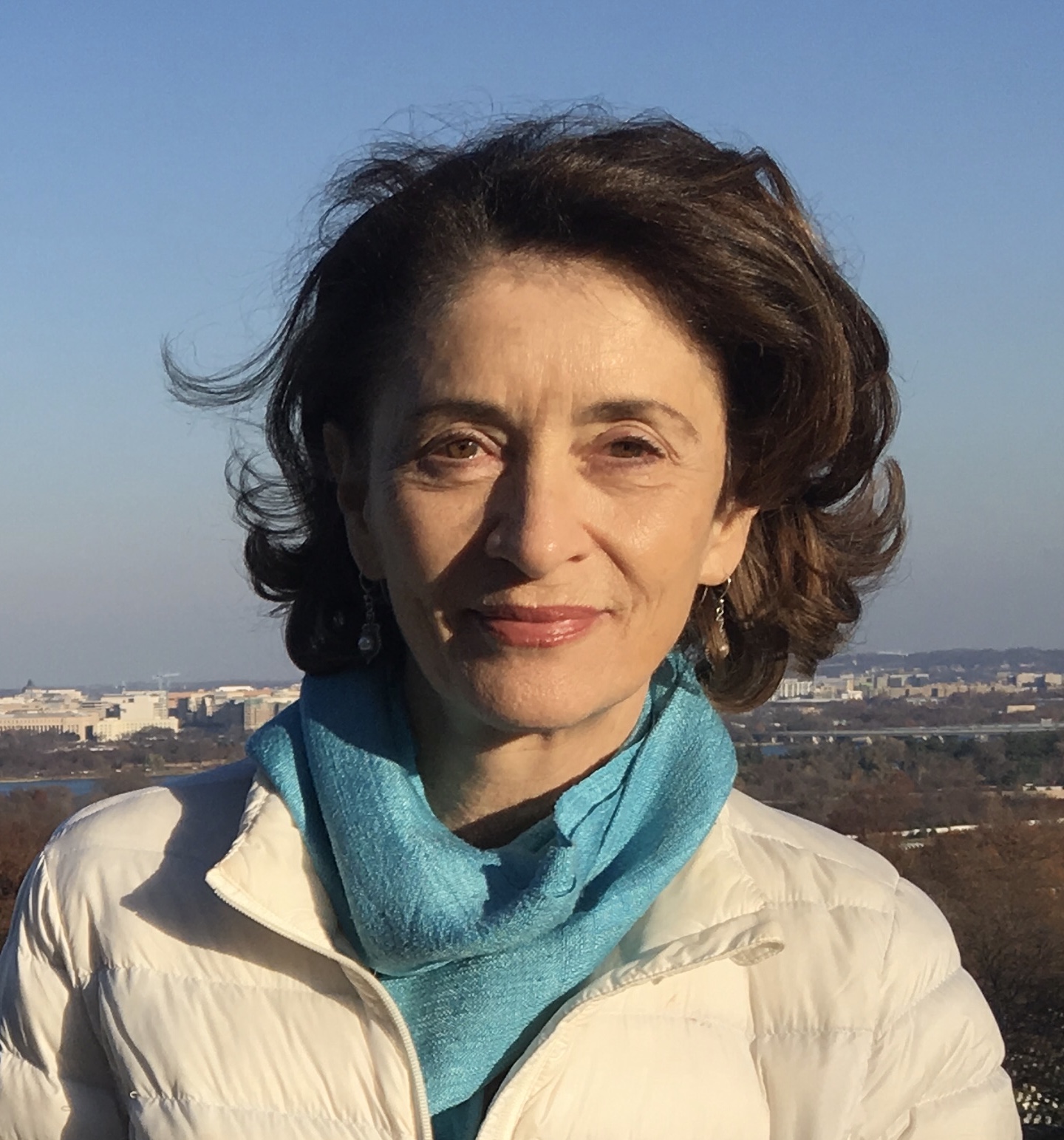 Melinda Ojermark is a global public health expert and has worked extensively in health communications.  As a career international development professional, she has lived in nine countries in Europe, Africa and Asia, bringing a unique perspective to her subject matter.  Melinda has not only been there, she's lived there.  She's based in Washington, DC.