---
Parents and the FAA should put child safety first
---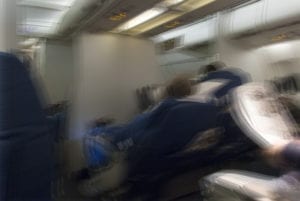 In a recent study published in Advances in Atmospheric Sciences, scientists from the University of Reading determined that severe aircraft turbulence could increase by 149 percent in the coming years, due to climate change.
While reading the article, I thought back to a recent flight I had on American Airlines on which several infants were held in their parents' arms. Had we encountered severe turbulence on the flight, those infants would likely have been seriously injured, or worse.
No one is strong enough to successfully hold a child in their arms during severe turbulence, when unrestrained passengers and crew can be catapulted around an aircraft cabin.
I've experienced severe turbulence once. That was enough. Fortunately, the captain received a report of the turbulence and directed passengers and crew to sit down and buckle up.
While no one was seriously injured, some were bloodied when overhead bin doors opened due to the turbulence. Bags and laptops flew out, some bloodying passengers and crew. Had any passengers been holding an infant, it's doubtful the child would have survived. Fortunately, there were none.
The FAA reports that in 2015, 21 passengers and crew members on US flights were badly injured due to severe turbulence. In 2016, that rose to 44 passengers and crew members. To be listed in the FAA's turbulence injury list, one's injuries must be serious and result in at least 48 hours of hospitalization.
The data for 2017 isn't yet available, but between just two flights, a United Airlines flight to Houston and an American Airlines flight to Philadelphia, nineteen passengers were hospitalized due to injuries suffered during severe turbulence.
The U.S. National Transportation Safety Board (NTSB) has recommended mandatory age and size appropriate child restraint systems for infants and young children aboard aircraft for years, after investigating accidents and severe turbulence in which unrestrained youngsters were seriously or fatally injured.
While the FAA recommends the measures outlined by the NTSB, it has remained resolute in exempting children under two so their parents can save the cost of their fares.
Many parents take advantage of the exemption, holding their infant in their laps, gambling with their child's life. While severe turbulence continues to be relatively rare, it only takes one accident or one incident of severe turbulence to lose a child.
Here's how to help keep your children safe while flying:
• Purchase a separate seat for each child:
While it adds to the cost of travel for family trips, parents should purchase a separate seat for each child, even infants.
• Use an FAA approved child safety seat (CSS) for each child under 40 pounds:
Purchase a CSS that's approved for use in both cars and planes. The FAA recommends the use of a rear-facing CSS for children weighing less than 20 pounds and a forward-facing seat for children weighing from 20 to 40 pounds. Larger children can safely use the regular airplane seat and seatbelt.
• Put children in window seats:
The FAA requires that each CSS be placed in a window seat and not in an exit row. It's a good idea to always put children in window seats because it's safer. Passengers in window seats are fully under the overhead bin and therefore less likely to be hit by bags, laptops and other gear falling out of the bins during turbulence.
• Don't seat children in an aisle seat:
Children often reach out at unexpected times. If they're on the aisle, they could be accidentally hurt by passengers and crew walking past their seat, or the service cart. It's also possible that children could be burned by hot liquids on service carts.
• Keep your children belted and/or restrained in their CSS or separate seat at all times:
All passengers should be belted or properly restrained at all times while seated in case of unexpected turbulence. While kids want to be free, parents can't permit it.
• Bring safe toys for your children:
Avoid toys that are sharp, heavy or easily broken. Stow toys when not in use. Toys can literally become missiles during severe turbulence.
• Keep your children supervised and under control at all times:
In case of problems and especially if severe turbulence hits your flight, your children will need help. They won't be able to cope on their own. Never leave them alone.
• If emergency oxygen masks deploy, put yours on first:
If the oxygen masks drop down, put yours on first so you won't be starved of oxygen and become confused or pass out. If you pass out, who's going to put on your children's masks?
It's important for parents to understand that their children's lives may literally depend on their decision about their seating on their plane flights. While it will make a vacation more expensive, and perhaps postpone some family vacations, parents should always seat their children under two years of age in their own seats in FAA approved CSS's.
It's also important for the FAA to finally turn its seating recommendations for children under two years of age into a requirement, to better ensure the safety of young children in flight.
(Image: Severe air turbulence – Copyright © 2017 NSL Photography. All Rights Reserved.)
After many years working in corporate America as a chemical engineer, executive and eventually CFO of a multinational manufacturer, Ned founded a tech consulting company and later restarted NSL Photography, his photography business. Before entering the corporate world, Ned worked as a Public Health Engineer for the Philadelphia Department of Public Health. As a well known corporate, travel and wildlife photographer, Ned travels the world writing about travel and photography, as well as running photography workshops, seminars and photowalks. Visit Ned's Photography Blog and Galleries.