---
Can preflight testing alone make travelers safe on planes and at their destinations?
---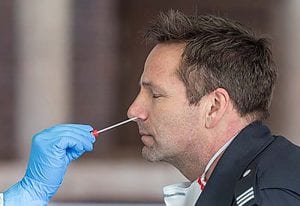 The COVID-19 pandemic continues across the globe. Some nations, U.S. states, cities, and territories are permitting travelers to avoid lengthy quarantine upon arrival by obtaining preflight virus testing.
Typically, destinations require travelers to be tested within 72 hours of their departure. If they test negative, they can travel to their destination where they can have a shortened quarantine or avoid one altogether.
Airlines, led by American Airlines' "LetsGetChecked" program ($129) and airports like Philadelphia International Airport ($70–$130) are providing preflight virus testing for air travelers. Each traveler must ascertain what the COVID-19 testing requirements are for their destination to ensure they obtain the correct test. Testing specifications vary significantly from destination to destination.
There are two questions that must be asked about preflight COVID-19 testing: Will the testing ensure air travelers' health safety while flying and, will the tests ensure the health safety of travelers and locals at travelers' destinations?
PCR and Antigen test capability, COVID incubation and how it affects testing, control the efficacy of COVID-19 testing
To answer the questions, we need to understand three issues of COVID-19 testing: test capability, COVID incubation characteristics and how the virus' incubation period affects testing.
For travelers, we only need to examine tests designed to determine if someone is actively infected with COVID-19: PCR and Antigen testing.
---
READ ALSO:
Why flight crews should all be coronavirus tested
The most important pandemic lessons learned about travel
---
PCR tests results are far more reliable than Antigen tests to determine if someone is infected with COVID-19
PCR (Polymerase chain reaction) testing looks for traces of the virus' genetic material in samples taken from noses and throats. The U.S. Centers for Disease Control and Prevention (CDC) considers PCR testing to be the "gold standard." It's the standard because it has the lowest rates of both false positives and false negatives.
Antigen tests look for proteins that live on the virus' surface. They take much less time than PCR to obtain test results, sometimes only minutes. While Antigen tests are fast, they're significantly less accurate than PCR tests.
According to how an Antigen test is run, it can produce false negatives at a rate of 30 percent higher than PCR testing. Currently, there are efforts to improve Antigen testing accuracy. But at this time, its high false-negative rate is highly problematic for determining if a traveler is actively infected with COVID-19.
While COVID-19's incubation period is two weeks, symptoms typically show about five days after the initial infection
The virus' incubation period is two weeks, but those infected with COVID-19 typically become symptomatic about five days after they're infected. Travelers who quarantine for two weeks without getting sick are safe to be with others. Travelers with false-negative COVID test results who don't quarantine will often infect many others at their destination.
For both PCR and Antigen testing, timing is the major factor influencing the tests' false positive rate and therefore whether or not they can be reliably counted upon to produce dependable results indicating if they're infected with COVID-19.
In the early days of virus infection, even PCR testing has a high false-negative test result
In the American College of Physicians' Annals of Internal Medicine (AIM), a study of false-negative rates of PCR testing of COVID-19 (SARS-CoV-2) was published in August. The purpose of the study was to "estimate the false-negative rate by day since infection."
The study estimated that during the four days of infection prior to symptoms, preflight virus testing is not reliable. On the fifth day, when most people infected with COVID-19 first have symptoms, the false-negative rate is still 38 percent. So, when someone is infected with the virus for five days and has symptoms, the "gold standard" test will only detect those infected six out of ten times.
During the course of the disease, in the first days following infection, even the best test for COVID-19 can't accurately and reliably determine if a traveler is or is not infected.
Single prefight virus testing alone can't ensure the health safety of travelers
If the traveler is early during the incubation period and asymptomatic, it's unlikely testing will detect the infection. Even on the sixth day, the false-negative rate is more than 25 percent. A single test for COVID within 72 hours of departure is too unreliable to generally ensure an air traveler's health safety.
Will the preflight virus testing ensure the health safety of travelers and locals at the travelers' destinations?
A quick answer to this question is only if it's in combination with a period of quarantine and more testing.
For destinations that allow travelers to avoid quarantine at their destination after one COVID test, the answer is clear. Preflight virus testing 72 hours before departure won't ensure air traveler safety. It won't ensure the safety of travelers or locals at the travelers' destinations.
Multiple preflight-virus testing coupled with quarantine can limit the transmission of COVID-19 by travelers
New York requires a negative COVID test within 72 hours of departure, followed by a three-day quarantine in New York. Later, a negative test for COVID on the fourth day or thereafter will officially end quarantine. The pair of tests with quarantine likely will ensure the health safety of travelers and locals at destinations.
Regardless of what travel organizations, airlines, and destinations' governments say, only preflight virus testing will not work. It can not ensure traveler safety during this pandemic, especially not a single test.
After many years working in corporate America as a chemical engineer, executive and eventually CFO of a multinational manufacturer, Ned founded a tech consulting company and later restarted NSL Photography, his photography business. Before entering the corporate world, Ned worked as a Public Health Engineer for the Philadelphia Department of Public Health. As a well known corporate, travel and wildlife photographer, Ned travels the world writing about travel and photography, as well as running photography workshops, seminars and photowalks. Visit Ned's Photography Blog and Galleries.