---
Rental car prices dropped by about 50 percent over the last months. I expect they will keep dropping.
---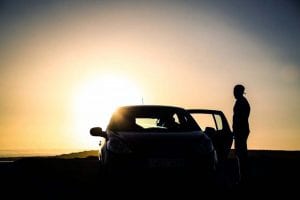 The days of rental cars costing a hundred dollars or more per day are ending. I traveled to Tampa several months ago and was faced with $110 a day rental charges when I was used to $22. Other friends paid, even more, to take a car from Denver to Laramie, Wyoming. A look ahead at the next two months shows prices around $60 a day. And, that is both domestically and for international rentals.
A friend of mine who flew to Denver this week found rental car prices still hovering around $110 a day for a trip to Wyoming. But when I started to look at an auto rental in Ireland for mid-December there were rates of only about $60 a day with no collision damage waiver (CDW) but including taxes and fees. A further check on US rentals confirmed those rates.
Who knows what changes have come to the economic equations of rental cars, but they are finally working for consumers instead of against them.
I just searched for cars in Dublin, Ireland, and Denver, Colorado. Wow! Have prices dropped!
I had not even really begun to search. But the prices that I found at Expedia, Booking, and Skyscanner.com amazed me. The low-priced car rental agents had compact cars available for almost half of what I had spent a few months ago. Even some of the major car rental companies were affordable.
These searches were performed on October 16, 2021.
Expedia.com
Expedia.com is a place that I normally check first to set a baseline for future searches. Expedia has some bargain prices, but it always has a good line on prices for the big corporate rental car companies. The search was eye-opening.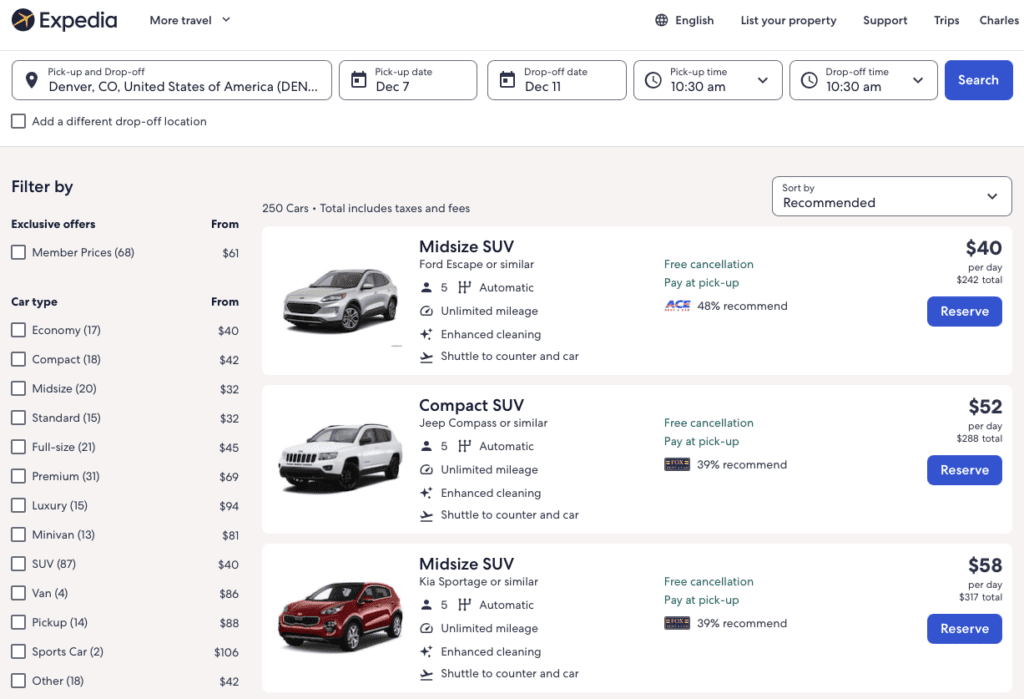 I think that all travelers will agree. However, when I searched for a car over the Thanksgiving weekend, I couldn't find one. The week after Thanksgiving again found prices near $70 a day. And, Christmas cars can't be found in many locations.
Booking.com
When I checked Booking.com for rental rates in Dublin, Ireland, I was surprised even more. Some cars were available for only $30 a day. Please note that one of these autos is from Hertz and the other from Sixt, a major German company.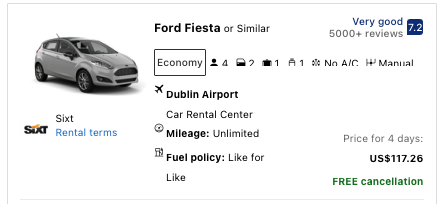 Where have all the rental car problems gone?
I believed that there was a shortage of automobiles and that rental rates would stay in the $100 a day range until the end of the first quarter of 2022. Finding cars in Europe, where rental car rates used to surpass the US prices, was even more surprising.
Plus, what happened to the shortages of computer chips for cars? I have read regularly that the shortage will continue well into the coming year. Earlier this month, USA Today reported on the continuing problems with chips and the auto supply chain.
U.S. new vehicle sales tumbled about 26 percent in September as chip shortages and other parts-supply disruptions cut into the selection on dealer lots and raised prices once again to record levels. That sent many frustrated consumers to the sidelines to wait out a shortage that has hobbled the industry since late last year.
What happened to the Perfect Rental Car Storm?
Only a week ago Road Show, a leading automobile publication, noted:
The pandemic upended supply chains in nearly every industry, and the auto industry is one of the worst affected. While automakers hoped to recover millions of lost sales incurred during the height of lockdowns and stay-at-home measures in 2020, the semiconductor chip shortage is making that impossible. And now, hopes of rectifying the silicon drought anytime soon looks highly unlikely for carmakers.
I thought that we were in the midst of a perfect storm for the auto industry. The combination of chip shortages, the smaller rental car fleets, and soaring demand had pushed some to rent U-Haul trucks in place of getting rental cars. But, the car fleets seem to be OK, except during the coming holiday season.
We will need to wait another year until the rental car rates drop another 50 percent.
For the rest of this year and most of next year, rental car prices will be higher than they were in 2019 and 2020. But the $100+/day rates seem to have passed. Now, we must wait for at least a year until the prices drop from the $50-$60 per day rates to finding $20-$30 a day vehicles in rental car lots.
---
READ ALSO:
Are a-la-carte amenity costs really resort fees in disguise?
How "YQ" carrier surcharges hurt travel industry recovery
---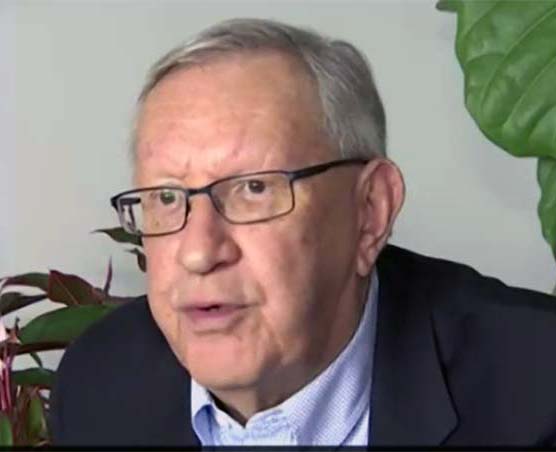 Charlie Leocha is the President of Travelers United. He has been working in Washington, DC, for the past 12 years with Congress, the Department of Transportation, and industry stakeholders on travel issues. He was the first consumer representative to the Advisory Committee for Aviation Consumer Protections appointed by the Secretary of Transportation from 2012 through 2018.