---
Keep you and your belongings safe and secure at the airport
---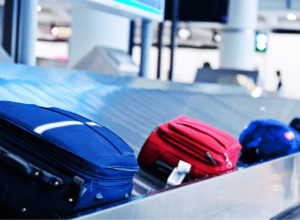 When traveling by air, you can take easy, commonsense measures to keep yourself and your belongings safe and secure. While airport emergencies are rare, they aren't unknown, but while most travelers aren't affected by thefts, they aren't rare.
Here are my top 11 tips to keep you and your belongings safe and secure when traveling by air:
Less is more:
You can easily avoid having precious belongings stolen if you don't travel with them. I always recommend that if you don't really need it, leave it at home.
Carefully pack essentials and valuables:
It's important to understand that airlines refuse liability for lost, stolen or damaged valuables and breakables. That includes cash and electronics including cameras and lenses. Moreover, you don't want to arrive without those items because they are often expensive and time consuming to replace at your destination, if they are replaceable. Pack your valuables and breakables in your carry-on and personal item.
Pay particular attention to essential belongings, such as prescription medications. If you can't stow them all in your personal item, put them in your carry-on, in a bag which you can easily remove if you're forced to gate check your carry-on.
IDs (passport when traveling internationally), credit/debit/ATM cards, cash, cellphone:
These are critical personal essentials. Their loss while traveling can cause a major hardship. Keep them on your person and protected whenever you're in transit. At airport security checkpoints you'll have to place some of them in bins or in your bags. Be careful. Never put them loose in a security line bin.
Make a list and keep it safe:
Make a list of all your IDs, credit/debit/ATM cards, valuables and breakables carried on your trip. Have all the phone numbers you need to replace and cancel your IDs and cards. Include the name, brand name, model, serial number and purchase value of valuables and breakables on your list. I include everything I take on my trips in my list and photograph everything with the bag in which the items are packed. I keep my list in my smartphone and in a file on the cloud.
Carry-on vs. checked luggage:
If you can avoid checked luggage, do so. There's no better way to prevent delayed, lost or stolen luggage and what's packed in them.
ALSO IN TRAVELERS UNITED: Passengers pay for airports now — look elsewhere for more money
Luggage tags and bag identifiers:
Don't include your home address on your luggage tags. It tells thieves your address and that your home will be empty and ripe for theft. Include your cellphone number on the tag. Put two luggage tags on each bag in case one is destroyed in-transit.
Most luggage is nondescript. To help you identify your bag quickly at the airport and to make it harder to steal, make it look significantly different than other bags, via an identifier. I have a bright ribbon tied to the top handle of my bag, plus a neon colored luggage belt around its circumference. They make it impossible to miss.
Luggage lock or seal:
I use luggage locks (TSA approved) or numbered luggage seals on my bags to secure the zippers to the extent possible and to immediately show me if the bag's been open. While neither will keep a dedicated thief out, both can send the thief to other bags that are more easily opened undetected to steal their belongings. Have a lock for your carry-on in case you must gate-check it.
Dress smart:
Wear sensible clothes in case of problems at the airport or in case of an airplane emergency. Don't wear tight clothing or clothes that are very loose that can be caught on debris. Don't wear high heels or flip flops.
At the airport:
Keep your belongings together and in your sight at all times. Try to keep everything condensed to make it easier to keep track of it.
Make sure you and your family, if traveling together, stay aware of your surroundings at all times. Make sure each knows what to do if you encounter a security threat. Don't keep your head forever buried in your tablet, laptop or smartphone. Be alert for suspicious persons or activities or if something like a bag is out of place and apparently belongs to no one. Report it to airport authorities if you see it. Trust your gut.
At airport security checkpoints:
Put loose items in your personal item, if possible, or in a bag in a zippered pocket of your clothing placed in a bin. In the security line, don't put anything loose in a bin. That way, losing small items is less likely. Don't go through the metal detector or full body scanner ahead of your belongings. Time yourself to your belongings. If you're required to put a bag through secondary inspection, ask to gather the remainder of your belongings before the inspection starts. I've never been refused that.
READ ALSO: 8 factors to help decide how early to get to the airport
While going to baggage claim:
Don't take a potty break on your way to baggage claim. You want to try to beat your bag to the carousel, so thieves don't get there first. I've not been in an airport yet that doesn't have bathrooms in or near baggage claim.
These preventative measures aren't foolproof, but if you take them, you'll help yourself minimize the safety and security problems you could encounter in the airport.
After many years working in corporate America as a chemical engineer, executive and eventually CFO of a multinational manufacturer, Ned founded a tech consulting company and later restarted NSL Photography, his photography business. Before entering the corporate world, Ned worked as a Public Health Engineer for the Philadelphia Department of Public Health. As a well known corporate, travel and wildlife photographer, Ned travels the world writing about travel and photography, as well as running photography workshops, seminars and photowalks. Visit Ned's Photography Blog and Galleries.