---
'What do you mean the Van Gogh museum is sold out?" How spontaneity might be over-rated
---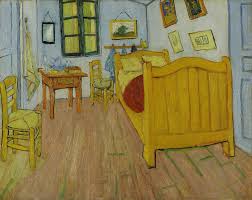 Admittedly, I'm not a millennial. Though to be honest, I've never been a big fan of generally traveling on the fly with things like booking hotels the day of arrival or choosing destinations at the last minute.
Increasingly, however, it's not just transportation itself that can be booked in advance together with event tickets and restaurant reservations, but also admission to museums and tourist attractions.
I've learned — sometimes the hard way with long lines — that places like the Tower of London and the Louvre are better seen by purchasing tickets in advance. I got lucky some years ago when our hotel in Amsterdam offered to sell us advance tickets to the Van Gogh Museum. (I thanked the front desk profusely when we got there and saw the same-day lines.)
Plus, in some cases now, same-day tickets don't even exist. We got a call from a client in Amsterdam today who said they were trying to buy tickets this weekend for that same Van Gogh museum, and it's full. Sure enough, it is, with nothing available for days. And now, the museum does not allow walk-ins without advance tickets, even if they are willing to wait.
Only last month during the Semana Santa in Seville, tickets were sold out for visiting the Alcazar. The only way that tickets were scored were from a travel agent who had two visitors who had not shown up for their tour. The travel agent sold me the tickets at the price on the tickets. Otherwise, we would have been out of luck.
READ MORE: Great travel memories — pressed between the pages of my mind
The Anne Frank museum in Amsterdam has been advance- ticketing-only for some time now, with 80 percent of tickets sold 2 months out at 12:00 pm and 20 percent on the morning of at 9:00 am. Many special exhibitions at museums around the world are done by timed tickets only, usually sold in advance, and sometimes resold online like Hamilton tickets.
In addition, while simply seeing some tourist attractions might not require advance booking, actually entering them might be a different matter — climbing the Leaning Tower of Pisa, for example.
My sense is that a list of tourist museum reservation tickets that travelers should or must buy in advance would be out of date as far as missing places as soon as it was published. But here's a small list of sites that already are on the timed or at least reserved-ticket system.
Churchill War Rooms
The Villa Borgese, Rome
Roman Colosseum
Uffizi Gallery and Accademia  (Statue of David) in Florence
African American Smithsonian Museum.
Eiffel Tower
Buckingham Palace (only open a couple of months a year)
Statue of Liberty (climbing to the top.)
The London Eye
Alcatraz
This doesn't mean you can never travel and suddenly decide to see or do something last minute. Heck, once a friend and I got impossible-to-get tickets the day of show at "Wicked" due to a snowstorm in New York. But In some cases, you might just be saving yourself a very long wait in line. Other times, you might be saving yourself missing out completely.
Travel agents can sometimes help with tickets through tour operators or hotel concierges, but not always; especially when travelers need tickets at the last minute.
ALSO BY JANICE HOUGH: 8 factors to help decide how early to get to the airport
I discussed this post with coworkers in the industry. We all remember visiting some of the sights on the above list in years past as last-minute walk-ins. But the moral of the story is: If it's a must-see on your travel list, invest a few minutes online before you go, maybe as soon as you book your trip. Make a reservation as soon as possible. Seriously.
Janice Hough is a California-based travel agent a travel blogger and a part-time comedy writer. A frequent flier herself, she's been doing battle with airlines, hotels, and other travel companies for over three decades. Besides writing for Travelers United, Janice has a humor blog at Leftcoastsportsbabe.com (Warning, the political and sports humor therein does not represent the views of anyone but herself.)