---
Check any cruise ship upgrade carefully. It may be what you really want.
---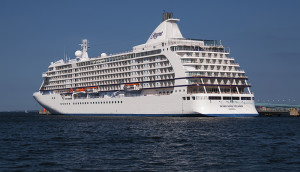 Recently, during lunch with a friend, he received a call from his travel agent telling him his cruise line was offering him the opportunity to buy a heavily discounted cabin upgrade to a stateroom with a balcony. Just before he was about to say yes, I suggested that he ask where the new cabin would be located, as I knew his wife has a tendency to get motion sickness at times.
The travel agent said that each of the available upgrades were near the bow, so he turned down the upgrade because such cabins tend to pitch more in rough seas.
Cruise lines offer two basic upgrade types, free and discounted upgrades for purchase.
It's important to understand that some cruise lines automatically assign free upgrades at their discretion. Once assigned, the upgrades are irreversible. It's possible that cabins the cruise line considers an upgrade could be seen as a downgrade by some passengers. If you're concerned that your cruise line's non-refusable free upgrade might not be satisfactory, you must tell them that you don't want a free upgrade when you book your cruise. On the other hand, you have the right to turn down discounted purchased cabin upgrades. The cruise lines can't force you to spend more.
Unless you have special circumstances, like my friend's wife, you might be thinking, "Why in the world would I refuse to get a better cabin by upgrading?"
Location, location, location
Likely, the number one reason cruisers refuse a cabin upgrade is location.
A few years ago, I heard from a reader who was upgraded to an ocean view stateroom near the bow, from a more spacious inside cabin located at mid-ship. The reader suffers from claustrophobia and occasional seasickness. Window or not, cabin square footage and a mid-ship location, in case of rough seas, was far more important to him than a window.
If you have concerns about cabin location, before upgrading, consider the following:
Today's ships have excellent stabilizer systems which dramatically reduce the ship's potential pitching and rolling. If you're susceptible to motion sickness, however, avoid a cabin near the bow, stern or on upper decks, as they have more pronounced movement when seas get rough.

Some cabins are more susceptible to outside noises than others. If you're a light sleeper or require an especially quiet cabin for any reason, don't accept a cabin upgrade above, below or near noisy public spaces such as discos, lounges, theaters, casinos, bars, pools, self-service laundry rooms, and restaurants. Avoid a cabin directly below ships' jogging tracks if you like to sleep in. Stay away from stairwells and elevators where traffic is high and people tend to congregate.
An upgrade moving you from one side of the ship to the other can be a downgrade for some passengers. For example, I know several cruisers who specifically choose a cabin on the starboard side of their cruise ship for itineraries that include New York City. They want to view and photograph the Statue of Liberty from their balcony as they enter New York Harbor.
Cabin locations can cause potential privacy issues. An upgrade to a larger cabin on a higher deck might not be considered an upgrade by many cruisers on a mega-ship if it means moving from a cabin facing the sea to a cabin facing other similar cabins across a central indoor or outdoor area of the ship. They don't want to have to keep their curtains closed to prevent passengers from peering into their cabin.
An upgrade might not have much value at any price if the new cabin has an obstructed or partially obstructed view.
Accessible cabins
Cruise ships have a limited number of wheelchair-friendly cabins. If you need this type of stateroom and have it booked, opt out of free, non-refusable upgrades as they are unlikely to also be an accessible cabin.
Travel with family and friends
If you're traveling with family and friends and have arranged to have everyone's rooms next to or close to each other, an upgrade of just one room can totally upset those plans.
Lost perks and promotional offers
Sometimes when passengers upgrade their cabin, the cruise line considers it a rebooking. If that happens, the upgrade could trigger the loss of any promotional offers attached to the original cabin booking, such as a free beverage package. That could make an inexpensive or free upgrade a costly change.
Some cruise lines don't give upgraded cabin passengers all the perks that normally come with the new cabin. Before you upgrade, ask questions about promotions you already have paid for and what perks come with your new cabin. Be sure of what your upgrade includes and if you're losing anything from the original booking.
Sometimes an upgrade isn't an upgrade
If you're purchasing a discounted upgrade, weigh its cost versus its value to you. The upgrade may be too expensive.
Free cabin upgrades can literally lessen the overall value of your cruise. When you book your cruise, be sure you can turn down a free upgrade and that you have at least 72 hours to do so. If that's not possible, consider opting out of free upgrades. Sometimes a free upgrade isn't worth its cost.
(Image: Regent Seven Seas Cruises Voyager, docked at Tallinn, Estonia, Copyright © 2014 NSL Photography. All Rights Reserved.)
After many years working in corporate America as a chemical engineer, executive and eventually CFO of a multinational manufacturer, Ned founded a tech consulting company and later restarted NSL Photography, his photography business. As a well known corporate, travel and wildlife photographer, Ned travels the world writing about travel and photography, as well as running photography workshops, seminars and photowalks. Visit Ned's Photography Blog and Galleries.