---
Smartphones store COVID tests and a vaccine passport required for many destinations across the globe and more.
---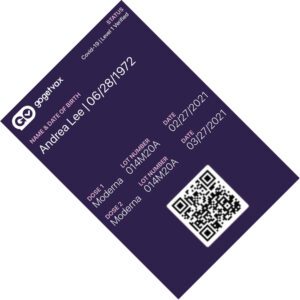 Despite increasing COVID-19 infection rates, particularly in areas populated with vaccine-hesitant residents, many pandemic travel restrictions are being lifted for fully vaccinated travelers. A vaccine passport is more important than ever
A vaccine passport app is available for free — use it
There is now a vaccination certification or vaccine passport that be used for free. It is GoGetVax.com/vaxyes. Download it for free until the end of July and get certified if you are fully vaccinated. Present your digital certificate as needed, anywhere. Use your digital vaccine certificate to present for travel, concerts, restaurants, or any place requesting proof of vaccination.
Fully vaccinated travelers who have made wise destination decisions can use many free apps to make travel safer. If they are prepared to take extra precautions, relatively safe domestic and international travel is possible, at this time.
The COVID pandemic still rages. I highly recommend that travelers use a smartphone as a powerful travel tool while away from home. Smartphones are more than communication devices. They're computers more powerful than the most famous supercomputer, IBM's "Deep Blue." That's the one that beat Garry Kasparov in their historic chess showdown.
Smartphones are capable of running diverse applications to help travelers. They can provide vaccine passports. Plus, they help with trip planning, making reservations, and paying bills safely. In addition, there are apps that translate foreign languages, unlock hotel room doors, and much more.
The vaccination certification is free and together with these eight free apps make travel easier. 
Here are my top eight free travel apps and travel app types to assist you during these difficult times.
TripIt (iOS, Android – Free, TripIt Pro upgrade if desired at $49/year)
While spontaneous choices can be a lot of fun, typically we have to plan much of our trips in advance. TripIt is the best and most comprehensive travel planner I've found. Recently, TripIt's added detailed information about vaccination rates and requirements, exemptions for vaccinated travelers, and other COVID-19 travel guidance.
QR Code Readers (Built-in)
Today, QR Codes are everywhere, particularly in restaurants, museums, WiFi authentication, shopping, links to directions for specific locations, etc. Just this past weekend I used my smartphone QR reader to see the menu at two restaurants and get location information for a couple of museums.
OpenTable (iOS, Android – Free)
This dining reservation service continues to be the leader. You can book a reservation at more than 50,000 restaurants around the world in just a few moments and earn dining rewards to use to pay for future meals. You can search for new restaurants using the detailed reviews provided. After booking, you can send your reservation details to friends and family who will be dining with you. I use it at home and while traveling.
Mobile payment and digital wallet apps permit credit and debit card use that's safer than using cards directly.
Smartphone Mobile Payment and Digital Wallet Apps (Built-in)
Mobile payment and digital wallet apps have multiple uses for travelers. If you haven't used them for payments, I don't know what you're waiting for. You can store your credit and debit cards in them. When you pay using the app, your card's information isn't sent to the vendor. In its place, a transaction code is sent. That way, if the vendor's (store, restaurant, hotel, etc.) payment database is breached by hackers, your personal financial information isn't at risk. I rarely use my credit cards directly anymore. Instead, I use them via my smartphone's mobile payment system wherever accepted.
The digital wallet part of these apps is great for travelers. On my trip last week I stored my airline boarding passes, airport parking pass, and museum and theater tickets in it. I even have a digital COVID-19 vaccination certificate stored in my digital wallet. It's convenient and easy to use.
Use your smartphone as a hotel room key that never becomes demagnetized.
Hotel apps (Free)
If there's a hotel app for the hotel(s) I'm staying at during my journeys, I load it on to my smartphone. This past weekend I used the hotel app for our hotel as the key for our room. I used it to order from room service, get towels and soap from housekeeping and call front desk for some needed help. Using the app made our stay much easier.
HealthPass apps for COVID (Normally Free)
If you're traveling internationally or perhaps to Hawaii, smartphone apps like VeriFly or Clear will greatly help you with your COVID-19 screening, so you can happily enter and visit your destination. VeriFly, for example, is the health passport app used by American Airlines, Aer Lingus, British Airways, Iberia and Japan Airlines. Travelers upload their necessary COVID-19 test or vaccination documents to the app. According to American Airlines, passengers who get preapproved by using VeriFly don't need to interact with their agent before boarding their flight.
AppleMaps and GoogleMaps (Built-in)
If you have a smartphone already, you know how easy it is to find important points of interest, restaurants, museums, or your way back to your hotel using mapping apps. It can also help you find the nearest ATM, subway stop, parking lot, etc. While paper maps still work, it's far easier to type in your destination and follow the smartphone's calculated route when walking, riding or driving.
Airline apps let you digitally store your boarding pass in your smartphone together with your vaccine certification.
Airline apps (Free)
If you're flying, get your airline's app. With it you can check in, choose seats, and keep up to date with flight times, gate locations, lounge locations etc. The app will also act as your boarding pass.
In addition to these apps, there are a myriad of other apps which can help you make your journeys easier and better. There are translation apps and currency converter apps for international travel. For traveling anywhere there are taxi dispatch apps, ride sharing apps, GPS apps for driving which include traffic information, airport and airport security apps and much more.
If you've hesitated to get a smartphone because you questioned their usefulness, I assure you there is no travel tool likely to enhance your journeys or make them easier than a smartphone.
---
READ ALSO:
Allow comparison of airline prices and ancillary fees across airlines
DOT rulemaking 20 years late — Fliers don't pay for what they don't get
---
After many years working in corporate America as a chemical engineer, executive and eventually CFO of a multinational manufacturer, Ned founded a tech consulting company and later restarted NSL Photography, his photography business. Before entering the corporate world, Ned worked as a Public Health Engineer for the Philadelphia Department of Public Health. As a well known corporate, travel and wildlife photographer, Ned travels the world writing about travel and photography, as well as running photography workshops, seminars and photowalks. Visit Ned's Photography Blog and Galleries.