Passengers want complete airline travel costs — airfares plus extra fees
---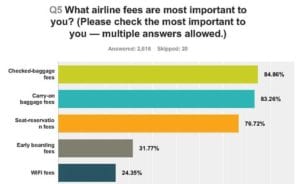 Airlines are lobbying Congress to use the Congressional Review Act to roll back recent consumer protections. If Congress acts against their constituents, their "review" actions will stop the current development of rules that are aimed at providing passengers the full price of travel so that they can comparison shop.
There are few things that airlines fear more than a free market in airline tickets. They have successfully defended the current program that keeps extra fees and their rules out of airline prices. Travelers can only see airfares. Then, fees are tacked on later with no consumer recourse.
In a poll conducted by Travelers United in response to requests from the Department of Transportation (DOT) Notice of Proposed Rulemaking (NPRM), more than 2,600 consumers dramatically responded loud and clear, "Tell us how much it costs!" Passengers want disclosure of airline fees like baggage fees, seat reservation fees, cancellation and change fees.
Airlines are loath to provide this basic fee information so that passengers can compare fees across airlines. Airlines love ignorant passengers and want to keep them that way. When flyers cannot comparison shop, the free market cannot work.
The poll was distributed to this blog, sent to be distributed to readers of other travel blogs like JohnnyJet, Bootsnall, GoNomad.com, wanderlustandlipstick, hobotraveler.com, perceptivetravel.com; tweeted out daily for two weeks; boosted on Facebook to another 50,000+ Facebook users between the ages of 25 and 55 who have traveled in the past year, and the survey was spread through word of mouth.
More than 2,600+ travelers responded. Once we hit about 800 respondents, the survey answers didn't vary much. The biggest changes were in the makeup of the demographics of the surveys. We started out skewing to an older audience and then shifted to a younger group of travelers when the Facebook results were tabulated.
All age groups follow similar patterns in their answers within 2-3 percentage points. The answers were amazingly consistent. Travelers want to know how much their trip will cost. They want to be able to compare complete prices of airline transportation while planning travel and when purchasing travel.
The questions were created from suggestions included in DOT's Transparency of Airline Fees and Other Consumer Protection Issues NPRM. This poll was submitted to DOT as one of the comments on the rulemaking that is still in limbo. After more than three years of comments, DOT wants more.
The airlines want to make the entire passenger protection rulemaking go away. They are actively lobbying on The Hill to eliminate new consumer protection rules that will provide more clarity and make aviation statistics more understandable to the public. Airlines are asking that Congress use the Congressional Review Act to stop the free market that depends on information transparency.
---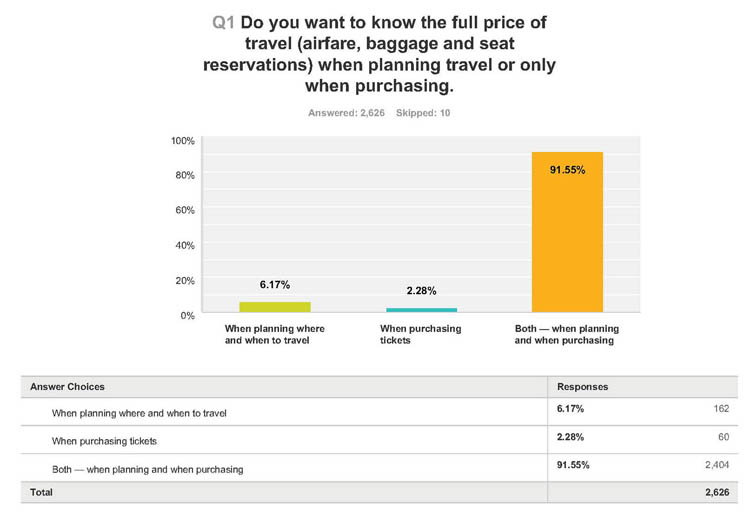 ---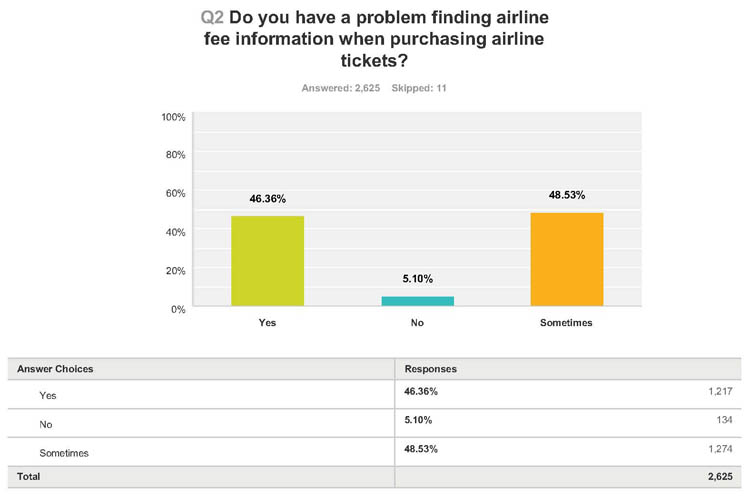 ---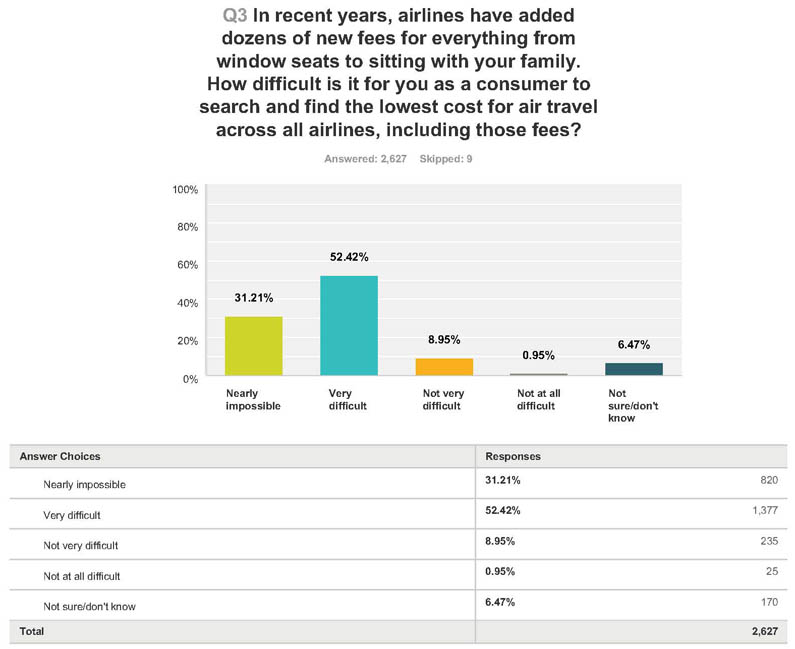 ---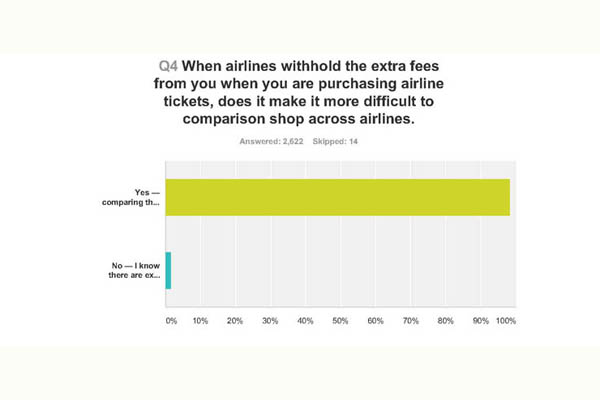 ---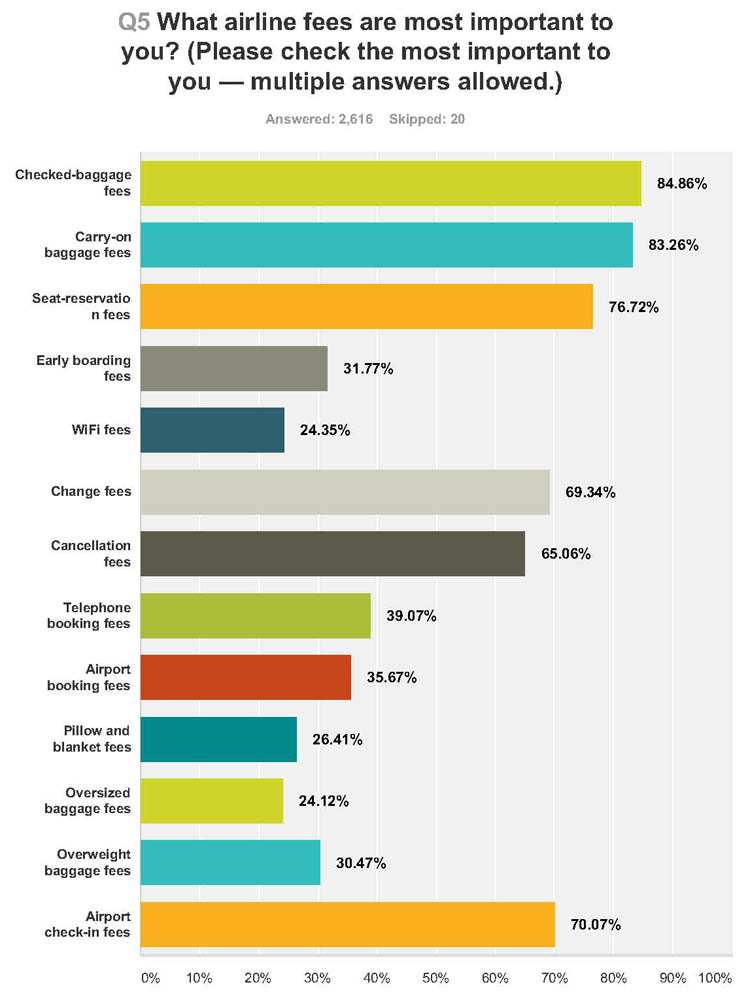 ---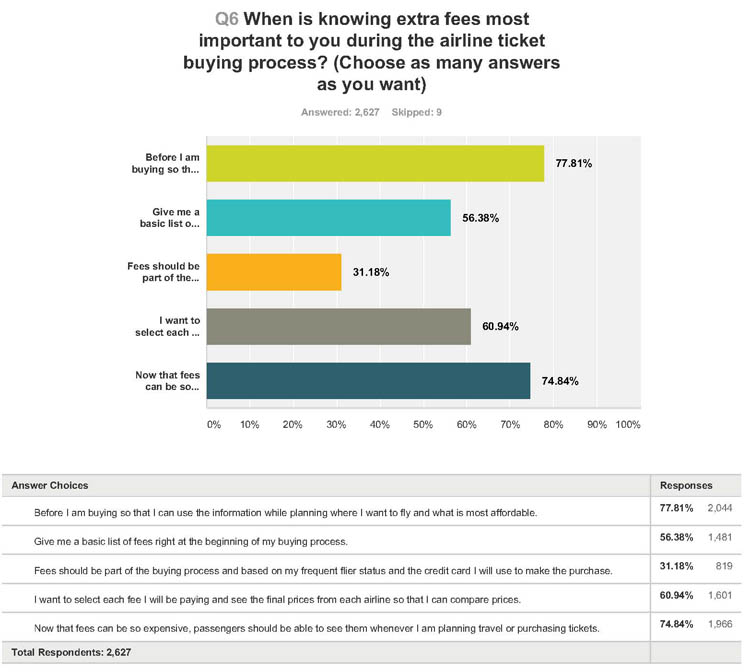 ---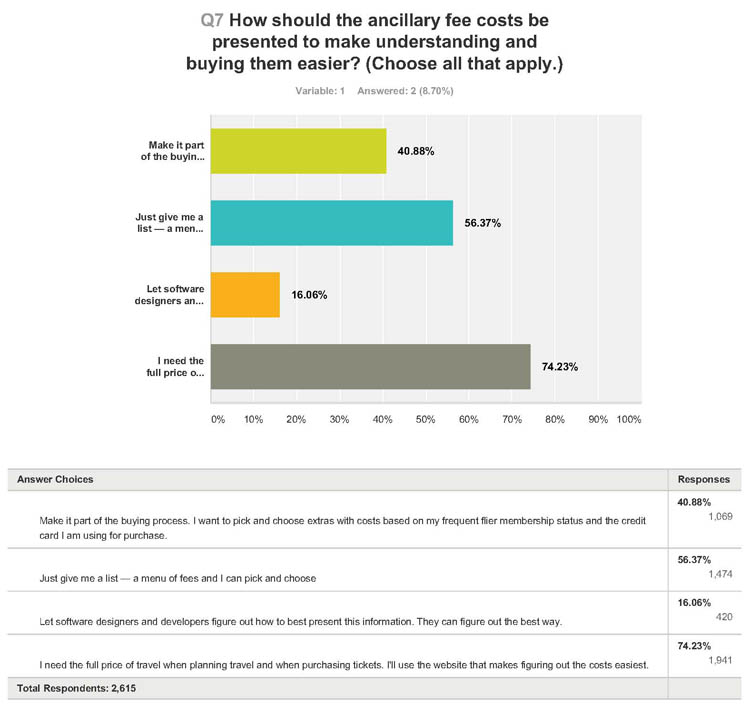 ---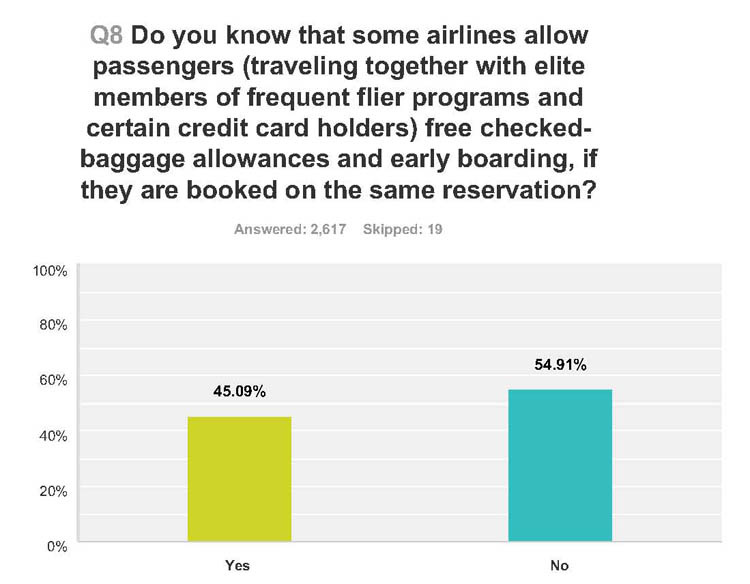 ---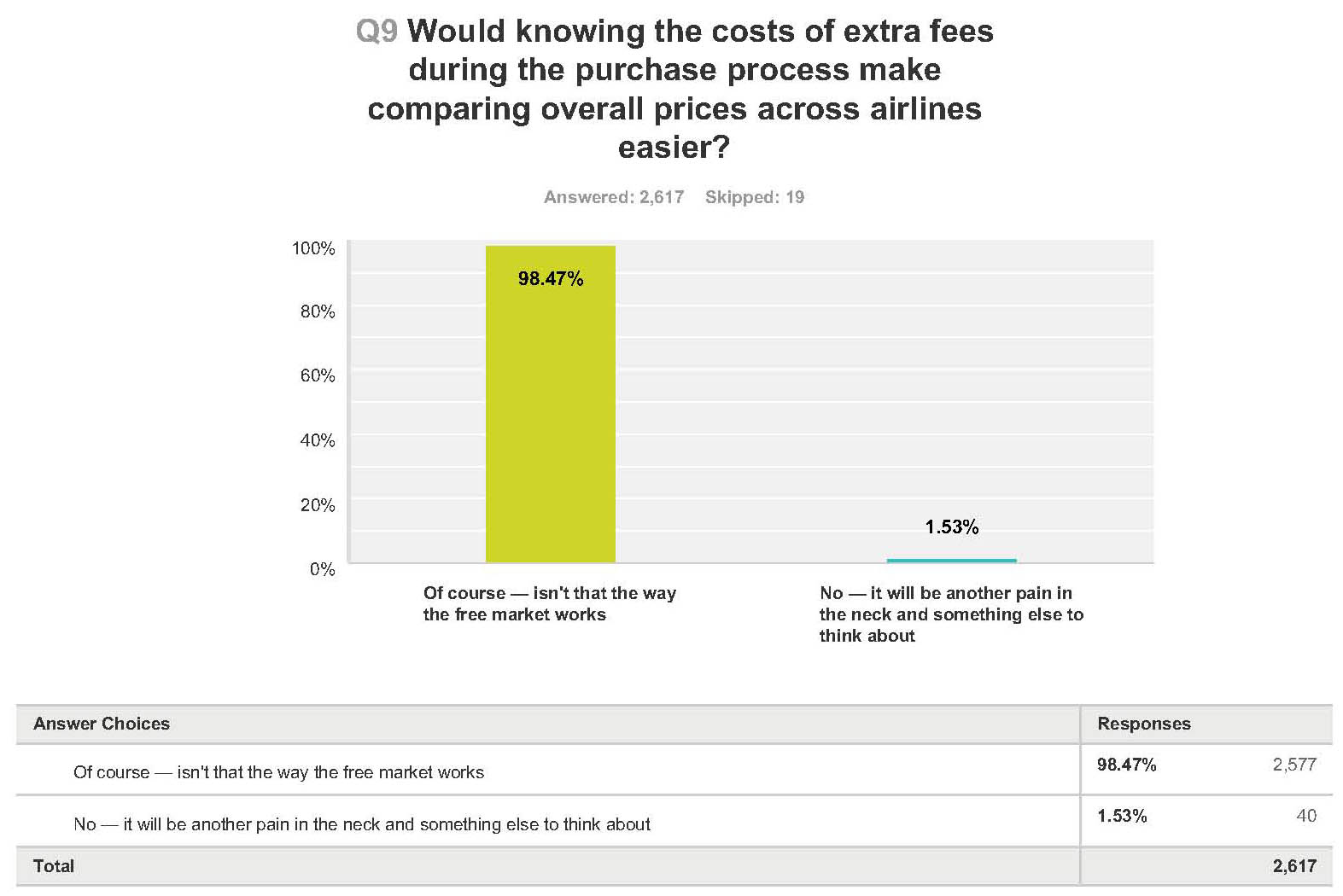 ---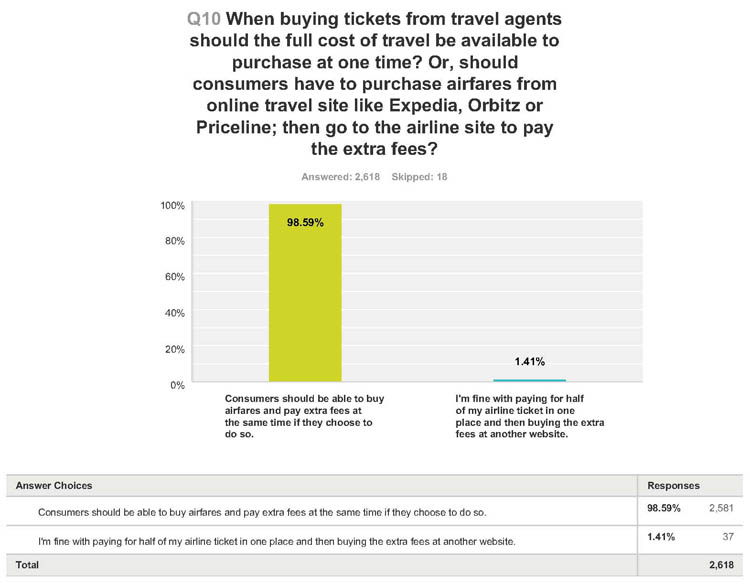 ---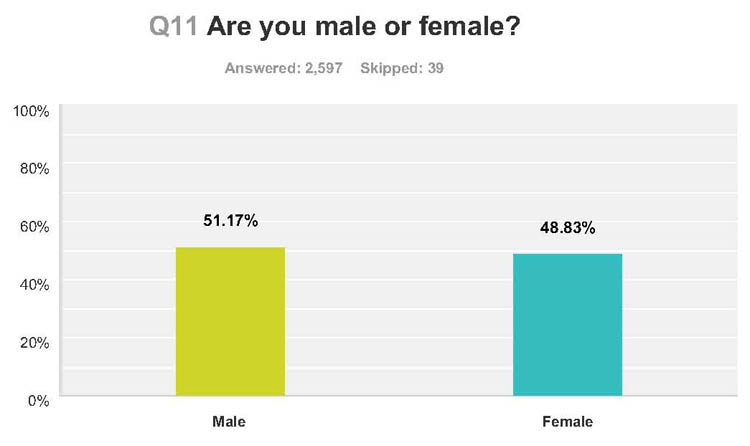 ---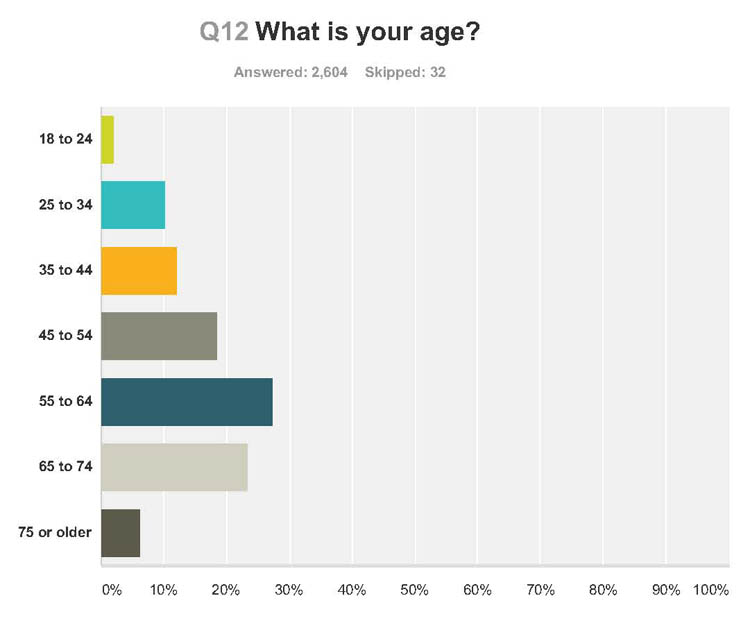 ---