---
During the COVID-19, pandemic RV trips can add to traveler safety
---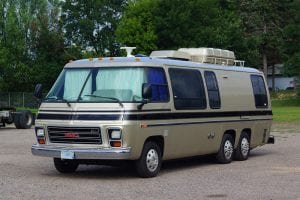 In the U.S., as COVID-19 cases and its deaths surge, people are looking for safe ways to travel. Pandemic RV trips are a good solution. With more than 8.8 million Americans having contracted the virus and more than 230,000 deaths from it, Americans are looking to avoid commercial air travel, hotels and restaurants, but still visit national parks, major landmarks, and historic sites.
While car travel can eliminate flying, it doesn't eliminate hotels and restaurants. Therefore, some travelers are turning to recreational vehicles (RVs). Pandemic RV trips can help travelers stay in a "bubble" better than most travel methods. You can travel, sleep, and eat in an RV.
I've got a dozen RV mistakes to avoid that too many RV beginners make.
Not choosing the right type of RV:
Any RV I use must have a toilet and a shower. In the COVID-19 pandemic era, without both in your RV you can't avoid hotels or public restrooms and showers. You'll have to decide between major types of RVs. Do you want a motorhome style or a trailer-based unit? Each comes in multiple configurations, sizes, capabilities and luxury levels. Some RVs, like Class A Motorhomes, will require truck/bus driving skills and in some states, according to their gross weight, a special driver's license. When choosing an RV, ask many questions while you carefully review the alternatives you're considering.
Don't purchase an RV before you first rent one to find out if you like RV travel
Not renting the first time you RV:
Before you have a few RV trips under your belt, rent. Any RV is a significant investment with long term expenses. Before you consider buying an RV, be sure you enjoy RV travel and that you'll travel this way regularly enough to economically justify purchasing an RV.
Not taking a practice journey:
Before taking your first long RV trip, take a practice long weekend. It will answer many questions about your RV needs, driving the RV, what's important to include in your RV trip plan and if an RV journey really works well for you.
Not taking a complete walk-through:
There's a lot to learn to operate an RV beyond how to drive it. For example, you'll need to know how to operate its water supply and waste water system. You need to understand its HVAC and electrical systems, too. Read the manual and have the company or owner from whom you're renting or buying the RV physically review every system with you. Make sure they're all fully operational.
Ignoring RV blind spots:
We know that cars have blind spots where it's hard to see what's going on. RVs have them, too. Ask where they are before driving your RV for the first time. As you drive it, be aware that other blind spots may also exist.
Going light on RV insurance can devastate you financially.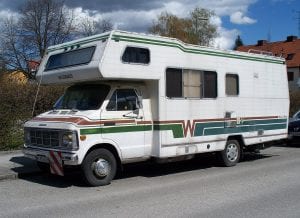 Going light on insurance:
Particularly if you're driving one of the larger motorhomes or trailers, be aware that they barely fit into traffic lanes and that they have parts that stick out. Before you start driving them, make sure you have the best insurance with the widest coverage for your RV journey.
Not knowing your RV's height and weight:
If you're driving a large RV, be aware that some roads and many bridges have weight restrictions and many underpasses, height limitations. You need to know your RV's weight when fully packed and its height when empty.
Follow CDC guidelines while traveling in an RV. Disinfect it before you load it and only travel with your household
Not disinfecting your RV:
You and whoever is traveling with you will be using the RV as your home away from home. Fully clean and disinfect it before loading it for your journey.
Traveling with people outside your household:
Follow CDC recommendations and only travel with members of your household in your RV. Don't allow others with whom you meet to enter your RV. If you want to get together with others, do it outside.
---
READ ALSO:
The most important pandemic lessons learned about travel
News of the death of travel is premature
---
Big RV mistakes are not planning your route to take into account grocery shopping, hook-ups, propane, overnight locations
Not planning your route in advance:
When planning your trip, understand that cars can travel faster than RVs. Therefore, cars can travel further each day than RVs. You can't stop just anywhere with an RV, so make reservations in advance. Periodically you'll need hook-ups, particularly for water and waste water disposal. Plan for it. Before making reservations at campgrounds check their rules and be prepared to obey them. Plan your route so you'll be able to purchase groceries and other consumables along your way. Plan your route so you'll be able to refill your propane tank(s), which are the typical source of RV energy for heating and cooking.
Being unprepared for how much fuel your RV uses:
When doing a trip budget and planning your route, remember that you'll be refueling more often than when driving in a car. Your fuel costs will be higher than a car trip.
Always be prepared for emergencies of all kinds when taking pandemic RV trips
Not being prepared for emergencies:
Never leave a campground facility without replenishing your water and dumping your waste water, in case of an emergency, where you won't be able to be at another hook-up as planned. Never let your fuel level drop too low.
These are just the basics. Avoiding these mistakes will help you successfully travel by RV. In addition, when you travel during the COVID-19 pandemic, don't forget to wear your mask, always socially distance, and wash your hands often.
---
Winnebago photo from Wikimedia Commons 
After many years working in corporate America as a chemical engineer, executive and eventually CFO of a multinational manufacturer, Ned founded a tech consulting company and later restarted NSL Photography, his photography business. Before entering the corporate world, Ned worked as a Public Health Engineer for the Philadelphia Department of Public Health. As a well known corporate, travel and wildlife photographer, Ned travels the world writing about travel and photography, as well as running photography workshops, seminars and photowalks. Visit Ned's Photography Blog and Galleries.