---
Let me start out this post by saying succinctly — I LOVE a no-resort-fees policy.
---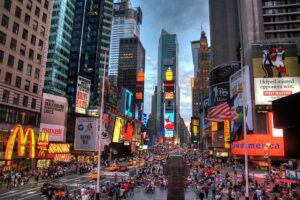 When resort fees first began, they were usually relatively low, and often optional. Resort fees might have covered things like parking, the gym, maybe a couple of cocktails, sports equipment, etc. And they were generally only applied at actual resorts. Today, I saw a big city hotel say no resort fees.
Then the hotel management saw a cash cow. They started not only raising rates but adding them almost everywhere. Resort fees were added to condo clusters, to Las Vegas hotels, more recently to city hotels, and even some basic motel properties. Resort fees were limited to cover things like bottled water, phone calls from the room (because no one has that capability with their cell phone), daily newspapers, etc. One hotel recently noted that their fee includes "incoming faxes."
During the pandemic, these fees often added insult to injury. Many of the items and activities supposedly covered in the resort fee, sometimes called "a destination fee," are not available.
W Hotel at Times Square has no resort fees
However, I was pleasantly surprised at the W Times Square at check-in to discover — while their hotel services are more limited (the main restaurant isn't open and there is no breakfast available) — there is now  NO RESORT FEE. Apparently, the $25 daily fee, plus tax, used to include internet, laundry, and a bar credit. Plus, the bar was open. But still, I think I speak for most travelers when I say I'd rather make the choice whether or not to spend the money. And, most frequent travelers are members of hotel rewards programs, which give free internet anyway. I loved the No Resort Fee policy.
I'm not sure if this is a policy unique to W Times Square, but it's certainly not all Marriott properties. I know the Sheraton New York Times Square has a $30 daily fee now (plus tax), which does include a $30 food and beverage credit, internet, and (woohoo!) a 30-minute fitness class.  And the Marriott Marquis has a similar mandatory fee.
W Hotel Times Square has fewer amenities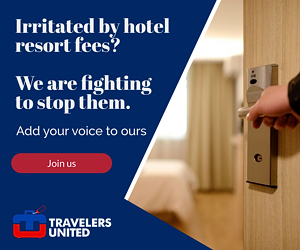 The rooms have reduced basic services. There's no coffee or tea in the room (but there is a Starbucks next door). Housekeeping is on request — they ask at check-in if you want your room cleaned, but it is available daily. And for what it's worth, the W Hotel Times Square got rid of its minibars, too, which means that rooms had actual refrigerators instead of something stocked with really expensive snacks and drinks.
So while this is not a hotel review post per se, the W Times Square turned out to be a great value, especially if you like views, and rooms go up to the 52nd floor. My room on the 35th floor had great views facing Times Square from one window and the Hudson in the distance from another.  My father actually used to love the hotel, and I'd cheerfully stay there again.
Hotels are having a hard time. But, this W Hotel has waived extra fees
But again, I realize that hotels, like most of the travel industry, have been dealing with tough times. And this is an era when it seems like additional charges only get added, and go up and up. Some hotels will waive resort/destination fees for bookings made through certain travel agencies and/or consortiums, but this is the first time I've seen a hotel waive fees, even temporarily, for all guests.
And it's nice to see the W Times Square, even if it's temporary and because of a pandemic, say, "We're not going to charge you extra, just because we can." Perhaps they might consider keeping the policy if and when things return to semi-normal. It could bring more business!

---
READ ALSO:
Travelers United, fed up with resort fees, sues MGM
It's time for hotel resort fees to go — incomplete room rates are deceiving
---
Janice Hough is a California-based travel agent a travel blogger and a part-time comedy writer. A frequent flier herself, she's been doing battle with airlines, hotels, and other travel companies for over three decades. Besides writing for Travelers United, Janice has a humor blog at Leftcoastsportsbabe.com (Warning, the political and sports humor therein does not represent the views of anyone but herself.)