---
Hawaii is planning on reopening, again
---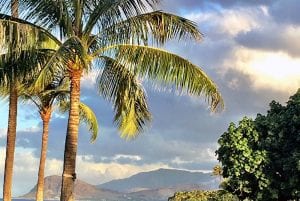 I'm an optimist. So each time Hawaii has talked about reopening, I've been hoping they'll do it.
This island state was one of the last to shut down. I was there in early March. COVID-19 was still known as the coronavirus, and the virus seemed a long way away. In fact, much of the talk on the Big Island was how Hawaii felt it might be spared from any pending pandemic.
But on March 21, the COVID-19 count was approaching 50 victims. Governor David Ige basically shut the state down. All visitors and returning residents were ordered to quarantine for 14 days.
When the Hawaiian Islands shut down, they really shut down
Unlike some locations where I hear reports of lax or non-existent enforcement, Hawaii means it. The state gets contact information, and if tourists are unreachable, or found outside their quarantine place, they are subject to fines and arrest. According to Travel Weekly, "As of late July, almost 200 people had been arrested."
And there have been other arrests reported since. The arrests have been made by state and county law enforcement agencies across the Islands, which have used a combination of phone check-ins, in-person visits, community tips, and other methods to monitor recent arrivals.
The state has relaxed restrictions somewhat for inter-island visitors. Overall, it has done much better than most in terms of limiting COVID-19 cases and deaths. However, today, the state has over 11,000 total COVID-19 cases and about 100 deaths.
Reopening Hawaiian tourism has started repeatedly, then stalled
Originally, the plan was to reopen Hawaii to visitors from the mainland in May. Then it was delayed until June. Then July, then August, and finally in September. The most recent reopening gambit is scheduled for October 15. This plan seems to have a lot of well-thought-out structure.
Recent plans have all involved testing before arrival into the islands. The main problem has been the availability of such testing. Plus, even when tests were found they been very difficult to get. Now, Hawaii says they are partnering with Kaiser Permanente Medical Systems and with CVS for testing. The rules seem very straightforward.
The Hawaii Tourism Authority has a simple chart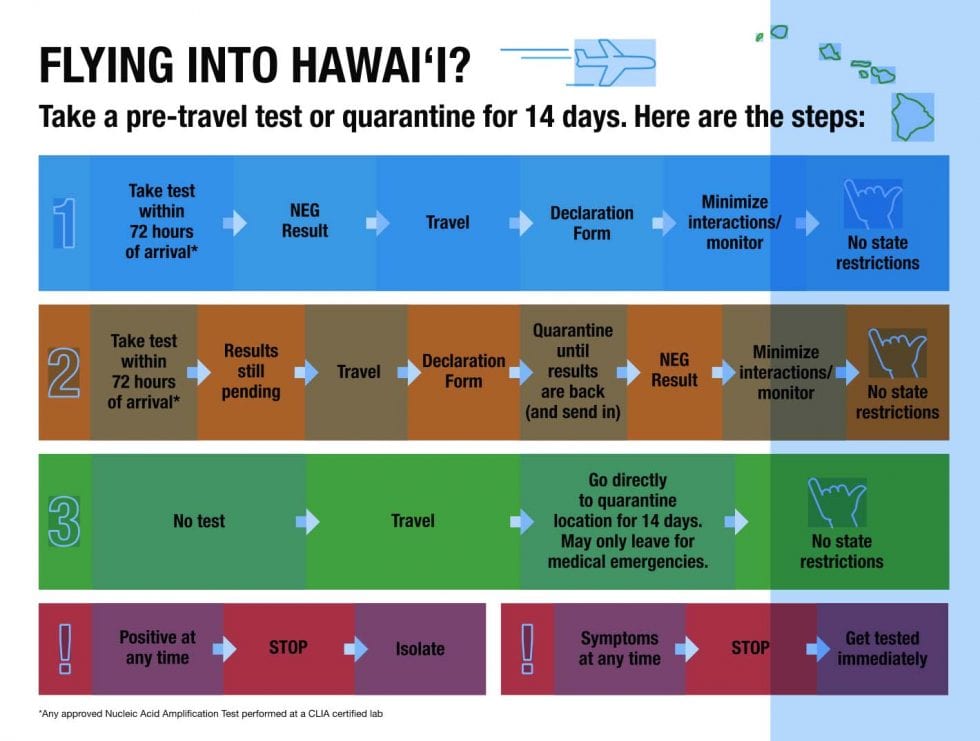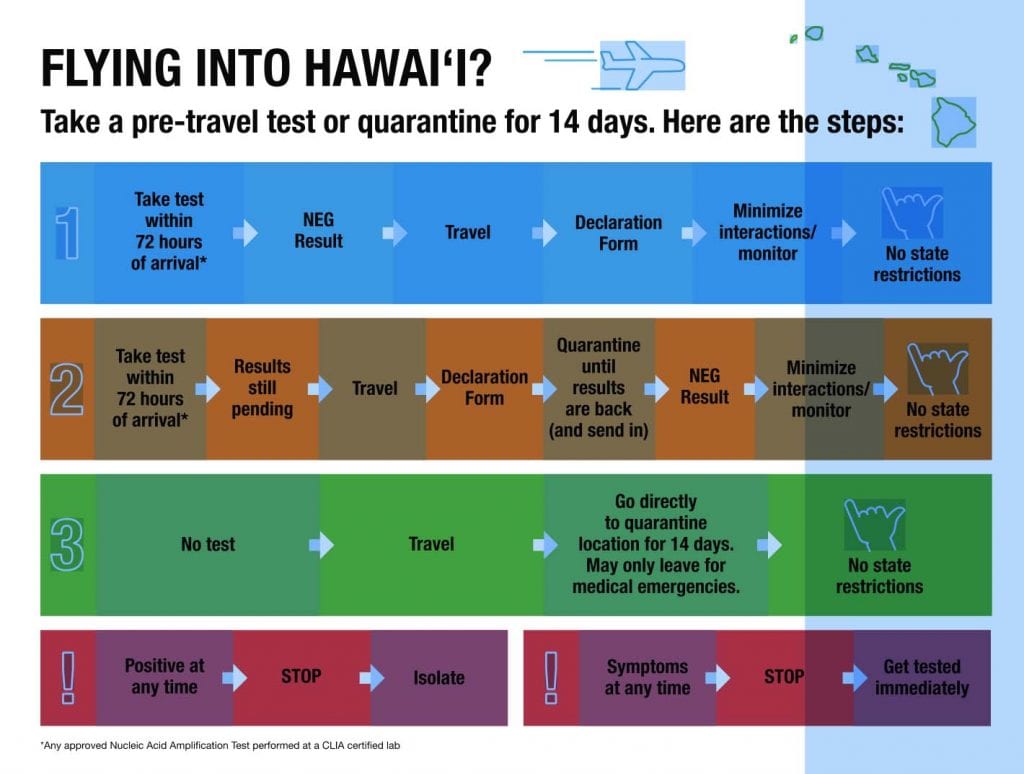 The system is easy — you get tested or quarantine
If you want to come to Hawaii and avoid quarantine, you will need proof of a COVID-19 test with results within 72 hours of arrival. You will also need to provide your contact information and observe protocols, which include social distancing and masks.
Tourists who have been tested but don't have results must quarantine until the results arrive. They — the visitors — must get those results to the state, assuming there's a way to do this electronically. Without a verified test, travelers must quarantine.
And, if travelers feel symptoms, they test. If they test positive, they isolate.
---
READ ALSO ON TRAVELERS UNITED BLOG:
How to master history and tourism in Oahu
Please donate to Travelers United — keep us working for you
---
Initially, COVID-19 tests must be done prior to arrival in Hawaii
An important detail: There will be, at least at the beginning, NO tests available at the airports on arrival. This is a detail, admittedly, I expect some people to miss. Presumably, any airline flying passengers to Hawaii will need to double-check that passengers have test results or risk fines and returning the wannabe tourists.
Hawaii has a lot of advantages that other states don't have when they do reopen. For starters, Hawaii has wonderful year-round weather. This means staying outdoors, so social distancing is comparatively easy no matter what the season.
Unlike other states, there is no way for travelers to disobey rules by driving across the state line. Plus, since Hawaii has had procedures in place for months at the airport with contact tracing and temperature checks, it should be somewhat straightforward to add the test verification.
After several false starts at kicking off tourism, this new program may succeed
These days, nothing is 100 percent certain, so it's hard to say the latest plan will definitely work. But testing has been the major hang up, and the partnership with CVS and Kaiser Permanente seems that it can work. Later, other partners will be added as inbound tourism grows.
In addition, airlines are waiving change fees, although not fare increases. However, the risk of booking a trip now at a discounted rate for fall Hawaii travel will be greatly mitigated. And, it's only a gut feeling. But thinking this program through and starting it now will give Hawaii a way to test this program before the very busy December holiday season.
For whatever reason, it's good timing. We can at least dream of Hawaii again. (Don't forget the sunscreen.)
Janice Hough is a California-based travel agent a travel blogger and a part-time comedy writer. A frequent flier herself, she's been doing battle with airlines, hotels, and other travel companies for over three decades. Besides writing for Travelers United, Janice has a humor blog at Leftcoastsportsbabe.com (Warning, the political and sports humor therein does not represent the views of anyone but herself.)