---
Despite being scientifically debunked, too many people continue to believe face mask myths, while others are confused about the new face mask guidance for fully vaccinated individuals.
---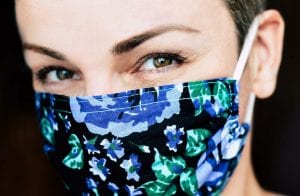 No matter where I go, I've found confusion from recent Centers for Disease Control and Prevention (CDC) face mask guidance. Those who are fully vaccinated face additional confusion. Debunked COVID-19 face mask myths which started last year continue to be believed by too many.
In the last several weeks, I've heard a number of people say that since they're fully vaccinated, they can't become infected with COVID-19. They believe they can throw away their masks. Last week, a young man told me he understood that fully vaccinated people no longer ever need to wear face masks outdoors. Yesterday, a man told me that he won't wear a mask because they cause hypoxia (oxygen deprivation).
None of those people were correct. All were mistaken.
COVID-19 continues to be a highly contagious and dangerous disease across the globe
A real and dangerous COVID-19 virus affects the world. Virus cases topped 158 million, and more than 3.3 million people have died from it. Just last week, nearly 5.5 million developed new cases. The entire planet harbors this deadly virus.
Here are facts about the five major COVID-19 face mask myths
Myth — Face masks don't stop COVID.
While not a panacea, according to multiple peer-reviewed scientific studies, wearing face masks in public prevents contracting and transmitting the virus. The studies conclude that face masks prevent countless COVID-19 infections worldwide.
Myth — Those fully vaccinated and who have recovered from COVID are totally immune.
Yes, it's unlikely that those with COVID immunity from vaccination or prior COVID infection will contract the disease. We know from studies and tracking that some vaccinated and previously infected individuals have contracted COVID-19. Fortunately, the "breakthrough" cases have been generally mild.
Wearing a face mask is a safe way to help prevent the transmission of the virus for almost everyone
Myth — You can't breathe in an adequate oxygen supply while wearing a face mask.
Physicians tell us that properly fitted masks for individuals above the age of two offer more than adequate airflow. This is the case while fully covering the nose and mouth. The studies show there is no risk of hypoxia, lower oxygen levels, in healthy individuals who wear a face mask. Plus, carbon dioxide does not build up behind face masks. It freely diffuses through the mask.
Myth — Masks with exhalation valves give the same amount of protection as valveless masks.
Masks with exhalation valves may be more comfortable to wear. However, they aren't nearly as safe as valveless masks. They also don't limit the spread of COVID-19 as well as valveless masks. Exhalation valves allow virus-laden respiratory droplets to be expelled into the air, putting those around the wearer at risk.
Myth — Young children are immune from COVID and don't need to wear face masks.
It's true that young children generally do okay with COVID-19. But they aren't immune to it and more than a few children have become seriously ill from COVID and have died. They can transmit the virus.
People who haven't been vaccinated, but have recovered from COVID, are confused if the new guidelines for vaccinated people include them
Many people believe face mask myths. Too many people, including travelers, face confusion about who needs to wear face masks and when. Much of the confusion comes from not understanding  that having had COVID doesn't give people the same amount of immunity vis-a-vis the fully vaccinated. Though patients who recovered from COVID-19 develop a robust immune response to reinfection, the vaccine raises their level of immunity.
Vaccination is important for both individuals who have never contracted COVID-19 as well as those who have recovered from the virus. The CDC guidelines for mask-wearing have just two categories: unvaccinated and fully vaccinated. Unvaccinated people who have recovered from COVID should follow the rules for unvaccinated individuals. You are considered fully vaccinated two weeks after your second dose of a two-dose vaccine or two weeks after your only dose of a single dose vaccine.
The fully vaccinated can skip some mask usage that unvaccinated people must continue
For the unvaccinated, the face mask guidelines remain the same as before. For fully vaccinated, there are many situations in which they can remove a mask and regain some pre-pandemic normalcy.
The fully vaccinated can go maskless outside. However, wear a mask when in a crowded situation. This includes an outdoor party, a sports venue or a tour group, etc., Wear a mask when in close proximity to others who may or may not be vaccinated. If you're unsure of your safety while outside, wear a mask.
When fully vaccinated you can gather maskless indoors with other fully vaccinated people. If you're in a mix of vaccinated and unvaccinated people indoors, my rule of thumb — wear a mask. For example, if entering a hotel or in a hotel's public areas, wear a mask, particularly in small elevators without good ventilation.
Whether at home or traveling, remember you aren't totally immune to COVID, even if you're fully vaccinated. COVID-19 is a serious and too often a deadly virus. Whenever indoors in a public setting, wear a mask. By wearing it, you keep yourself healthy and you help those around you to also stay healthy.
---
READ ALSO:
Travelers United with US/UK travel groups encourage transatlantic air travel
Oktoberfest canceled, Smithsonian reopens, Repair restrictions, Poll results
---
After many years working in corporate America as a chemical engineer, executive and eventually CFO of a multinational manufacturer, Ned founded a tech consulting company and later restarted NSL Photography, his photography business. Before entering the corporate world, Ned worked as a Public Health Engineer for the Philadelphia Department of Public Health. As a well known corporate, travel and wildlife photographer, Ned travels the world writing about travel and photography, as well as running photography workshops, seminars and photowalks. Visit Ned's Photography Blog and Galleries.