---
US/UK travel groups push together for a June restart of transatlantic flights
---
Travelers United has been working together with the leading US/UK travel groups. Together with Airlines for America, pilot groups, avionics manufacturers, and travel providers we worked to get travel going this summer. This coalition of travel business and advocacy groups wants a safe restart of transatlantic travel. The following joint letter went to US President Joe Biden and to UK Prime Minister Boris Johnson.
We are all hopeful for an early June kickoff for the summer season. Initially, Travelers United expected the launch of this effort would take place at the start of September. However, the swift deployment of vaccines in both the US and the UK may allow a bilateral opening by mid-summer. The other European countries are planning to reopen by the end of June and this should allow for a robust summer travel season.
We all realize that business travel and much international travel will not start up until later in the year. But, after much discussion and exchanges of emails, this letter provides a strong push for more flights between the US and the UK. A joint US/UK travel groups behind-the-scenes effort between all members of the US and UK travel communities works to get movement between the US and UK started.
---
Dear Mr. President and Prime Minister:
As the collective leaders of the U.S. and UK aviation, travel, and tourism industry, we are writing to
underscore the importance of both governments reopening one of the world's most important aviation
markets as soon as safely possible. Given the deep economic, social and cultural ties between our two
nations, we believe your meeting ahead of the G7 in early June would be an ideal opportunity for a joint
announcement of the full reopening of the U.S.-UK air travel market for both U.S. and UK citizens. We
stand ready to support the work of governments in the interim to secure a positive outcome.
We commend the enormous success of your respective vaccine programs.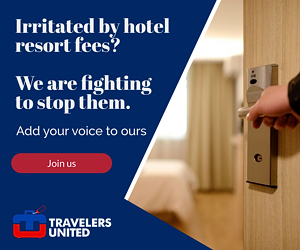 In the U.S., as of April 26, 36 percent of the adult population (age 16 and over) have been fully vaccinated, and 53 percent have received at least one dose of the vaccine. In the UK, as of April 26, 23 percent of the adult population (age 16 and over) have been fully vaccinated, and 62 percent have received at least one dose. The trend for both countries is to have all adults who want a vaccination to have at least their first dose by the end of July. It is this success that now marks a significant opportunity for the UK and U.S. to lead the world by demonstrating how to re-open this crucial air corridor safely.
The priority in any re-opening of air travel is public health. Since the onset of the pandemic, the travel and tourism sector has partnered closely with both governments to protect the health and safety of passengers and employees. We all have been working tirelessly to implement new travel restrictions and meet testing requirements. We are confident that the right tools now exist to enable a safe and meaningful restart to transatlantic travel. U.S. and UK citizens and residents should benefit from the significant testing capability, and most importantly the vaccine roll-out. This means people are benefiting from the protection of their health and the reduction in transmission of COVID-19 that vaccination brings.
This summer we have key tools that were not available to rescue summer travel between the US and UK.
Safely reopening borders between the U.S. and UK is essential for both countries' economic recovery from COVID-19. Air travel is a critical enabler of trade between our countries that was worth 273 billion USD or 196 billion GBP in 2019 and which included the transport of 900,000 tons of air cargo. The U.S. Chamber of Commerce Report, "The Transatlantic Economy 2021," highlights that in terms of the U.S.— UK investment balance, U.S. foreign direct investment in the United Kingdom totaled a record 851 billion USD or 612 billion GBP in 2019, and the UK's foreign direct investment in the U.S. was roughly 500 billion USD or 360 billion GBP. Returning business travelers to the skies is essential to securing future investment in the world's most dynamic enterprises.
---
READ ALSO:
Why keeping up with the Jones Act in Alaska is important, now
Why fully vaccinated travelers can leave the US but can't get home
---
Separately, travel and tourism are essential economic engines in both the U.S. and UK.
In 2019, travel and tourism contributed 8.6 percent and 10.1 percent respectively to each country's GDP. UK visitors were the second-largest source of inbound international tourism revenue for the U.S. economy. And U.S. visitors were the largest source of such revenue for the UK economy. The tourism and hospitality sector has been one of the hardest hit by COVID-19 in both economies. Safely restoring the U.S – UK air travel market will have a significant impact.
If travel restrictions are lifted by this June, we expect the market will start to recover and approach 70 percent of 2019 levels by the end of the year, buoyed primarily by summer season traffic. According to a study by Compass Lexecon, a reopened corridor could respectively generate 3.7 billion USD and 1.9 billion GBP in incremental activity this summer for both economies and help to restore lost jobs in the hospitality sector. By contrast, ongoing restrictions through the end of 2021 will result in billions in lost economic activity.
The return of transatlantic flying will have a positive impact on tourism economies, according to US/UK travel groups.

These flights will also reunite those who have been separated from their loved ones for over a year. In 2019, over 22 million passengers traveled between the U.S. and UK, with approximately four million of those travelers visiting friends and family.
We are sure you share our ambition of reopening this vital trade and travel artery between our two nations. We believe that your joint leadership now would be an invaluable contribution to the timely reopening of air travel between our two countries.
Respectfully,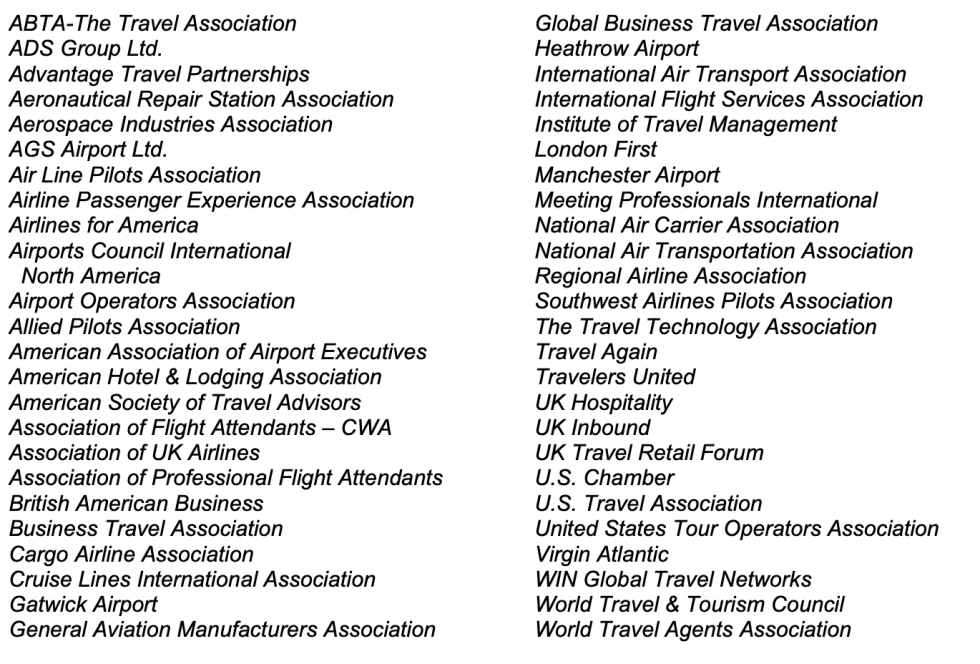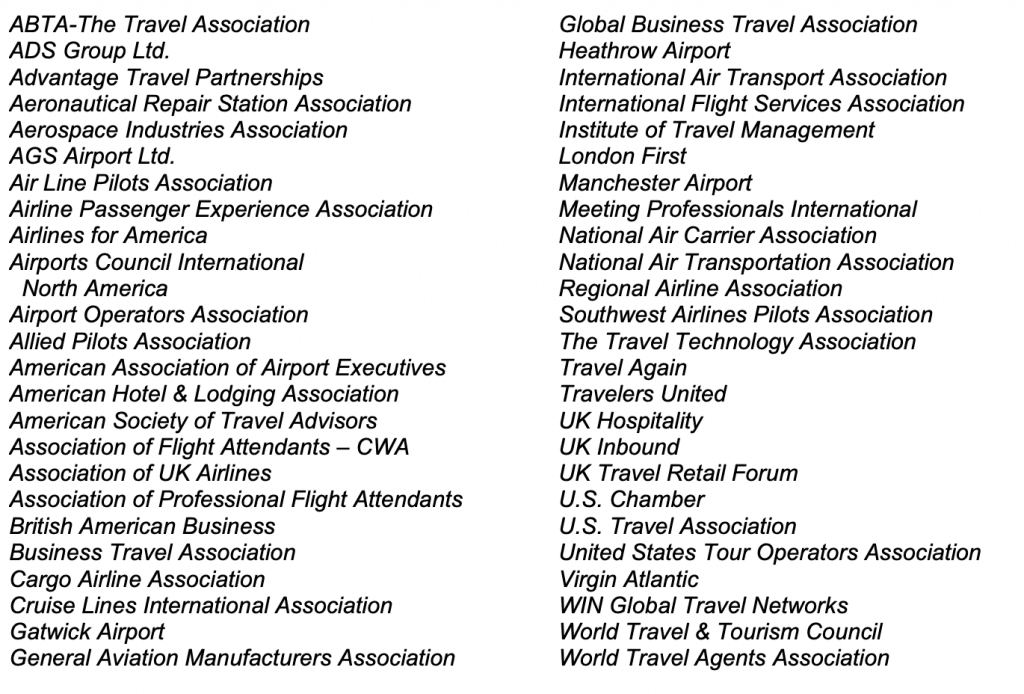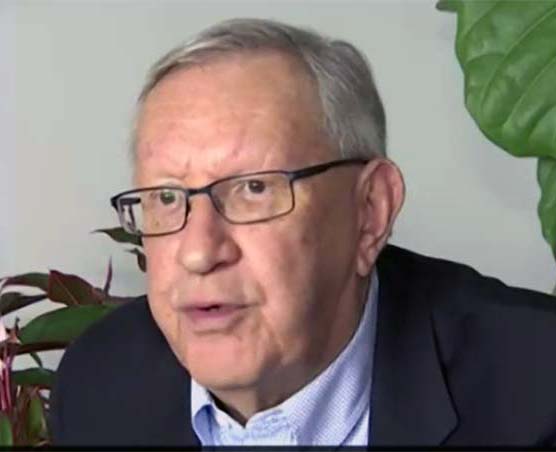 Charlie Leocha is the President of Travelers United. He has been working in Washington, DC, for the past 12 years with Congress, the Department of Transportation, and industry stakeholders on travel issues. He was the first consumer representative to the Advisory Committee for Aviation Consumer Protections appointed by the Secretary of Transportation from 2012 through 2018.