---
US airlines instituted mandatory face-covering mandates. Airlines no longer permit face masks exceptions
---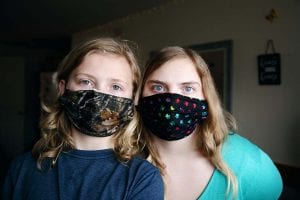 International airlines across the globe are getting tough about passengers using face-coverings. They are more important than ever during the COVID-19 pandemic for good reason. Cabin air filtration, sanitizing aircraft cabins, and wearing a face mask are mandatory. They are the most important protection method for air travelers to prevent the virus from spreading while flying.
COVID-19 is primarily transmitted by respiratory droplets expelled from infected people. Face-coverings are more important than previously thought. The droplets spread when people cough, sneeze, or merely talk around people near them. Those neighbors either inhale the contaminated droplets or touch the virus that's been deposited on them. Then they touch their mouth, nose, or possibly their eyes. In addition, according to a recent open letter in Clinical Infectious Diseases, there is emerging data that, "Inhalation exposure to viruses in microscopic respiratory droplets (microdroplets) can extend as far as several meters (yards)."
Airlines are disinfecting their planes to eliminate the COVID-19 virus. And airplanes use HEPA filters to clean the air while in flight.
The airlines have adopted stringent cleaning protocols to clean planes' cabins. When people board their flight, there should be a minimal chance of COVID-19 transmission from contaminated surfaces from prior flights. Once boarding commences, however, an infected passenger entering the plane can and likely will contaminate some cabin surfaces.
Most planes in U.S. airlines' fleets use HEPA filters in their cabin air recirculation systems. HEPA filters remove 99.9 percent of dust and airborne contaminants. Viruses are cleaned from the cabin's recycled air. On most aircraft, the recycled air is completely changed 20 to 30 times per hour. HEPA filters make the air hospital clean. However, they don't address the problem of respiratory droplets expelled by passengers in each passenger's immediate seating area.
---
READ ALSO:
Will the Lone Ranger learn to love his face mask?
America needs a temporary FAA mask mandate. Why don't we have one?
---
Social distancing aboard planes isn't physically possible
Even when middle seats are blocked, passengers are typically within 18–20 inches of each other. This is far less than the recommended six-foot-minimum social distance to prevent COVID-19 transmission. Fortunately, the airlines have another method to prevent transmission — face covering.
It turns out that face masks are not a panacea for protecting passengers from COVID-19, but they are highly effective. According to a study by the U.S. National Library of Medicine, a face-covering helps prevent transmissions of COVID-19. A National Institutes of Health study concluded that wearing face masks in New York City from April 17 through May 9 reduced the number of infections by over 66,000. And, National Academy of Sciences determined wearing face masks in public is a highly effective means to prevent transmission of COVID-19.
The airlines have adopted mandatory face mask rules to prevent COVID-19 transmission between passengers, to the extent possible.
As a result, the airlines have adopted mandatory face mask rules, except when eating or drinking. American Airlines, for example, states,
"American Airlines will require all customers over the age of 2 to wear face coverings at airports and on board [planes]."
They go on to say that their face covering requirement is,
"to include all areas of the airports at which American operates, including Admirals Club lounges, as well as on board all American flights and does not allow for exemptions for those over 2 years old."
In other words, for American Airlines, if you won't wear a face mask, you can't fly on their airline.
Many air travelers are upset about having to wear a face mask while flying, in large part due to myths about the masks.
This has made some in the U.S. upset, in large part because of myths about face-coverings that have emerged during the COVID-19 pandemic.
Myth 1: COVID-19 isn't actually real:
In the U.S. alone, more than 4,350,000 people have contracted the virus and it's killed more than 150,000. It's real!
Myth 2: Only sick people need to wear face masks:
The point of wearing a face mask is to protect others in case you are infectious. Just because you're not experiencing symptoms doesn't mean you're not infected or infectious. The CDC has cited numerous studies that show asymptomatic and presymptomatic infected people can spread the disease.
Myth 3: I don't need to wear a mask because I've already recovered from COVID-19:
There is still no consensus on COVID immunity. Scientists don't know if those who have had the disease are fully immune and if they are, for how long.
Myth 4: You can't breathe in an adequate oxygen supply while wearing a face mask:
Physicians tell us that properly fitted masks for individuals above age two offer more than adequate airflow while fully covering your nose and mouth.
Myth 5: Masks will weaken your immune system:
According to the American Lung Association, "There is absolutely no scientific evidence that mask wearing or physical distancing weakens the immune system." There is ample evidence that even young, healthy people without any preexisting conditions can become severely ill from COVID-19 and spread the disease.
Myth 6: Surgical and cloth masks aren't COVID-19 effective:
Studies like the ones cited above show that face masks, while not giving 100 percent protection, are highly effective in preventing COVID-19 transmission.
There seems to be no doubt that if you're well enough to fly in a commercial aircraft, you're well enough to wear a mask to prevent the transmission of COVID-19 to others. It's your moral responsibility to do so. Due to the physical constraints of air travel, the use of face masks is the most effective means by which passengers can protect other passengers on their flight.
---
Featured photo by Sharon McCutcheon on Unsplash
Man on street photo by Free To Use Sounds on Unsplash
After many years working in corporate America as a chemical engineer, executive and eventually CFO of a multinational manufacturer, Ned founded a tech consulting company and later restarted NSL Photography, his photography business. As a well known corporate, travel and wildlife photographer, Ned travels the world writing about travel and photography, as well as running photography workshops, seminars and photowalks. Visit Ned's Photography Blog and Galleries.