---
I have a dozen tips to help speed you through TSA airport security and avoid air travel disruption.
---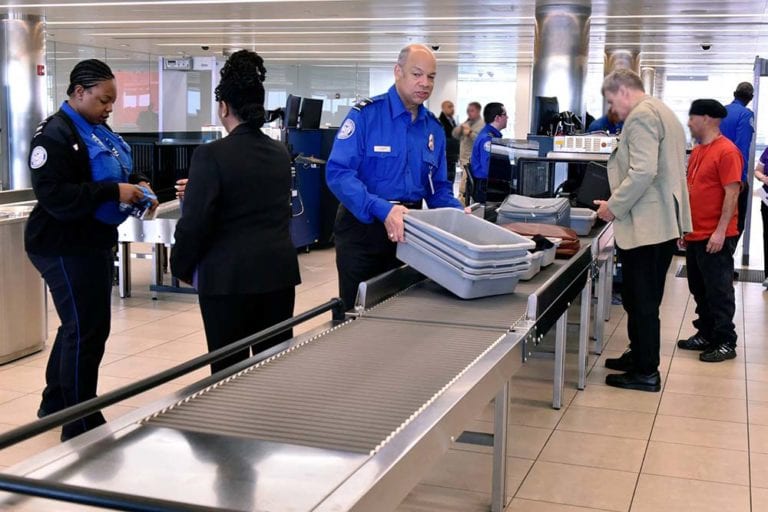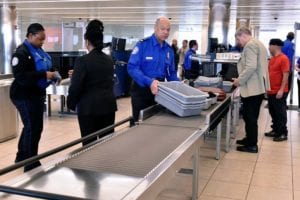 While it's unlikely that going through a Transportation Security Administration (TSA) airport security checkpoint will delay you so much. You'll rarely miss your flight. However, TSA security checks can be disruptive, unpleasant, or worse.
You may miss your flight if you don't allow enough time to get through the checkpoints. This is more probable if you're singled out for secondary screening. To avoid those problems, follow TSA rules, procedures, and my commonsense tips.
Here are my 12 easy-to-use tips to avoid problems and face air travel disruptions.
Getting TSA Precheck can speed your way through airport security and to your gate for your flight.
Get TSA Precheck:
TSA Precheck membership has real benefits for air travelers. More than any other benefit, almost every time, Precheck lines are far faster and less time-consuming than TSA's standard lines. Getting through the line is easier than standard lines, as you can keep your shoes, belt, and light jacket on. You can leave your laptop and other electronics in your carry-on and your liquid baggie. While it's true that Precheck members may not get to use the Precheck line every time, you get it virtually every time. Precheck costs $85 for new enrollments for a five-year term. Global Entry members ($100 per five-year term) also get Precheck benefits in addition to Global Entry's standard benefits.
Check that you're bringing nothing on TSA's list of banned items:
Air travelers need to know if every item they wish to pack in their carry-on and/or checked luggage is permitted by TSA. Well, before you leave on your flights, go to TSA's What can I bring? web page. On it, you can find most things listed that travelers might pack in their luggage for their domestic and international journeys. For items not listed, you can easily ask TSA directly on Facebook or Twitter at AskTSA, if it's allowed. Snap a photo of what you want to pack, explain it to TSA, and ask them if it's okay. They answer questions from 8 a.m. to 10 p.m. ET on weekdays or 9 a.m. to 7 p.m. on weekends/holidays.
Too many air travelers seem to foul up when complying with the TSA liquids rule.
Understand the 3–1–1 liquids rule:
In carry-ons, the TSA liquids rule requires each passenger to limit their liquids, gels, and aerosols to 3.4 ounces per container. All such containers must fit in and be placed in a single quart-sized resealable bag. Regardless of how much liquid is in a container, no liquid container may exceed a 3.4-ounce capacity. Larger containers are permitted in checked luggage. There are exceptions to the rule. Passengers may pack a 12-ounce or smaller hand sanitizer container in their carry-on. In addition, passengers may bring medically necessary liquids in their bags above 3.4 ounces. Passengers must inform the TSA officer at the security checkpoint that they have those items. TSA may require a separate inspection.
Some food can't be brought on board with you and may need inspection:
Generally, packaged food and snacks, including fruit, health bars, and sandwiches, can stay in your carry-on bag. A gel, like peanut butter or semi-liquid products like yogurt, are not allowed. If necessary, you should put them in a clear bag to inspect them. Foods that are essentially liquids or gels must be in your "liquids baggie" or packed in your checked luggage. TSA may inspect some foods, and some destinations may prohibit some foods.
Powders:
If you bring containers of powder-like substances such as protein powder or baby powder larger than 12 ounces, you need to pull it out of your carry-on and put it in a separate bin for x-ray screening. TSA officers might require extra screening.
By using your smartphone app you can learn how long the wait is at TSA security.
Put the TSA app on your smartphone:
The TSA app has a searchable "What can I bring?" list on it, as well as links to "AskTSA." (AskTSA on your smartphone requires that you also have either the Facebook Messenger or Twitter app on your smartphone.) Of additional importance, the app has up-to-date TSA checkpoint real-time time delay information for US airports. You can use the app to make sure you allow yourself enough time to get through TSA security once at the airport.
Personal Electronics:
Unless you're in the Precheck line, you must remove portable electronic devices larger than a cell phone from your carry-ons and place them in a bin with nothing on top or below.
Books and Magazines:
Since x-rays have difficulty seeing through thick books and glossy magazines, you can likely save yourself time wasted from a secondary inspection that a book or magazine packed in your carry-on might cause by removing them from your bag and putting them in a bin for inspection.
Cords and cables:
Most people pack cords and cables in their carry-ons to connect to different devices and charge them. If multiple cords and cables are loose and/or laying on top of each other in your carry-on, you may be pulled aside for secondary inspection. A TSA officer in Miami told me to roll the cords and cables, then use a cord keeper to make them into a neat package. Also, pack them on one level so they can be easily seen, and don't block other items when x-rayed in your bag.
TSA explosive test results can falsely report the presence of explosives to TSA officers if you use body washes, soaps, and other personal products containing glycerine.
Don't use glycerine-containing soaps and body washes before you fly:
Many soaps and body washes contain glycerine. Don't use them for at least 24 hours before you fly. The problem is that if you're required to have a secondary screening at TSA airport security checkpoints, including an explosives test if your soap or body wash contains glycerine, its residue will cause you to test positive for explosives. That can cause a long delay for questioning.
Real ID-compliant IDs will be required to fly domestically in the US  beginning May 3, 2024.
Don't forget your government-issued photo ID:
While you can still get past TSA checkpoints without your driver's license or other government-issued photo ID, you will have a long delay at TSA by showing alternate IDs and answering many time-consuming questions. Before leaving for the airport, have your government-issued photo ID.
Special Note:
As of May 3, 2023, every American flying domestically in the U.S. will need a Real ID compliant government issued identification to fly. I don't think that there is any chance that this deadline will be extended.
Organize your belongings before you get to a TSA checkpoint.
When I fly, I typically wear a comfortable warm-up jacket, photographer's vest or lightweight jacket, each with zippered pockets. Before getting to TSA at the airport, I put my keys, wallet, loose cash, etc., in it, zip it up, then put it in a bin for an x-ray at TSA. That way, they will be out of sight and far less likely to be stolen as I go through the TSA checkpoint.
Following these easy-to-use tips can help you get through TSA airport security checkpoints quickly and without problems that could disrupt your trip. I use them all.
---
READ ALSO:
How airline passengers are deceived by seat reservation games
Learn how to travel healthily and avoid a sick vacation
---
After many years working in corporate America as a chemical engineer, executive and eventually CFO of a multinational manufacturer, Ned founded a tech consulting company and later restarted NSL Photography, his photography business. Before entering the corporate world, Ned worked as a Public Health Engineer for the Philadelphia Department of Public Health. As a well known corporate, travel and wildlife photographer, Ned travels the world writing about travel and photography, as well as running photography workshops, seminars and photowalks. Visit Ned's Photography Blog and Galleries.