---
Convenience and time may be more important than legroom
---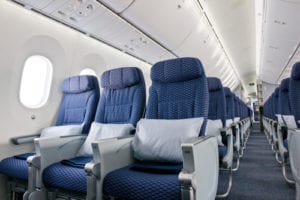 Airlines love the fact that travelers are paying more for the amount of extra legroom they once gave everyone for free.
Admittedly, I fly enough with United that I usually don't have to pay for "economy plus," with its extra legroom. However, as much as airline fees irritate me on principle, there are times I would advise people to pay it, even if they aren't tall.
READ ALSO: 6 times plane passengers want paid seat assignments
Sometimes airlines have a completely different premium economy with different or added food options and even a completely different seat. But that's another post. This post is only for passengers who might want to pay for regular coach seats with extra legroom between seats. In the end, it often is a question of convenience and time in addition to extra legroom.
1. To work on a flight. 
It's not just feet and legs that benefit from the extra room. Having a few extra inches can make the difference between working semi-comfortably and having a laptop crunched into your chest. And that's before the person in front reclines.
2. To move around mid-flight.
Whether it's for bathroom breaks or just stretching your legs, getting out from between regular legroom seats can require the skills of a contortionist. Of course, it's better on the aisle, but even there it can be a challenge.
3. Earlier food and beverage service.
Whether you buy food or bring it on board and want a drink to go with it, or if you just want to buy a cocktail, seats closer to the front of the plane generally get served first. This also means less potential interruption if you set up a laptop or tablet to read or work.
ALSO ON TRAVELERS UNITED: Know the real rules for compensation when you are bumped
4. Traveling with kids.
If you're traveling with children (or anyone else) and there are no good alternatives for getting seats together, this is a good solution. This is not just for your comfort, but for being courteous to other people on the plane. No one likes to be asked to give up a good seat because a family booked too late to get seats together. Even if you're a parent, it's good travel karma. Someday the kids grow up and you'll be the one harassed to move.
5. When you have at least one good-sized carry-on bag.
Preferred seats also usually come with earlier boarding. And these days, on most flights, it seems like the bins fill up early. The last groups not only choose from only middle seats and/or the back of the plane, but also may require checking luggage.
6. When you have a tight connection.
This one may seem less obvious but can potentially be very important. With very rare exceptions, like the back exit rows on a 777,  preferred seats are towards the front of the coach cabin. On a smaller plane, this may not matter as much. However, if you're on a flight with more than 30, 40 or 50 rows, it can take a good 10-15 minutes to deplane. And … it will feel like longer.
Moreover, though flight attendants ask passengers to sit down to allow those with tight connections to deplane, in my experience most passengers don't pay much attention.
What it comes down to it, extra legroom means extra convenience and time. Although, if you do purchase extra legroom seats and get moved at the airport, try not to go Ann Coulter on the flight attendants. Getting arrested or removed from the plane will REALLY wreck your whole travel day.
Janice Hough is a California-based travel agent a travel blogger and a part-time comedy writer. A frequent flier herself, she's been doing battle with airlines, hotels, and other travel companies for over three decades. Besides writing for Travelers United, Janice has a humor blog at Leftcoastsportsbabe.com (Warning, the political and sports humor therein does not represent the views of anyone but herself.)