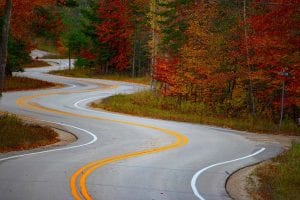 Note: This is the first post by a new columnist, Molly Barnes. She and her boyfriend have struck out to live in an RV for who knows how long. She is now writing a blog about wandering and travel as they drive throughout America. Molly also has to develop remote work skills that allow her to make a living. If you like these kinds of posts of working as a digital nomad or telecommuting, let me know at [email protected]. We'll keep them coming about one every other month or so.
---
A guide to remote work skills that will be useful in the new normal
---
The quarantine that resulted from the pandemic forced many people into remote work. For those of us who live full-time traveling in our RVs, like my boyfriend Jacob and me, that wasn't a big adjustment: As digital nomads, we work 100 percent remotely, anyway.
But that doesn't mean the pandemic hasn't affected our work lives. Throughout the past five months, we've faced unexpected challenges and have needed to power through them. We've also found methods of avoiding burnout on the road as the days began to blur together, and the weeks turned into months.
No one is sure when things will get back to normal, so it's important to emphasize a healthy work-life balance going forward. Today, I want to share 10 remote work skills that can keep you from burning out on the road.
1. Set up a workspace
As many states in the U.S. see a spike in virus cases, some are locking things back down again or initiating travel bans. With new restrictions cropping up on a weekly basis, the Van Life culture has been largely curtailed.
Under normal conditions, living in an RV is very flexible, but these days, not so much. Many permanent travelers have found someplace to park and hunker down to wait it out — and that also means finding a community that allows nonresidents. 
If you've got a lot to clean out in the interest of gaining even more mobility and space, now's the time to do it. It's also easier to blend in when you have less "stuff."
2. Secure your Wi-Fi
You can't work remotely without the right technology. Those of us who often work in libraries, coffee shops, or other public spaces no longer have a reliable space to access Wi-Fi. To secure yourself a reliable connection and backup, you might try a combination of using your phone as a hotspot, getting a mobile hotspot router, and investing in a signal booster/satellite internet.
3. Block out 'no work' zones and times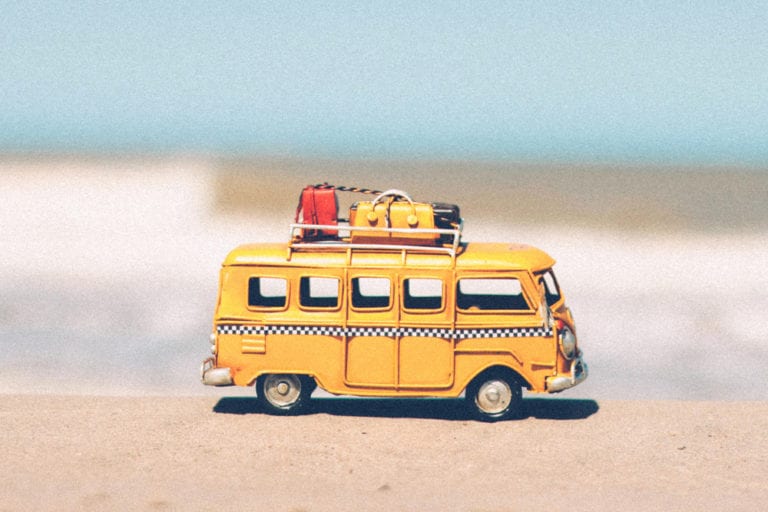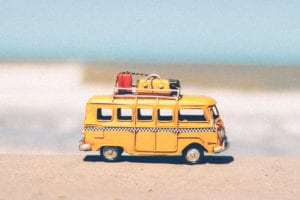 Working and living in the same place can get tiresome. When you live in an RV, you can normally go for a drive or simply go outside to explore. But without the ability to move as freely as you did pre-pandemic, you'll be spending more time in your RV — and probably putting in extra work hours to pass the time.
Set aside blocks of time to give your mind a break. Keep the line between home and work life defined so you don't burn out. Plan to play games, watch a movie, or do some yoga — anything to give you a definitive break during the day (and night).
4. Define daily goals
It's easier to feel like you've accomplished something if you know exactly what you're working toward. Physically writing down a list of goals can give you a keen sense of triumph as you check them off. A list makes it easier to monitor your productivity and make sure you're not just spinning your wheels. 
As you create your list, be sure to allow some wiggle room, and don't beat yourself up if you don't get everything done. Instead, prioritize the items on your list and work toward the most important things first.
---
READ ALSO:
8 things I never thought I'd miss about travel
How to have clean clothes while traveling
---
5. Focus on safety
The pandemic has been scary, especially since there's still so much to learn and uncertainty about when it'll pass. To reduce this stress, use caution and common sense to alleviate any fears. 
Be sure to wear a mask when you're around others, maintain the appropriate social distance, and travel with a small "corona kit" to make sure you have all the personal protective equipment (PPE), disinfectants, and sanitizer you'll need. To save space, keep a tote bag in your RV or van you can grab on your way out. (But as with all reusable bags, be sure to wash it regularly.)
6. Stay connected to other people
Living on the road, you're probably either hyper-connected to your loved ones, or you've truly separated yourself while you focus on mobile living. To maintain your sanity, if you haven't been routinely connected to other people, reach out to your family and friends. You don't realize how much you miss human connections until the time comes where you're truly isolated.
7. Learn new skills
To keep yourself from falling into a rut, which can lead to burnout, add some new skills to your toolbelt. Take a free online class, watch tutorials, learn how to crochet (or something else creative), pick up photography, or even learn to drive a stick shift. Any new skills you gain can be both useful and invigorating.
8. Prioritize self-care 
To stay healthy and out of the doldrums, make self-care a priority. Eat healthily, exercise, and get plenty of sleep on a regular basis. Try to clear your mind by doing some meditation, taking walks in nature, or keeping a journal.
It doesn't really matter what you choose; just find something to help you relax and/or get out any frustrations or feelings of helplessness. The main objective is to find a release and not keep things bottled up.
9. Use caution
Since the pandemic arrived, unfortunately, people in some places aren't exactly kind to people who live on the road. These people may not be welcoming to "outsiders," and a few have gotten aggressive.
Fearing for your safety does nothing good for your mental health, so use caution in selecting where you stay. Always be aware of your surroundings and lock up your vehicle no matter where you are. Knowing you've found a secure spot will help reduce your worry and stress.
10. Address your financial fears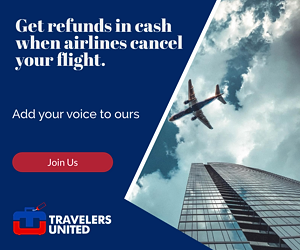 Traveling from place to place makes it easy to forget about "life" from time to time. However, with economic uncertainty likely to continue into the future, you want to make sure you can afford to live wherever it is you're hunkered down. Remote work skills are more important than ever.
Even if you've been working this entire time, work could dry up at any given moment due to economic pressures. Nothing is certain this year. Be sure you have an emergency fund and some accessible credit in case you need a financial boost.
Although living on the road affords more variety as far as scenery, it also presents challenges that home life doesn't. It can be pretty isolating, for one thing. And it can hinder your ability to balance work and home life when you're limited on where you can go. But if you're mindful about maintaining this delicate balance, you'll find it easier to power through any difficulties that come your way.
---
Winding road photo by Jacob Kiesow on Unsplash
Forest photo by Annie Spratt on Unsplash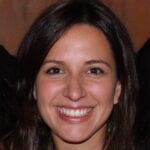 Molly Barnes is a full-time digital nomad. She works remotely, travels constantly, and explores different cities across the U.S. She started her site, www.digitalnomadlife.org as a resource for travelers, nomads, and remote workers. Molly writes resources that help office and remote workers alike reach their personal and professional goals of becoming more successful. Follow along with her and her boyfriend Jacob on their blog as they pursue a nomadic lifestyle while freelancing and traveling across the country.