---
Pandemic rail travel procedures and protocols to combat COVID-19 transmission are in place on US rails.
---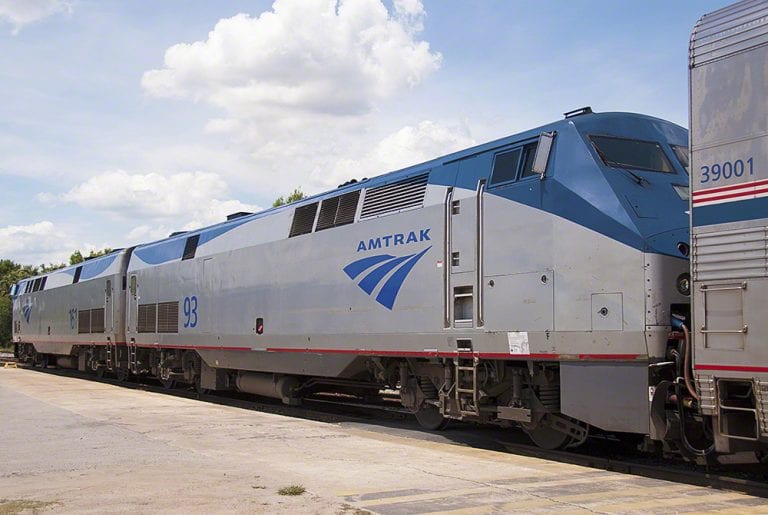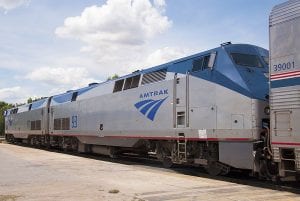 So far, there have been more than 5.5 million COVID-19 infections in the U.S., with more than 172,000 deaths. Therefore, it's not surprising that those contemplating travel by rail in the U.S. are asking if pandemic rail travel is safe.
Whether you're considering rail travel for day trips or long-haul, you must assess rail health safety for yourself. To do that, you first need to understand how Amtrak and regional railroads are trying to keep you safe.
Reservations:
Unlike airlines, Amtrak trains have no middle seats. Most Amtrak cars seat passengers two by two. On long-haul routes, Amtrak also has a variety of private rooms available. Amtrak is limiting bookings on their trains, so passengers can socially distance. While families may sit together, individuals can sit by themselves. On trains you'll likely have more distance between you and other passengers during your ride, but not necessarily six feet or more.
Railroads across the nation are requiring passengers to mask-up and maintain social distance as much as possible during pandemic rail travel.
Across the nation, regional railroads are also working to allow passengers to socially distance as much as possible. On rides I've taken on SEPTA (Southeastern Pennsylvania Transportation Authority), I've been able to always maintain a distance of four feet or more from other passengers.
Cleaning and Disinfecting:
Amtrak and regional rail lines are deep cleaning and sanitizing their train cars daily prior to putting them into service. Amtrak is cleaning and sanitizing frequently touched surfaces and restrooms while en-route. My pandemic rail travel has been cleaner than expected.
---
READ ALSO:
Is the American road trip different after coronavirus
How to choose restaurants in a post-COVID restaurant world
---
Stations:
At Amtrak stations, social distancing and facial coverings are mandatory. Regional rail stations are setting their rules according to state regulations. Generally, ticket kiosks are cleaned and disinfected regularly.
Ticketing:
Amtrak passengers can purchase tickets online or through the Amtrak app. On the train, conductors check tickets by laser scanning the QR ticket code displayed on smartphones or on print-outs. Tickets can also be purchased at the station's kiosks. Many regional rail systems also have electronic ticketing systems.
Boarding:
Amtrak requires an orderly, socially distant line at the gate where they check tickets to ensure you board the right train. Once on the train platform, it's a bit of a free-for-all for passengers without reserved seats, but my experience during the pandemic is that most everyone is trying to stay safe.
Amtrak has gone cashless, requires facial coverings, and social distancing. Many rail train cars have efficient ventilation systems.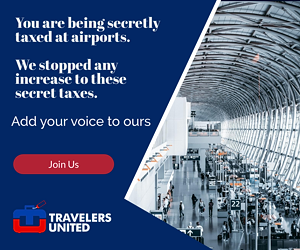 On the train:
Except when eating or drinking, Amtrak requires facial coverings at all times, except when in a private room. If you try to make your beverage last forever, Amtrak conductors will notice and require you to mask-up. Don't ignore them or you'll be banned from future Amtrak travel. Regional railroads follow state face mask and social distancing regulations.
Amtrak and many regional rail cars have an onboard air filtration system with fresh air exchange. It changes the air in the cars every 4–5 minutes. Amtrak trains have multiple restrooms. Each has ample water available for passenger hand washing.
Some Amtrak trains have snacks or other dining services. Passengers in private rooms can use room service. For any non-prepaid food service aboard Amtrak trains, cashless payments are required.
I have suggestions for you to enhance your health safety beyond the measures taken by Amtrak and regional railroads.
Reservations:
If you're traveling by Amtrak and have a smartphone like the majority of travelers, get the Amtrak app. Use it to make reservations and display your tickets at the station and on the train. It can track the status of your train and set up Amtrak service notifications, too.
Just like you need to take on planes, have an abundant supply of alcohol wipes and hand sanitizer to better ensure your seat area is as safe as possible.
Packing:
Make sure you travel with an abundant supply of alcohol wipes and hand sanitizer to use in the station and on the train. On most Amtrak trains you can have your luggage with you in the train car, so you can keep everything in one bag. I prefer to have a personal bag with me for items I will use on the train and keep my large bag stowed in the car's luggage area or in the overhead bin.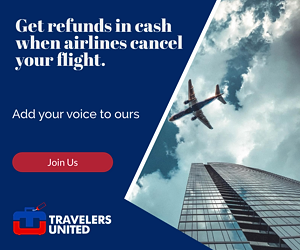 On the rails:
Before you sit down, disinfect your seat, tray table, and seatback, plus seat pocket in front of you, with your alcohol wipes. If not in a private room when you eat or drink, do it at times when those around you aren't, so their masks are on. While seated, keep your overhead air vent open to create a semi-protective air shield around your face. Wash or use hand sanitizer before and after using lavatories.
Everywhere:
Wear your mask at all times unless you're eating and drinking, unless you're in your private room in a long haul Amtrak train. After touching surfaces at the station, in your train, etc., remember to not touch your hands to your face until you've either washed your hands or used hand sanitizer.
U.S. railroads are doing a lot to help you stay safe, but you still have to decide if it's safe enough considering your age and personal health.
While Amtrak and regional railroads across the U.S. have placed an emphasis on protecting their passengers' health safety, there still is much that passengers should do for themselves to enhance what the railroads are doing. Travel by rail can be relatively safe, but each person must judge that for themselves. Each of us must factor in our age and personal health before deciding whether or not to travel by rail.
(Image: Diesel locomotive, Amtrak, Copyright © 2016 NSL Photography. All Rights Reserved.)
After many years working in corporate America as a chemical engineer, executive and eventually CFO of a multinational manufacturer, Ned founded a tech consulting company and later restarted NSL Photography, his photography business. Before entering the corporate world, Ned worked as a Public Health Engineer for the Philadelphia Department of Public Health. As a well known corporate, travel and wildlife photographer, Ned travels the world writing about travel and photography, as well as running photography workshops, seminars and photowalks. Visit Ned's Photography Blog and Galleries.