---
Get vaccination freedom to travel. Use face masks to prevent COVID transmission.
---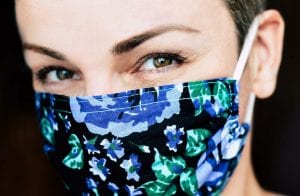 We need vaccination freedom to travel. ane we need to use face masks to protect others. It is our responsibility.
Around the globe, nations are looking at the rising U.S. COVID infection rate with alarm. New daily cases in the U.S. have risen by more than 80 percent nationally since the beginning of August.
Likely sometime today, the European Union will remove the US from their unrestricted list.¹ If removed, travel to Europe by unvaccinated Americans will be greatly restricted. Unvaccinated Americans will be required to undergo multiple COVID tests and worse, quarantine. In the U.S., each day more and more restaurants, entertainment venues and other businesses are restricting customers to only those who can prove they've been vaccinated for COVID-19.
Can we ever be free by staying unvaccinated and not wearing face masks?
With COVID-19 restrictions on unvaccinated Americans increasing daily, and vaccination exceptions offered for medical reasons and little else, it appears that unrestricted travel and a more normalized life will only be available to vaccinated Americans. Can people maintain their freedom by remaining unvaccinated and eschewing masks?
Let's look at the state of COVID-19, vaccines and face masks in order to find a path to freedom from the pandemic.
COVID-19 virus:
The original strain of COVID-19 that infected millions of Americans and killed more than 600,000 has been replaced by the COVID Delta variant. It's estimated that more than 97 percent of new COVID infections are the Delta variant. This is important because the variant is more than twice as infectious as prior strains of COVID-19.
Fully vaccinated travelers are 29 times less likely to be seriously infected from COVID and need hospitalization.
While fully vaccinated people can get the virus, according to a new study from the Centers for Disease Control and Prevention (CDC) only one out for every four people that are infected are fully vaccinated, and they're 29 times less likely to have a serious COVID infection, needing hospitalization, than unvaccinated people. Who's more free to live their lives, the vaccinated or the unvaccinated?
Vaccines:
The U.S. has three approved vaccines. The Johnson and Johnson, and Moderna vaccines are used under an "emergency use authorization (EUA)," while the Pfizer vaccine has received full approval for people over 15 years of age. For adolescents, ages 12–15, the Pfizer vaccine continues to be administered under a EUA. In the U.S., more than 368 million doses of the vaccines have been given. More than 173 million Americans have been fully vaccinated.
A statistical analysis of COVID cases and associated hospitalizations, looking at patients' vaccination status, make's it clear that the vaccines are highly efficacious. While not perfect, they significantly reduce the likelihood of COVID infection and hugely reduce the likelihood of it causing serious illness and hospitalization.
COVID vaccines aren't perfect, but they're efficacious and safe for most everyone. Side effects are unlikely.
The vaccines are safe. They're not perfect, but serious side effects from the three vaccines are rare. Some people have had no side effects. Others have reported short term headaches, while still others felt like they had the flu. Many people felt nothing more than a sore arm after getting any of the vaccines. While extremely rare, some people had anaphylaxis, but it was able to be controlled. Some have had a few other problems which were able to be treated. According to the CDC, long-term side effects are unlikely. Who's more free to live their lives, the vaccinated or unvaccinated?
Face masks:
New research about face mask use from the University of Waterloo found that while many of us need to make better face mask choices, the research clearly shows support for "widespread use" of quality face masks as a significant tool to prevent COVID infection, even from the Delta variant.
Cloth and surgical masks are only 10 perfect effective. N95 and KN95 masks stop 50+% of aerosol droplets.
According to the latest information, typical cloth masks which have become popular and even surgical masks, only filter about 10 percent of exhaled aerosols. The remainder get past the mask, blown out mostly through the top, but also out the sides. Their problem is fit and for cloth masks, also filtration. On the other hand, N95 and KN95 face masks stop more than 50 percent of all aerosol droplets. That makes N95 and KN95 face masks important tools to stop COVID-19 infection. Who's more free to live their lives and fulfill their responsibility to others in group situations, those wearing a light-weight multi-layer wisp of a mask or the unmasked?
News from Marin County, CA shows the importance of face masks and the transmissibility of Delta. An unvaccinated elementary school teacher who wasn't feeling great, thinking it was allergies, took off her mask to read during story time. Two days later, testing revealed she had COVID-19. Despite her students being masked and their desks spaced six feet apart, so did half her class. The Delta variant is so infectious that it only needs a quick miscue to infect us.
"With freedom comes responsibility." They are intertwined and can't be separated.
Eleanor Roosevelt's words continue to be as on-point today. It also applies to face mask responsibility.
"Freedom makes a huge requirement of every human being. With freedom comes responsibility. For the person who is unwilling to grow up, the person who does not want to carry his own weight, this is a frightening prospect."
There is a path to freedom during the COVID pandemic. We can make the choice to give ourselves the freedom to travel and normalize our lives. We also fulfill our responsibility to help our friends, family, and neighbors stay healthy. Take the path to vaccination freedom from the pandemic. Wear a quality face mask. True vaccination freedom for travelers comes together with face mask responsibility.
¹ Update: Today, as expected, the European Union recommended that its 27 nations reinstate restrictions on tourists from the U.S. because of the rising rate of COVID-19 infections in the U.S., but member countries retain the option of allowing fully vaccinated U.S. travelers in.
---
READ ALSO:
Are housekeeping fees part of future hotel pricing?
Dear Mr. President: We need official, digital vaccine passports today!
---
After many years working in corporate America as a chemical engineer, executive and eventually CFO of a multinational manufacturer, Ned founded a tech consulting company and later restarted NSL Photography, his photography business. Before entering the corporate world, Ned worked as a Public Health Engineer for the Philadelphia Department of Public Health. As a well known corporate, travel and wildlife photographer, Ned travels the world writing about travel and photography, as well as running photography workshops, seminars and photowalks. Visit Ned's Photography Blog and Galleries.