---
Gliding through rugged mountains on Swiss trains.
---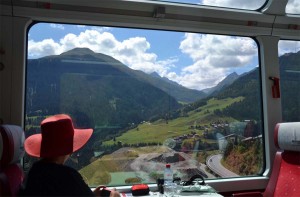 My aunt and I spent a wonderful two-week sightseeing vacation in Switzerland. The trip was a package tour that allowed us to experience the Alps by Swiss rail. It was my aunt's treat as her gift to me for my birthday. I am a train travel devotee and have traveled extensively throughout North America on trains, but this was my first opportunity to ride intercity and regional trains in Europe.
Switzerland, a landlocked country about the size of New Hampshire and Vermont combined. Known for having the densest passenger train network in the world, its citizens travel more miles by train each year than those of any other country.
As someone who is used to a skeletal network of passenger trains serving only certain corridors, most with only one (sometimes two or three) trains per day in each direction, I was quite spoiled by being able to get nearly anywhere on trains that ran at least once an hour, many of them offering either panoramic windows (those that extend to the ceiling with a slanted portion on the roof) or large windows that passengers can slide open for fresh air and optimal photography. There are even some Alpine villages that are car-free and only accessible from the outside by train, bus or (in some cases) funicular.
The vast majority of the trains we rode were narrow-gauge (meaning the distance between the two rails is shorter than on most of the world's railroads, which adhere to the standard gauge of 4 feet, 8.5 inches between the rails), which allows them to make tighter curves through the mountain terrain, and many sections of these lines employ cogwheel tracks (located in the middle of the two rails) to provide better traction for climbing and descending very steep grades. The Swiss-built railroads through some of the most challenging terrain imaginable, with some lines using spiral tunnels and circular viaducts to achieve quick increases in altitude. And to reach the few places that railroads don't go, the Swiss Post runs a network of intercity buses called PostAuto that connects with the rail network. Many of these buses also carry the mail to small towns and villages, where they stop at or near the post office
Amazingly, despite many trips up and down the mountains (some taking us from 400 to 11,000 feet in a matter of two or three hours), my aunt and I never suffered altitude sickness — though it was challenging to figure out what to wear, as it could be 40 degrees (Fahrenheit) at the summit on a day when it is 80 down in the valley. And we lucked out with the weather. Despite August being a typically wet season in central Europe, only five of our fifteen days there were cloudy, and it rained mostly at night.
If you are planning a visit to Switzerland and want to tour the country in style, I highly recommend traveling by train. Based on my experience, here are a few helpful things to know:

1) Get a Swiss Rail Travel Pass:
This type of pass, available in 3-, 4-, 8- and 15-day increments at www.raileurope.com, completely covers your fare for travel on the vast majority of trains, buses and boats in Switzerland, and gives you 50 percent or 25 percent off the fare on certain tourist-oriented rail lines and on most funiculars. It is an amazing value: my aunt and I estimate that we each saved over $600 with the Swiss Travel Pass compared to what we would have paid if we had purchased individual tickets for each segment of travel we did. And the pass is hassle-free. You don't have to go to the ticket window or figure out what fare to purchase. Just take your seat on the train and show your pass to the conductor upon request. Note: Swiss Travel Passes are only available to non-Swiss citizens. Eurail Passes are useful for trips that combine multiple countries but are only good on a very limited number of trains in Switzerland.
2) Download and use the Swiss Rail SBB mobile app:
The official app of the Swiss Federal Railways (SBB by its German acronym) is a complete timetable and guide to the country's interconnected, multi-modal public transportation network, including buses, boats, and funiculars as well as all train lines, not just those operated by the SBB. It is a free download from the Apple, Android and Windows Mobile App Stores (search for "SBB Mobile"). Simply plug in your origin, destination, and desired departure time, and the app will give you several route options to choose from. Tap on an option, and it will tell you the train/bus/boat numbers, where to transfer and how long each transfer will take, what track the train will depart from, and even how full the train is expected to be (if it's an SBB train). With this app, you don't even need to have a printed schedule or timetable.
And don't worry about making a connection that's scheduled for four or six minutes: Swiss trains are famously punctual, and even if an unusual delay occurs, the longest you will have to wait if you miss your connection is an hour (unless you're traveling very late at night). If your train is stopped waiting for another train to clear the track ahead, this "delay" is most likely built into the schedule. And most trains and buses are timed to connect with others. If you want to limit your international cellular data usage, you can use the app to download your itinerary while on WiFi, then take a screen capture that you can refer to while on-the-go.
3) First or Second Class on Swiss rail:
Based on recommendations from others, my aunt and I decided to splurge on First Class passes. Based on my experience with North American rail and air travel, I expected First Class to offer a host of premium amenities, such as priority boarding, complimentary drinks, etc. In actuality, First Class generally only offers slightly nicer seats more widely spaced, usually with a 2-1 arrangement (four facing seats on one side of the aisle and two on the other) as opposed to a 2-2 (and sometimes 2-3) arrangement in Second Class), in a separate car or walled-off section of a car, but generally no other special amenities. The main advantage of First Class for us is that the First Class section was generally very uncrowded, and we often had it to ourselves. The extra room in First Class is also useful if you're carrying luggage. A First Class pass also gives you access to the upper deck on many boats. However, Second Class seating is generally perfectly comfortable. Most European vacationers travel Second Class, with First Class generally used by foreign tourists and business travelers.
4) Swiss rail seat reservations:
It is not possible to reserve a seat on the vast majority of Swiss trains, and it is generally not necessary. However, on the three popular tourist routes that we rode (the Bernina Express, Glacier Express and Golden Pass Line), it is strongly encouraged to make a seat reservation through the operating railroad, the SBB or a travel agent, especially if you want to be sure of having a window seat.
5) Dress in layers:
Aside from the dramatic temperature changes at different elevations, the interior air temperature can vary greatly from train to train. Some trains have air conditioning and others don't, and some have windows that can be opened and others don't. But if your car is too hot or cold, try moving to another one.
---
READ ALSO:
10 tips for discovering the best of Switzerland by train
Amtrak service declines as it becomes an airline on rails
---
6) Make day trips:
You can see much of the country within two or three weeks while only having to change hotels two to four times. If you stay in larger cities that are rail hubs, you'll find a greater selection of hotels at different price ranges, and you'll be able to make day trips by rail to other spots. For example, instead of staying in touristy Zermatt (close to the Matterhorn), we stayed in Brig, a larger, charming old city that is only 1 hour and 20 minutes by train from Zermatt. With fewer businesses that cater to tourists, Brig gave us more of a local flavor (though fewer restaurants had menus in English).
7) Traveling by Swiss rail allows you to combine train, ferry & bus travel with hiking and cycling:
You can bring hiking gear and bicycles aboard most Swiss trains, buses and boats, so it is very easy to take public transportation to a variety of outdoor recreation destinations. There are also many train stations that allow you to rent a bicycle and return it to a different train station.
8) Learning the local language is not necessary:
Language, however, is often helpful, even if you only know a few words and phrases. The majority of the Swiss speak Swiss-German (a unique dialect of which there are a number of local varieties), but can also understand and speak "High German," which is that spoken commonly in Germany. There is also a significant French-speaking region in the west, and small Italian-speaking pockets in the south. However, the vast majority of those who interact with visitors (railroad/bus/boat staff, hotel staff, restaurant wait staff, etc.) speak at least basic English, and most destinations have brochures in English. There are a number of online resources to help you learn the rudiments of Swiss-German, French or Italian.
9) Switzerland is expensive:
You may get some sticker shock on your restaurant bills and with other services, but the Swiss pride themselves on making high-quality products that command premium prices. Service industry workers are also paid very well, which is factored into the price of things like restaurant meals, and do not expect tips (you should only tip if the service was outstanding). Taxes are also higher, which is part of what allows the country to maintain such a robust transportation system and well-functioning infrastructure.
10) Bring your camera:
Trains (as they do nearly everywhere) give you a vantage point that is otherwise only available to hikers. Don't bother bringing a book or magazine for a train trip, as you'll almost certainly be fully occupied by taking in a diversity of beautiful views that you will want to capture on film.
All photos © Malcolm Kenton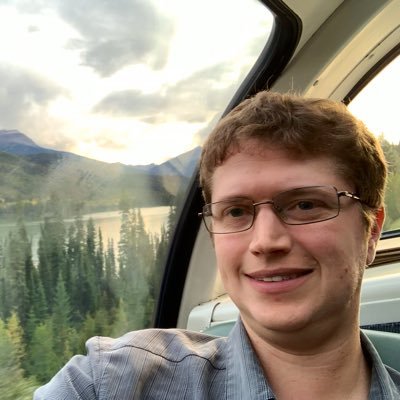 I am a writer, researcher, multimedia communications professional, and photo/videographer.
I am focused on achieving sustainable economic development and human-scaled communities through a robust multi-modal transportation system centered around a network of high-performance local, regional, and inter-regional passenger trains and frequent and reliable rail transit (streetcars, light rail, commuter rail and subways/metros).