---
Rooms to Explore visits an Umbrian farmhouse
---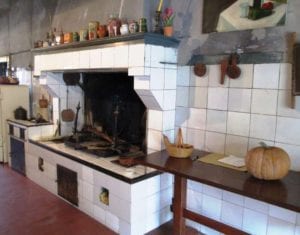 Our temporary Italian home away from home could have been in an upscale hotel – but it wasn't. Its two spacious bedrooms, comfortable living room and full kitchen had recently been renovated. The antique furnishings, heirlooms of the family that owns the property, were casual and comfortable. Yet the setting, in the midst of gently rolling hills blanketed by olive trees, was unlike any traditional accommodation my wife Fyllis and I have experienced elsewhere.
Untours, the non-touring company with which we were traveling, had met its goal of helping clients to "live like the locals." Rather than booking us into a cookie-cutter hotel, or even one with some unique personality traits, we were staying in a centuries-old farmhouse in Umbria (pronounced Oom-bria by those who live there), Italy.
This Rooms to Explore feature focuses upon places to stay throughout the country and the world that become part of a visit to a destination. These are hotels, inns and other accommodations that help to bring the local history, culture, and lifestyle alive in a very meaningful way — where the sightseeing and travel experience begin in the lodging itself. When I'm lucky enough to come across such places, I take pleasure in sharing my fortunate encounter, and my observations, with others.
That often-overlooked region has not been as celebrated and glorified as its better-known next door neighbor, Tuscany. Yet it encompasses a rich collection of artistic, scenic and other treasures that reward those who seek them out.
As it turned out, the history-rich farmhouse where we stayed became an integral part of our immersion in the local culture. It didn't take long to pinpoint reminders of the age of our surroundings. We noticed original ceiling beams which Ettore Benedetti del Rio, our gracious and congenial host, said have been in place since around 1700 and probably even earlier. He pointed out a brick in one of the farm buildings which bore the date 1582.
Ettore fulfilled several roles during our stay, including historian, local tour guide, and concierge. His stories about the farm were as fascinating as they were informative.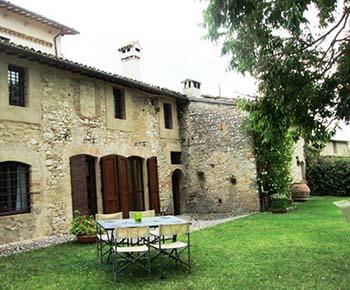 The spread takes in two adjoining farms. One consists of about 200 acres, 70 of which are covered by a forest. Its fields are planted in durum wheat, which is used to produce – what else —pasta, along with other cereals and legumes to feed the farm animals.
Among crops grown on the nearby 80-acre organic farm are lentils, chick peas and black-eye peas. Ettore explained that the spelt from that farm is a type of wheat which has been cultivated since about 5000 BC.
His voice adding a hint of pride, Ettore went on to speak about the six acres of olive trees and what an important role they have played in the history of the farm. The end result is the production of about 265 gallons of top-quality olive oil a year.
This is no every day, run-of-the-mill oil. Careful attention to growing and production has earned the farm the coveted DOP (Protected Designation of Origin) label. That certifies that the entire process, from growing the olives through producing oil to bottling, has taken place at the same location and follows strict rules and regulations.
After accompanying us on a stroll through the grove of trees from which the olives come, Ettore led us into the rooms where the fruit is processed into one of the staples of the Italian diet. He pointed out the original mill, which at one time in the past was powered by oxen. He explained that the oil must be produced within no more than 48 hours after the olives are harvested. He explained the use of large clay jugs with stones on the top as presses to extract the oil.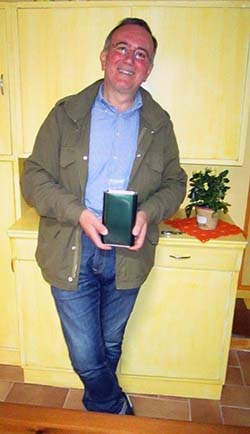 Other recollections about farm life, including the fact that Ettore represents at least the 10th generation of his family to own the place, added to the rich mosaic that was painted in our minds' eye. An embroidery with the date 1865 was made by a great aunt. Around the World War II years, it was the practice to provide a meal to all of the farm workers. During that war, a number of people who were evacuated from their homes were given refuge.
In addition to receiving this intriguing history lesson, guests may, if they wish, take part in some farm activities. That can include collecting organic eggs laid by the resident hens and, during the summer months, picking blackberries and raspberries and veggies from the garden for snacks or dinner.
Along with its own appeals and attractions, the farm is well located for exploring the attractions of Umbria. For starters, the region boasts magnificent landscapes. The jagged Apennine Mountains lead to rolling hillsides that flatten into lush valleys along the banks of the Tiber River. Fields of wildflowers vie for attention with the silver leaves of gnarled olive trees and with rows of grape vines that change from summer green to vibrant reds and yellows as fall approaches.
Overlooking the scene are the true gems – towns that for centuries have perched on top of hills and spilled down toward the valleys below. In many ways, time has bypassed these villages of stone buildings, winding cobblestone streets and walkways so narrow it's sometimes possible to reach out and touch the walls on both sides.
Umbria's size, or rather lack of it, provides opportunities to check out a variety of inviting villages in a limited time. In an area smaller than the state of Connecticut, nothing is very far from anything else, so it's possible to visit more than one hilltop village in a day.
While these ancient enclaves often appear identical when viewed from afar, there are differences which set each one apart. Each has its own unique claims to fame that are well worth exploring.
For more information about combining very comfortable accommodations with an enticing bit of history, with the added appeal of Umbria's intriguing hill towns, send an email to [email protected] Ettore speaks more than passable English. For information about Untours, which uses the farm as one of its lodgings in Umbria and offers trips to a number of European destinations, log onto untours.com.



After gallivanting throughout the United States and to more than 75 other countries around the world, and writing about what he sees, does and learns, Victor Block retains the travel bug. He firmly believes that travel is the best possible education, and claims he still has a lot to learn.  He loves to explore new destinations and cultures, and his stories about them have won a number of writing awards.