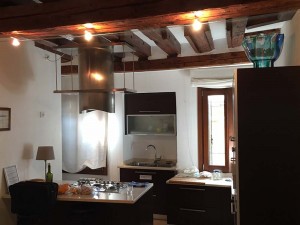 Venice has been dying for centuries. But, many feel that during the past two decades, it has been struggling as it never had in the past. Entire blocks of the Dorsoduro sestieri (district) appeared to be boarded up. Small children didn't seem to be prevalent. No new industry came into the city, other than tourism, that could really support a thriving city. Venice's population, and its economy, was shrinking.
Today, small shops are opening again. Bakeries are selling more croissants and panini. Supermarkets are being squeezed into small spaces. And, the city's income from taxes and public transportation are rising again.
The biggest reason — many of the once boarded-up apartments are finding a new life. Airbnb.com, VRBO.com, and HomeAway.com are beginning to fill once empty apartments. The tourists that come to Venice and stay in home-sharing accommodations tend to stay longer and they stay in the city rather than visit by day and depart at night. And, this is invigorating the city's economy.
I have had a long and intimate knowledge of Venice. I first visited as a 5-year-old and have been back to this city scores of times over the past 60 years.
During the last decade, I have had the opportunity to spend a month at a time in this splendid city. I would take over the apartment of a friend who headed out of town during the Italian vacation month of August. As you can imagine, I have been here during sweltering weather and during just plain warm weather in August. But, I have also experienced the cold, foggy winter mornings and have even seen some snowflakes.
This new sharing economy is changing Venice and will continue to change this fabulous city. As Italian families leave, heading to the mainland where the living is easier and schools more plentiful, a new wave of travelers is moving into Venice.
In the olden days (about 20-500 years ago) Venice was a city where staying overnight or for an extended period of time required visitors with plenty of money. Basically, the rich came to Venice and clustered around St. Mark's Square in many of the lush hotels and expensive bars frequented by that upper class.
The middle class came into Venice. They parked their car out at Piazzale Roma and took the Vaporatti up and down the Grand Canal. For the bulk of middle-class tourists, Venice was a day-trip affair.
My family used to park our car and then take the water bus (Vaporetto) down the Grand Canal to St. Mark's Square. After visiting the square, we would walk across San Marco to the Rialto Bridge, and finally, walk from there back to the train station and on to the car park. (I remember when the car park used to be a big field that eventually was transformed into a multilevel garage.)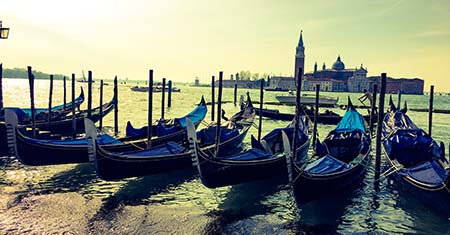 In the 2000s, cruise lines began to make Venice a port of call. These giant ships would dock down by Piazzale Roma, near the car park, and disgorge their passengers for a day or days in Venice. Some cruise ships docked along a port on the Guidecca Canal, even closer to the center of Venice.
The problem with these cruise ship tourist, just as with the middle-class, day-trippers of old, was that they came into the city during the day, packing the tiny alleys and filling souvenir shops until dinner time. Then, they all traipsed back to their ships and the already-paid-for, sumptuous cruise buffets. Few spent the night in the city and fewer still dined out in Venice's restaurants, pizzerias, and osterias.
Naturally, the locals were not happy with this situation. Venice had a crush of tourists during the day, exacerbated by cruise line passengers, but they didn't add that much to the economy.
Over the past five years, the world has been changing for Venice. The birth of the sharing economy and its coming of age has meant that more and more tourists can stay overnight in Venice. The private rental of apartments, which used to remain empty between infrequent visits by their owners, has started to change the economy of Venice.
Now, more and more visitors are spending more and more time in La Serenissima, the city of Venice. More visitors are choosing to spend a few days or even weeks in Venice to explore the artistic and cultural joys of this amazing city.
From my point of view, it takes about three days for the noise of the outside world's traffic to fade from one's memory. Then, Venice can replace those sounds with the ringing of scores of church bells and the rumbling of the water buses.
Venice is an antidote to our rush-and-tumble world. An extended visit in Venice is more than just a change of place. It is a change of state of mind. It is a form of meditation on a life of beauty. It is a world of walking and rarely rushing. However, this Venetian elixir takes time to develop and enjoy.
In the meantime, as more and more travelers now have the opportunity to enjoy what was once the province of only the rich and famous, the everyday and night economic infrastructure of Venice is beginning to improve.
Pizzerias are thriving. Small hardware stores are filled with cooking gadgets and tools and items that make everyday life easier. Restaurants stay open late into the night. Early morning bread stores see more and more foreigners. The morning vaporetti are not only serving workers coming from the mainland to work in the tourist industries but now transport overnight visitors out for an early morning cruise without crowds down the Grand Canal.
This transformation could not have happened without the new home-sharing economy. The developing rebirth of Venice is an example of how new technology platforms can change an economy for the better.
Photos: Kitchen of apartment rented through VRBO.com by Charlie Leocha. Venice from San Mark's Square by Karen Cummings.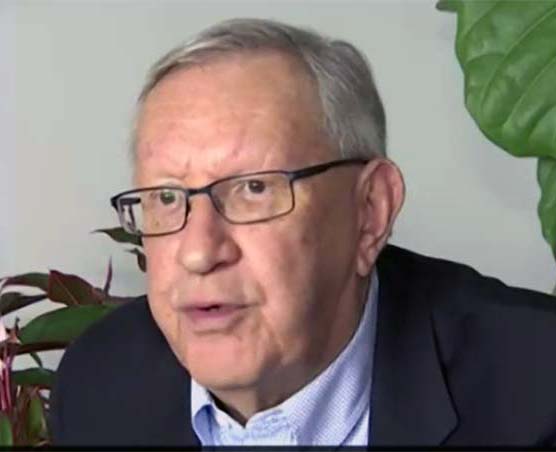 Charlie Leocha is the President of Travelers United. He has been working in Washington, DC, for the past 14 years with Congress, the Department of Transportation, and industry stakeholders on travel issues. He was the first consumer representative to the Advisory Committee for Aviation Consumer Protections appointed by the Secretary of Transportation from 2012 through 2018.