Much ado about commemorating the anniversary of his death, that is. William Shakespeare died 400 years ago April 23, 2016, allegedly exactly 52 years to the day from his birth. His legacy, however, lives on, and this year his English homeland is giving The Bard his due. Both Stratford-upon-Avon, where he was born and also died, and London, where his career flourished, have calendars filled with Shakespeare-themed tributes and events. Every Bardolator tours and takes in a performance Shakespeare's Globe Theatre in London and the Royal Shakespeare Company in Stratford, but here are nine other Shakesperiences to enhance a fan's itinerary.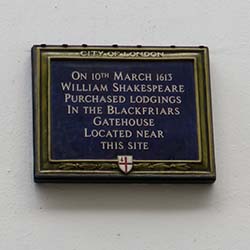 • In London's trendy Bankside, barely a stone's throw from the original site of London's Globe Theatre and hidden under an ugly building, is a real treasure. The Rose Playhouse comprises the extant ruins of the original 1587 Elizabethan theater, where Shakespeare's Henry VI Part I and Titus Andronicus premiered. Public outcry, supported by actors such as Ralph Fiennes and Judi Dench, and aided by Sir Laurence Olivier's last recorded words before his 1989 death — "God Cry for Harry, England, and The Rose!" — preserved the archeological site, discovered during construction in 1989. Now, Shakespearean plays and other works are presented on a small stage, wrapped by about 50 seats on three sides with the illuminated Tudor dig site as a backdrop. The intimacy and the heritage combine for an unrivaled place to experience one of Shakespeare's works.
• "Shakespeare's vocabulary included 30,000 words; in Hamlet alone he uses 4,700 different words," says actor/author Declan McHugh on his guided, 90-minute Shakespeare-in-the-City walk. "He invented nearly 3,000 words, such as circumstantial, assassination torture…," McHugh continues, ticking off a list of Shakespeare-isms as he points obscure artifacts and unmarked London sites, such as the locations of Blackfriar's Theatre and the only two known sites of The Bard's six London homes. He tosses in trivia and teases controversy— Was Shakespeare a secret Catholic? A bisexual? — between sights such as Wardrobe Place, various statures and ruins, and a Christopher Wren-designed church where the Bard was a parishioner.
•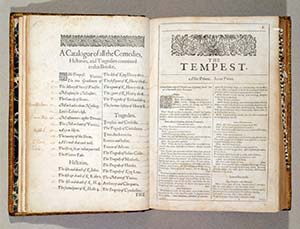 Geek out at the British Library's exhibition Shakespeare in 10 Acts, which explores the historical context of 10 key performances over four centuries. Included are more than 200 rare items, including rare first editions, scripts, playbills, and costumes. Highlights include The Book of Sir Thomas More, the only surviving script in Shakespeare's hand; a human scull, given to actress Sarah Bernhardt by Victor Hugo, that she used when playing Hamlet in 1899; the warning issued to audiences before a woman first performed on stage, in Othello, in 1660; and a 1603 printed edition of Hamlet. The exhibition is on view through Sept. 6, 2016.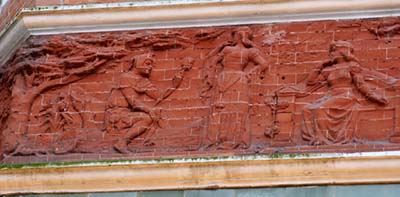 • Think you know Shakespeare? Stop by London's St. James Court Hotel and see how many works you can identify in Britain's (perhaps the world's) longest al fresco Shakespearean frieze, a work in red brick ringing the Shakespearean Courtyard. Go ahead, order a Shakespearean-themed cocktail to sip while you try to identify the works; there's a special one every month this year.
• If visiting Windsor Castle en route to Stratford-upon-Avon, don't miss Shakespeare in the Royal Library, an exhibition drawing from works in the royal collection. Included are three folios of Shakespeare's 'Comedies, Histories and Tragedies.' Most interesting is a 1632 Second Folio, hand annotated by two kings, Charles 1, likely while he was imprisoned before he was beheaded, and George III. And don't miss the engraving depicting Shakespeare, one of only two made within living memory of him, with accuracy endorsed by Benjamin Johnson.
•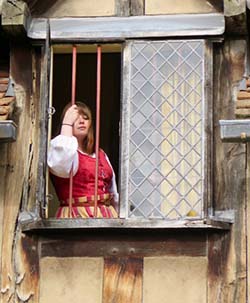 In Stratford, touring Shakespeare's Birthplace begins with an introductory exhibition, "Famous Beyond Words," that provides the background for visiting the home, where he was born and continued to live through the first five years of his marriage. The impromptu Shakespeare Aloud troupe acting out scenes is a great finale, but if your wallet is fat and you have passions for all-things-Shakespeare and especially artifacts and old tomes, prebook a private bespoke behind-the-scenes tour to access the vaults and collections of both the Shakespeare Birthplace Trust and the Royal Shakespeare Company. It's a rare opp to see priceless artifacts without a sheet of glass separating you from them.
• Sit in the classroom where young William studied and first experienced theater at Shakespeare's Schoolroom & Guildhall. Still in use by the same King Edward VI School that Shakespeare attended, the 1420 structure underwent an approximately $2.59-million restoration before opening to the public in April. Also of note are fragments of rare medieval wall paintings based on the seal of the Guild of the Holy Cross and Tudor roses uncovered during restoration.
• Shakespeare's Birthplace has long been a major attraction, and one well worth seeing, but this summer, the Shakespeare Birthplace Trust is unveiling Shakespeare's New Place, the home where he died. William Shakespeare purchased New Place, the second-largest house in Stratford, in 1597, living there for 19 years. Although demolished in 1759, the foundations of the U-shaped house and its gardens were preserved. In July, they'll reopen, along with the adjacent Nash House, the masterfully preserved Tudor home where his granddaughter, Elizabeth, lived. The nearly $7.2 million project will introduce Shakespeare on a more personal level through interpretive exhibits accented with rare artifacts in the house and garden displays highlighted by commissioned artworks in the footprint of the former family home.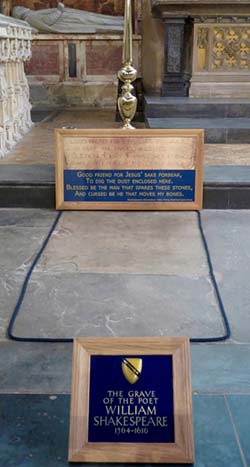 • Every story has an ending, and Shakespeare's final resting place is in Stratford's Holy Trinity church. "If Shakespeare came here now, there's an awful lot he would still recognize," says Head Verger Paul Harris about the 1210 beauty. When The Bard died, it was common for people to be buried and later for the bones to be removed to make way for another burial. Shakespeare's wealth allowed him to purchase a share in the valuable real estate in the Sanctuary, a place usually reserved for upper clergy. That share included a rite of burial. Shakespeare upped the ante by placing a curse anyone daring to dig up the graves. And that rumor about 18th-century grave robbers stealing his scull? According to Harris, while it's true that a Ground Penetrating Radar survey showed air gaps, which usually indicate signs of disturbance, it was the wrong type of Radar for definitive proof.
Photos © Hilary Nangle except picture of copy of William Shakespeares Second Folio 1632 Shakespeare in the Royal Library ©Her Majesty Queen Elizabeth II 2015
I have three passions in life: Maine, traveling and skiing. Okay, four: chocolate. Maybe five, spa-ing (is there such a word?). I guess writing would be my sixth passion. And cheese, oh yeah, artisan-crafted and farmstead cheeses. Did I mention lobster? What can I say, I'm a passionate kinda gal. You can find more of my tips for traveling through Maine at: Maine Travel Maven. My three Moon Maine guidebooks are — Maine, Coastal Maine, and Acadia National Park. They are available at bookstores and online.