---
Read your airline ticket, then reread it again — it is important
---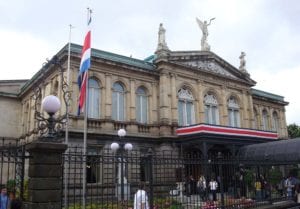 Since it was 14 degrees in Chicago, I figured all the passengers on my United Airlines Sunday afternoon flight to San Jose were especially happy when the door was closed for an expected on-time departure for California.
Then came those dreaded words — "Flight attendants, disarm doors for arrival."  Usually, that means some mechanical issue has cropped up, and it could be a while.
Instead, we all watched as a family of four, including two school-aged children, rushed to the front of the plane and got off. Then the pilot came out of the cockpit and got on the microphone. He announced, "Ladies and gentlemen, it happens…" Reading matters when it comes to airline tickets.
As it turned out, this was a situation where reading matters. A flight attendant had overheard the family discussing their planned vacation — in Costa Rica. They thought they had booked a flight to San Jose, the capital of Costa Rica, not San Jose, California. And now, on top of what was surely going to be a nightmare conversation for the family with an O'Hare customer service agent, United had to find and pull their checked bags off the plane. Amazingly, for those of us who DID want to go to California, this was accomplished with only about a 30-minute delay.
I have no idea what happened to the family. They will face at least a day's delay, and then there's the return flight issue.
But this story highlights an increasingly important issue in the age of high-tech travel booking, where often travelers never talk to a human. Reading matters. Or, another way of saying it is RTDT – Read. The. Damn. Thing.
(Side note, I'm not 100% POSITIVE this family booked online. Though travel agents can make mistakes, it's just unlikely that an agent would book hotels or land arrangements in a different city from the air destination. Even if the SJO – San Jose, Costa Rica, code, is similar to SJC – San Jose, California, and for that matter SJD – San Jose del Cabo, Mexico)
My assumption is that since many booking sites have drop-down menus for cities, that someone just accepted the first San Jose that came up or clicked on the wrong one. Even so, a site and the subsequent itinerary would say San Jose, California.
Had they made the mistake in reverse order, it might have been caught if they were accidentally booked to Costa Rica instead of California and didn't have passports. Or, if the booking site warned them about immigration requirements. But no airline agent will question people using passports for identification.
As it is, the itinerary certainly would have said, San Jose, CA, USA. And the boarding passes would say the same thing. But in my experience, many travelers are paper-adverse these days. Perhaps this was all done electronically? Or, perhaps they printed itineraries and still didn't catch the error. They must have booked their lodging separately because online travel agencies generally only offer lodging options at the destination.
In some ways, it's amazing this kind of SNAFU doesn't happen more often. Everyone's in a hurry, everyone's looking for a deal, and people just seem to read less and less. Add to that the fact that quickly reading details on a small phone screen can be difficult and travelers will have a recipe for disaster.
It's another post, or many posts, but not reading carefully can also result in a myriad of other mistakes, especially in an era with so many nonrefundable travel options, even "simple" hotel bookings.
So SLOW DOWN! Reading matters! Please, read as you book, while you book, and after you book reservations. It was funny for most passengers this time, but not for the family that didn't know the way to the right San Jose.
Photo courtesy Wikipedia.
Janice Hough is a California-based travel agent a travel blogger and a part-time comedy writer. A frequent flier herself, she's been doing battle with airlines, hotels, and other travel companies for over three decades. Besides writing for Travelers United, Janice has a humor blog at Leftcoastsportsbabe.com (Warning, the political and sports humor therein does not represent the views of anyone but herself.)