---
Creating the perfect Hawaiian vacation means asking questions
---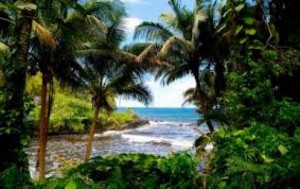 Hawaii's a dream destination for many people, and as a travel agent, one of my favorite places to sell. But, as I've learned from dealing with a lot of first-timers, and even repeat travelers, it's a destination with a lot of questions beyond the basics — name, birthdate, budget, preferred airline and which island. Sometimes even which island's up in the air when it comes to a perfect Hawaiian vacation.
This post won't answer all the questions but will give travelers an idea of what to ask themselves before they get started with booking a trip to Hawaii, either when booking themselves with an online booking site or working with a travel agent.
1. How important is the view for your perfect Hawaiian vacation?
Travelers who are used to similar rooms being sold at relatively similar prices are in for a shock in Hawaii. It's not just that deluxe rooms and/or suites cost more, but an identical room facing the ocean might be 50 percent more than a room facing the city or mountains. In some cases, I've seen the price double.
For some travelers, that ocean view, and potentially being able to leave the windows open at night to hear the waves, is worth any premium and, for some, may be worth switching down to a lesser hotel. For others, it's not as big a deal.
2. How important is proximity to a beach and to a swimming beach?
Depending on the island, choosing a hotel across the street from the beach, or a short drive away, may save a lot of money. Another thing to be aware of is that not all hotels on the water really have beaches. Some beaches — especially in Kauai, with a potentially strong undertow — are not good for swimming.
3. How important is the pool?
Some hotels with great beaches have pools that might be reminiscent of one at a mediocre club in the Midwest (albeit usually with better scenery). Others are mini waterparks, with everything in between. For that matter, some, but not all, hotels have separate adult and kiddie pools. Pick what you need for your perfect Hawaiian vacation.
Plus, there's also the issue of whether the pool is open 24 hours. Many resorts, for liability issues and to provide peace and quiet for guests with nearby rooms, close the pool and/or the hot tubs at some point in the evening.
4. How important is having a choice of restaurants, entertainment, and/or shopping within walking distance?
Conversely, how important is seclusion? Being in an area with a number of other resorts (Kaanapali and Wailea in Maui, for example), means more choices for meals and other activities outside the resort. On the other hand, such resorts don't necessarily provide that "get away from it all" feeling.
5. Perfect Hawaiian vacation hotel or condo.
The trade-off can be more space vs. more facilities. Even travelers who don't cook may enjoy a microwave and refrigerator for snacks or leftovers. And, on most islands, a one-bedroom condo can be the same price as a comparable level hotel room. On the other hand, most condo complexes have fewer facilities and amenities such as room service, children's programs, water slides, etc.
In some cases, however, time-share condo-type units may be rented by the night at resort complexes with facilities that rival deluxe hotels. This can be especially good for families who might otherwise need two rooms.
6. How important is breakfast?
Many properties now offer specials with breakfast for two included. Some tour operators, and travel agencies through their consortia, get breakfast included for no cost. Other times, it might be a relatively modest difference. Most of these are breakfast buffets that can double as brunch. For someone who only wants coffee in the morning, this may not make a difference or be an unneeded overkill.
7. How much does the room itself matter?
Many people just say "something comfortable," but that translates to a wide range of choices. Travelers who really don't spend any time in the room may be fine with something very basic. Others want something that feels nice after a day in the sun. Note: As with many tropical destinations, older hotels in Hawaii often have rooms that look, well, old — especially if they haven't been renovated in a while.
Another factor to consider is that many condominiums rent through management companies like Aston or Outrigger that have properties with a hundred or more units. Renting through those companies, especially through a tour operator, means some additional flexibility. These management companies can often change a unit upon arrival that has problems or isn't to a client's liking. (This is as opposed to renting a particular house or condo privately where the choice may be take it or leave it.)
Clearly, there are a lot of questions. But, the answers matter, especially since those answers aren't the same for everyone. Considering these questions in advance, and either researching or working with a GOOD (yes, I know that's not a given) travel agent who knows Hawaii, can make the difference between a great vacation and a real disappointment.
Janice Hough is a California-based travel agent a travel blogger and a part-time comedy writer. A frequent flier herself, she's been doing battle with airlines, hotels, and other travel companies for over three decades. Besides writing for Travelers United, Janice has a humor blog at Leftcoastsportsbabe.com (Warning, the political and sports humor therein does not represent the views of anyone but herself.)