---
Do we need a law to provide humane personal space on planes?
---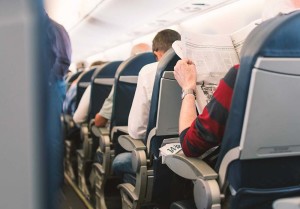 As the US digests confrontations between airline crews and passengers, questions are swirling about what has caused this us-vs.-them attitude between passengers and airlines. Some of the reasons seem clear, but what to do about them is more complex. The lack of personal space on planes is considered a major factor.
Humane personal space on planes comes up in any discussion. Airlines seem determined to pack more passengers into planes by adding more rows of seats, thereby reducing the amount of legroom. Of course, though passengers don't like the decreasing legroom, they like the lower prices that more seats provide. Do we need a law to protect both airlines and passengers from themselves?
At what point does passenger personal space and comfort become a bigger factor than price? Travelers United has argued that there are safety considerations in terms of emergency evacuation requirements and health issues in terms of deep vein thrombosis caused by passengers being confined for extended periods of time.
In both cases, the FAA and the Centers for Disease Control agree that limited seat pitch and width can be a factor. However, neither government watchdog has moved to protect consumers.
One approach is to look at the seat sizes and seat pitch (the distance between seats measured from the same point on each seat) in terms of aircraft emergency evacuations. The Federal Aviation Administration (FAA) rules say that passengers must be able to be evacuated within 90 seconds. However, there is conflicting information about whether evacuation tests have been conducted with the current seat pitch reduced to 28 inches.
Consumer groups, including Travelers United, have petitioned the FAA to get the results of evacuation tests and their aircraft seat pitch criteria for those evacuation tests. However, the FAA has refused.
FlyersRights.com had taken the FAA to court
to force release of the test results and data.
…FAA was stating its case in a U.S. Court of Appeals for the District of Columbia. In February 2016, the passengers rights group Flyers Rights petitioned the FAA to do right by weary travelers and set the standard for seat size. The FAA denied that petition and so Flyers Rights filed a lawsuit.
Last Friday, the FAA made its case before the three-judge appeals panel. The agency says it doesn't believe that seat size poses a threat to passenger safety. Currently, the FAA allows for airlines to fit as many seats as they want into planes, so long as passengers, in the event of an emergency, can evacuate in 90 seconds. The attorney representing Flyers Rights argued that the FAA has provided no proof that passengers can evacuate safely, but the FAA's lawyers argued that the proof is confidential airline information that cannot be made public.
The fate of Flyers Rights' appeal is in the hands of the appeals judges. However, precedent has said that any data upon which federal rules are formulated must be public. Both Travelers United and FlyersRights.com do not understand why the FAA will not release the test data to confirm that current seating configurations are safe.
In the meantime, the FAA recalcitrance has prompted Congress to act. Both the Senate and the House of Representatives have introduced bills to require the FAA to define what human seat size and pitch should be.
The SEAT (Seat Egress in Air Travel ) Act of 2017 or, according to its official name, a bill to direct the Administrator of the Federal Aviation Administration to prescribe regulations establishing minimum standards for space for passengers on passenger aircraft, and for other purposes, have been introduced in both chambers.
If airlines cannot control their need to add passengers to their aircraft, perhaps Congress can prevail. Here is the bill's wording:
REGULATIONS RELATING TO SPACE FOR PASSENGERS ON AIRCRAFT.

 (a)

Air Carrier Defined

.—In this section, the term "air carrier" means an air carrier (as defined in section 40102 of title 49, United States Code) that transports passengers by aircraft as a common carrier for compensation.

(b)

Regulations Relating To Space For Passengers On Aircraft

.—Not later than 180 days after the date of the enactment of this Act, the Administrator shall prescribe regulations—

(1) establishing minimum standards for space for passengers on passenger aircraft, including the size, width, and pitch of seats, the amount of leg room, and the width of aisles on such aircraft for the safety and health of passengers; and

(2) requiring each air carrier to prominently display on the website of the air carrier the amount of space available for each passenger on passenger aircraft operated by the air carrier, including the size, width, and pitch of seats, the amount of leg room, and the width of aisles on such aircraft.

(c)

Consultations

.—In prescribing the regulations required under subsection (b), the Administrator shall consult with the Occupational Safety and Health Administration, the Centers for Disease Control and Prevention, passenger advocacy organizations, physicians, and ergonomic engineers.
So far, sponsors of these bills dealing with humane personal space on airplanes include Sen. Schumer (D-NY), Sen. Blumenthal (D-CT), Sen. Markey (D-MA), Sen. Menendez (D-NJ), Sen. Feinstein (D-CA), Rep. Cohen (D-TN), Rep. Kinzinger (D-IL). This effort, together with other legislation seeking a ceasefire in the brewing war between airlines and their passengers, may make a difference. It certainly puts the airlines on notice that the public is not pleased with their continued elimination of personal space in search of more profits.
Write to your congressman and Senators to ask them to support humane personal space for passengers. Although recent videos have highlighted the airline abuse of passengers, this kind of mass abuse in search of profits affects hundreds of thousands of passengers, not only a handful.
It is time, for the sake of passenger safety and health, that seat sizes are regulated. Plus, the return to greater personal space on planes may reduce the air rage that increases as personal space decreases.
Charlie Leocha is the President of Travelers United. He has been working in Washington, DC, for the past ten years with Congress, the Department of Transportation and industry stakeholders on travel issues. He was the consumer representative to the Advisory Committee for Aviation Consumer Protections appointed by the Secretary of Transportation from 2012 through 2018. He also served on the Consumer Advocacy Subcommittee of the Transportation Security Advisory Board.