---
What is the best travel price? It may not be measured in dollars and cents.
---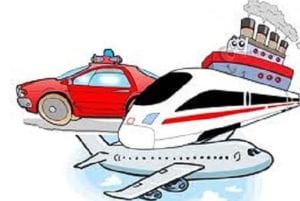 I remember an old cartoon travel agents used to love about getting the best travel price. A flight attendant announced, "Fasten your seat belts, stow carry-ons under your seat, and do NOT discuss your fare with the person sitting next to you."
Today, with technology, not only are there hundreds of airfares on any given flight, but there are also as many — if not more — best travel price options with hotels, rental cars, cruises, etc. This can be a good thing, to a point.
But all these choices can also put travelers into a time-consuming vortex that can take all the fun out of travel.
As a travel agent, I often check back for the best travel price with cruises, hotels, and car rentals booked well in advance to see if there are lower rates. Our agency has a computer program that checks airfares and cruise pricing. However, with airfares, the problem is that most airlines will charge a $200 service fee to reissue at a cheaper domestic fare (and more for international tickets). That penalty generally wipes out any savings.
With cruises, sometimes there are better fares closer to the departure date. But those fares might not include benefits that came with the original booking. I was able to save some clients money last year on a holiday cruise with Celebrity Cruise Lines,  but in another case with a booking for myself, the cruise line offered a lower fare, but without prepaid drinks and gratuities, so the net cost to us would have been higher. Sometimes, too, a sale may be only applicable to certain cabin types. Currently, one of my clients is booked for a transatlantic cruise with Cunard and we are getting nearly monthly notices of a possible better rate. I've called four times and the rate for his cabin has never dropped.
And sometimes, as with airlines, cruise lines can charge a penalty to cancel the first reservation, which has to be figured into the best travel price savings.
With hotels,  I've seen rates both rise and drop closer to arrival. Since most chains now use complicated algorithms for yield management, prices can change by the day.  Again, as with cruise lines, some rates include more ancillary benefits than others, or have different restrictions. Last month, some clients set up a Ritz Carlton reservation through our Signature consortium, with guaranteed connecting upgraded rooms, free breakfasts, and welcome gifts. Then, a relative thought he had found a better rate. The rate was lower, but was for standard rooms, with no breakfast and not even the ability to guarantee one king or two double beds.
Car rentals are perhaps the easiest to double check, although depending on the rental company, a request for the "best rate" on a given day CAN end up changing a cheaper rate to a higher one.
Two other main potential problems with potentially lower rates in the travel industry are that some can be completely nonrefundable, for any reason, and others can be "for new bookings only." Can hotels and cruise lines always tell? Maybe, maybe not, though I've had clients refuse the new booking rate more than once.
Then there are nebulous issues of time and angst.  An app or something that checks for lower rates may be a good thing, as long as the time it takes to keep verifying isn't more of a cost than the price difference. How much time is money depends on the individual, but time, unlike money, is something you absolutely can never get back.
Finally, at a time when so many websites, apps, etc., all promise to get you the very best deal, it can be easy to get sucked into the "is-this-the-best-deal?" mentality. (Suppliers don't help their own cause by bombarding travelers with emails and ads for specials. More than once I've ended up with an unhappy client who gets an email about a deal that is better than what they have. Normally, for some reason or another, it doesn't apply to their booking.)
This post isn't suggesting that consumers be casual with money and prices for travel. Getting good value for travel is important. But getting the very, very, very, best deal can be a holy grail not worth finding.
Janice Hough is a California-based travel agent a travel blogger and a part-time comedy writer. A frequent flier herself, she's been doing battle with airlines, hotels, and other travel companies for over three decades. Besides writing for Travelers United, Janice has a humor blog at Leftcoastsportsbabe.com (Warning, the political and sports humor therein does not represent the views of anyone but herself.)