---
Turn a cancellation into an inward journey in the COVID-19 world
---
I'm looking out of my window at the strangely quiet streets of downtown Washington, DC. Like many, I'm still adjusting to the COVID-19 world, unable to join the usual bustle of life in the city. Fortunately, it's the height of spring and nature seems heedless of COVID-19. The magnolia trees bow heavily with blooms beneath my 7th-floor window.
One week ago I should have been on a flight to Santa Cruz, Bolivia. It was the first leg on a journey to Samaipata in the Andean foothills. During the weekend I would attend the unique wedding of an anthropologist-friend in Bolivia.  Following the wedding, the party would visit the scenic city of Sucré.
I was optimistic about making the Bolivia trip. Then WHO declared COVID-19 a global pandemic the day before my departure. After months of anticipation, I faced up to the risks and reluctantly made the cancellation call to Copa Airlines. It was a good call. Within days of my planned travel, the government suspended international flights and closed land borders. The bridal couple canceled the wedding with one day's notice. Their international guests scrambled urgently to get out of the country.
In the end, I was the "lucky" one. All things considered, forfeiting my ticket was a minor inconvenience. Looking ahead, I'm facing a new challenge — a complete reset of my plans and lifestyle for weeks and months to come. Two more planned international trips hang in the balance, and I'm becoming resigned to whatever the future holds. With two free weeks and a blank calendar, I decided to turn the forfeited trip into a new kind of journey. This is my opportunity to travel inward.
In solitary confinement without the crime
As a public health professional, I've taken a practical, non-alarmist view of COVID-19. When others seek my advice, I've recommended them to follow the guidance of the CDC. However, beyond safeguarding our health, we're now experiencing a complete disruption of daily life. The new normal gets redefined every day, with mounting uncertainty and—for many—growing anxiety. Today, sheltering in place and keeping six feet of separation are the gold standards for prevention. What will tomorrow hold?
Everyone's on a learning curve. We individually determine our risks and coping strategies, and then are constantly adapting. It's a lot like being a traveler. Cancellations and on-the-spot changes in plans are the order of the day.  It calls for patience, resourcefulness and a cool head. Should I be isolating, self-quarantining, or social distancing? In urban centers and COVID-19 hot-spots, we've hunkered down for the foreseeable future.
As innately social beings we don't tolerate prolonged solitude well. Now, suddenly we're in an involuntary state of seclusion. "In solitary confinement without the crime," as recently quipped on BBC World News America.
At the very least, COVID-19 is causing us to question, challenge and reflect on our priorities. While we cocoon in our homes and limit our contacts we need to manage our stress with some positive outlets and new behaviors. Do we have the resilience to treat this as an opportunity and make it a positive experience?
My rules as I travel in place
With weeks of unplanned time ahead I'm determined not to let inertia and habit overtake my good intentions. Lolling about in PJs all day is not an option. I've made a few self-imposed rules to stay focused and ease the unease:
Try to practice the 5-second rule and act quickly to carry out my ideas and intentions. With too much time on my hands, it's easy to delay. Just do it!
Limit screen time.
Stay connected. Use my phone as a phone (what a concept!) and talk frequently with friends and family.
Spend time in nature every day, even if it's just a solitary walk or an hour on the balcony.
Get exercise.
Practice meditation daily, even for just a few minutes. The concentration, deep breathing and relaxation are mentally and physically beneficial.
Learn how to travel in place in solitude
We have plenty of time to read, and there are myriad self-help books targeting harried go-getters in need of calm. "How to do Nothing," a favorite of Barack Obama, sounds like an apt title for the self-isolated. According to the LA Times, "genuinely instructive, elaborating a practical philosophy to help us slow down and temporarily sidestep the forces aligned against both our mental health and long-term human survival." I need that book. Now.
I've included "Silence" by the Norwegian explorer, Erling Kagge, on my list for a mental get-away. Kagge trekked solo for 50 days across Antarctica to reach the South Pole and wrote a deeply meditative book on the power of silence. This book will be my solace for another recent travel debacle. My 2021 'solar eclipse' tour to Antarctica was canceled due to the cruise company's bankruptcy.
READ ALSO ON TRAVELERS UNITED BLOG:
Can a COVID-19 staycation fulfill my travel dreams
Marseille in the time of COVID-19 deaths
Get your caffeine boost with a shot of Old World charm
Travel inward on a mindfulness journey
I'm currently reading a work of Eastern spiritual wisdom, "Autobiography of a Yogi." Though it sounds obscure, it's a widely-read classic. It's known as the one book that Steve Jobs had downloaded on his iPad. He read the book as a teenager, and then reread it every year. You can get it for free from Gutenberg.org.
In the book, I discovered a perfect metaphor for travel in place. The seeker, who lives in noisy Calcutta, begs his guru to let him travel to the Himalayas to gain enlightenment. The guru replies, "Are you able to have a small room where you can be alone and close the door?" The seeker nods. "That is your Sacred Mountain," the guru replies. I think of that humble reminder daily. We can make any simple space our refuge for inner exploration.
A great inward escape — meditation
We all need healthy ways to calm our minds in the COVID-19 world. Meditation is a scientifically proven way to reduce stress, improve concentration and foster a positive outlook. Practicing meditation during the pandemic is a no-brainer. It's free, can be practiced anywhere, requires will but not skill, and there are endless resources for learning and practicing.
If you're new to meditation and want to try it out, install a free app such as Insight Timer. The site offers thousands of guided meditations of varying lengths and themes. I find it's a great 10-minute boost in the morning to set the tone for the day. Almost better than coffee! Today I listened to Opening the Mind to Stillness.
Meditation helps me stay in touch with what I call my 'gratitude attitude.'  In the midst of COVID-19, all of my basic needs are met – safety, food, home, health care, loving friends and family. That's a lot to be thankful for, and I'm keeping gratitude foremost in my mind.
Japanese forest bathing
At this stage of the pandemic, outdoor walks are still considered safe and beneficial. With spring emerging, it's an ideal time to spend time in nature. To add a mindful element to my walks I'm exploring Japanese forest bathing, or shinrin-yoku. It's the perfect antidote to cabin fever. The idea is to immerse yourself in the sensory experience of the forest. You may walk slowly, sit, or even lie down among the trees. With full concentration, you observe the sounds, smells, and intricate beauty and movement of the forest. The play of light, gentle breezes, and subtle sounds are deeply calming.
I've made two forays into local woodlands this past week. All alone, it's easy to be fully present in my wanderings. The famous cherry blossom season is now peaking in Washington, DC. And unlike any year in memory, the city is devoid of tourists. For the first time ever I ambled along the banks of the Potomac River and basked virtually alone in the frothy pink beauty of the trees.
Enjoy an inward journey in the COVID-19 world
If there's a 'silver lining' to COVID-19, it's the opportunity to learn and change by facing extraordinary challenges. Here's wishing you wellness as you travel in place, and may the Taoist wisdom prove true: "The journey is the reward."
All photos ©Melinda Ojermark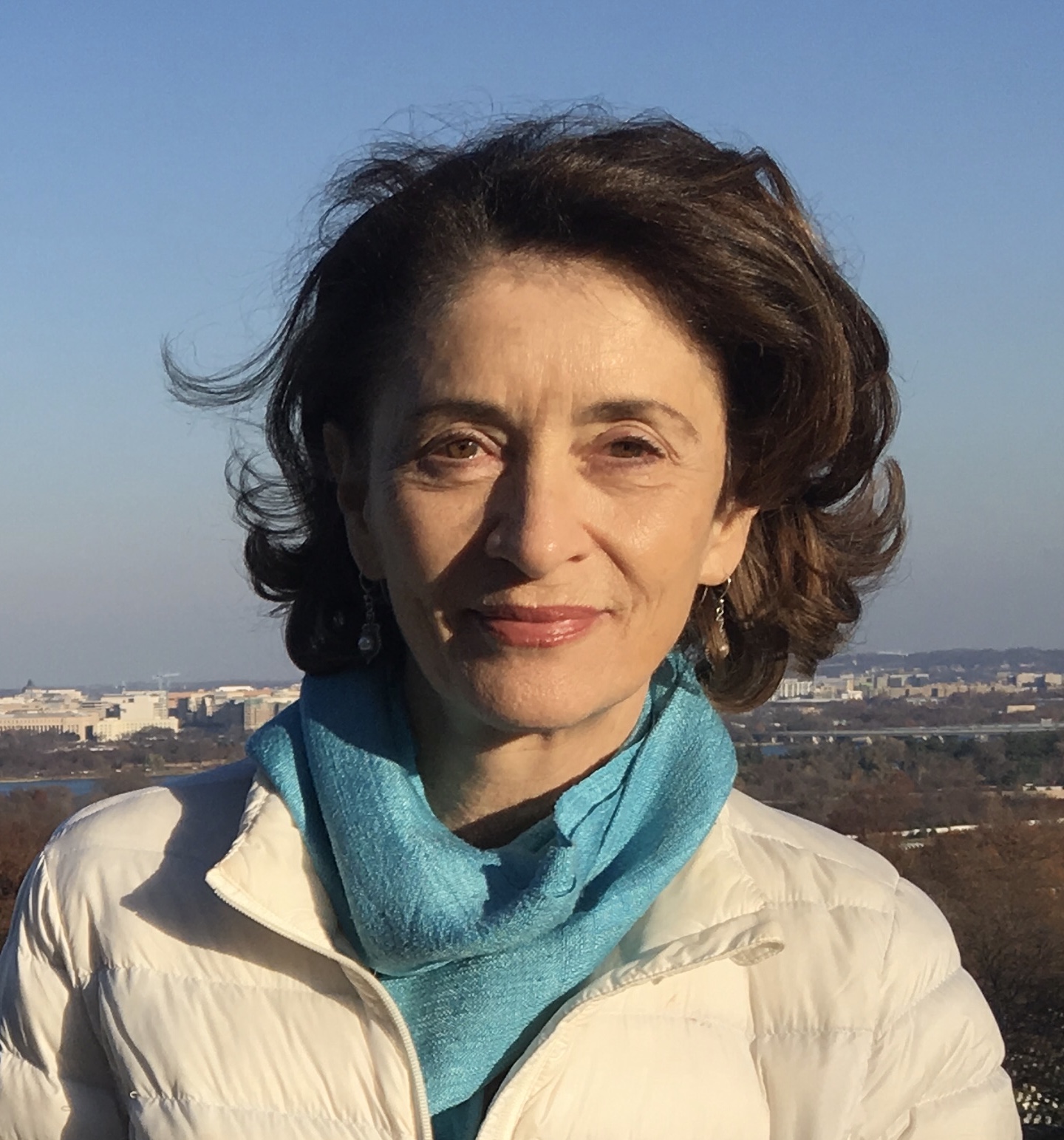 Melinda Ojermark is a global public health expert and has worked extensively in health communications.  As a career international development professional, she has lived in nine countries in Europe, Africa and Asia, bringing a unique perspective to her subject matter.  Melinda has not only been there, she's lived there.  She's based in Washington, DC.