---
Working on the road happens all the time
---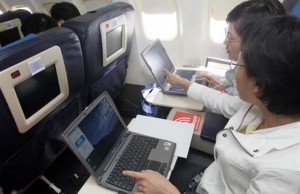 Travelers often find ourselves needing a quiet or energizing (depending on your preference) place to sit down and get some work done while on the go. You may travel for business, an unexpected urgent assignment may crop up while you're on vacation, or you may be a freelancer or location-independent employee who enjoys being able to travel while keeping on top of deadlines. Fortunately for those who love to travel, the Internet and mobile technology make it possible to stay connected to the office from just about everywhere.
When working on the road away from the home or office, particularly in a shared space, it's important to protect your computer and personal information. When on a public WiFi network (one that is not protected by a password), be wary of entering passwords, credit card numbers, your Social Security number, or any other identifying or sensitive information. One way to protect your computer from viruses and other infiltrations and send information securely is by using a virtual private network (VPN). When you join or renew to
Travelers United
Plus for an introductory rate of $29/year, a VPN client and other online security tools are included in your membership benefits package.
For those who may not be aware of all their remote working on the road options, here is a brief review of places that are suitable for taking care of business while away from home or the office:
Coffee shops:
Walk into most java joints these days and you're likely to find most patrons absorbed in laptop, tablet or phone screens. A solid WiFi connection is an essential component of any coffee shop that wants customers to linger while sipping a beverage and nibbling on a pastry — though some are faster than others. You can use Yelp or TripAdvisor, or simply Google "best coffee shops for work in [insert city name]" to get recommendations based on your preference — type of seating, atmosphere, and WiFi speed. Some coffee shops even have private office and meeting rooms that can be reserved or rented.
Coworking spaces:
If you need a more amenity-rich workspace with a private room or cubicle, reliably fast WiFi, and access to a telephone, fax machine, copier, office supplies, meeting & conference rooms, and the ability to send and receive postal mail, you can join (for a daily, weekly, monthly or annual rate) a coworking space. There are a few national and international coworking chains with locations in most major cities, including WeWork, Regus, Spaces, Impact Hub, Alley, Industrious and Serendipity Labs. There are also regional and local chains, and a number of single-location spaces you can find by Googling "coworking in [insert city name]." Here are a few:
District Cowork – New York and coming to Miami, Chicago, Toronto and Vancouver
GreenDesk – New York
MakeOffices – Chicago, Washington DC and Philadelphia
Cove – Boston and Washington DC
TechSpace – New York, Los Angeles, Orange County, San Francisco and Austin
Rental offices:
If you need your own office for a lengthier stay, you can rent one by the day, week or month through services like Metro Offices, LiquidSpace, ShareDesk and Breather. Many coworking spaces such as WeWork and Regus also offer private offices for rent.
Hotels & other lodging:
Travelers working on the raod often end up working on their bed or at the desk in a room at the place where they're staying. Many hotels, inns, B&Bs, etc., also have business centers with public computers, fax/copy/scan machines, office supplies and conference rooms, as well as public areas where you can sit and work. A good WiFi connection in both rooms and public places is standard in most overnight accommodations these days.
On board a train, boat, bus or plane:
Trains and boats are by far the most conducive vehicles to work aboard. One of my favorite places to work is in the cafe or lounge car of a train. These offer fairly comfortable lounge chairs and tables. You can take breaks from work to socialize with fellow passengers and let the passing scenery inspire your creativity. All Amtrak trains except long-distance trains equipped with bi-level Superliner cars, and most commuter/regional trains, have free WiFi (though connections can often be slow and spotty), and you can use a mobile hotspot or tethering (see below) where WiFi is unavailable. Ferries and cruise ships also have WiFi and places to sit at a table.
You can of course work on planes, but generally not during takeoff and landing, and you'll have to pay for WiFi on all US airlines except JetBlue. It's best to plan to work on something not requiring an active Internet connection while in the air. You can also work on an intercity motorcoach. This is much less comfortable, but most (including Greyhound, Megabus, Bolt Bus and other regional carriers) offer WiFi, and a few (such as Megabus) offer seating at a table.
Outdoors:
If the weather is good, any place with a good cellular data connection or a public WiFi network can become an office — in a park, on a beach or waterfront, on a bench in a forest, or on a hilltop overlooking a scenic vista. If there's no WiFi, you can use a mobile hotspot or tethering to connect your laptop or tablet to a cellular data network. Most cell service providers allow you to turn a smartphone into a hotspot for little or no additional charge, and all providers sell mobile hotspot devices with service on their networks. With 4G LTE, you'll get download speeds up to 10 mbps. You do have to take into account sun glare and wind, though.