Most Americans travel west to ski. Buck the trend: Fly east, hop The Pond, and ski Europe's Alps. No North American resort can compete with the mind-boggling expanses of terrain. Think high-alpine bowls and craggy peaks zippered with equally mind-boggling varieties of lifts.

But that's just the teaser.
Skiing Europe's Alps is not about simply racking up vertical — although that's easy to do, it's about exploring, skiing from village to village, valley to valley, passing rustic farm buildings and isolated churches. More so, it's about the overall experience, the mélange of languages and answering the irresistible invitation to linger over the local cheese-laden specialty at a rustic on-mountain chalet or sip native schnapps while basking in the sun at a trailside hut.
It may be March, but the season is still in full swing. There's still plenty of time to slip away. These three destinations head my list of European favorites.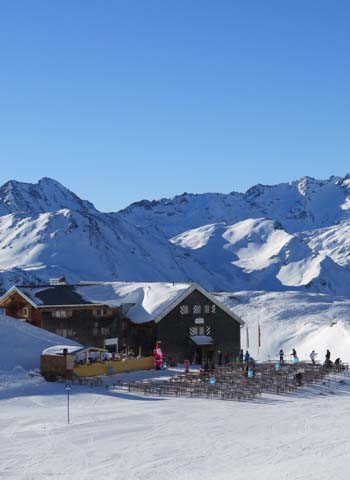 The Arlberg, Austria [www.lechzuers.com and www.stantonamarlberg.com/en]
The combined resorts of Lech Zurs, cradled in high alpine peaks, and St. Anton, down in the valley, both Best of the Alps members, long have been a favorite of eastern skiers, thanks to Hannes Schneider, who brought his Arlberg technique to New England and made skiing history. The region also earns fame as the home terrain of a Who's Who of Olympic skiers.
St. Anton is a belt-notcher for experts, with both on and off-piste options, but don't let that deter you, there's something for everyone at this behemoth. St. A is also the biggest and liveliest town, with the most après-ski and nightlife opportunities as well as the biggest range of accommodations. I stayed at the Hotel Schwarzer Adler, a four-star, proudly-Tyrolean, family owned hotel with roots dating back to the mid-16th century; extra points for the spa.
Far quieter Lech is a postcard village, with a river running through it, horse-drawn carriages, an upscale rep, and a handful of restaurants and shops. Consider slumbering amidst its Olympic champion heritage: the artsy, five-star Kristiania Lech, where Othmar Schneider's memorabilia is on view; the comfy four-star Hotel Kristberg, where you might share a schnapps with Egon Zimmerman; or Patrick Ortleib's Hotel Montana, right on the slopes in Oberlech.
Don't miss:
• The 22-kilometer White Ring loops through Lech, Oberlech, Zurs, and Zug. Add a side trip to Warth, lunch on the mountain, and breaks for coffee and schnapps, and it can be a full day excursion.
• Break for lunch on the sun-drenched deck of the Hospiz Alm, at the five-star Hospiz Hotel, in St. Christoph. Afterward, ask to the see the wine cellar, home to approximately 3,000 three- to 18- liter bottles of Bordeaux. Also here is Arlberg1800, a new arts center with an acoustically perfect concert hall and art gallery.
• The prosciutto and champagne bar at Strolz, the Saks of ski shops, in Lech, is a must for chi chi après ski.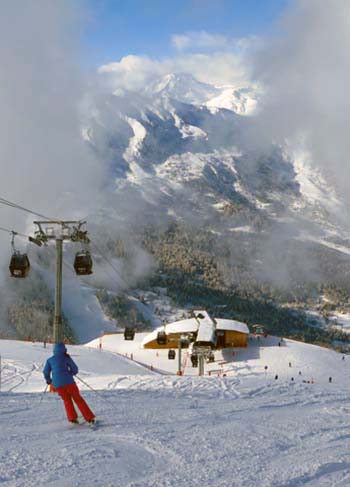 Les Trois Vallees, France [http://www.les3vallees.com/en/]
Ooh-la-la! Les Trois Vallees (The Three Valleys) lays claim to being the world's largest ski resort, and it's hard to argue with the stats. How does one even begin to explore this humongous area comprising six resorts—Courchevel, Les Meunires, Meribel, Val Thorens, St. Martin de Belleville, and La Tania. The numbers tell it the story; it sprawls over more than 3,700 acres laced with 372 miles of marked trails on a 7,000-foot vertical, all linked by roughly 180 lifts. Thanks to the elevation—it tops out over 10,500 feet—even when France was supposedly experiencing a snow drought early this season, I found primo deep snow, corduroy runs, and powder bowls, all enhanced by frequent snow squalls.
Each village has its own character. Priciest is chic Courcheval, with its designer stores and beaucoup five-star accommodations. Centrally located Meribel is more traditional in flavor. Although it doesn't offer much charm, purpose-built Val Thorens is Europe's highest resort village. I stayed here at the new Club Med Val Thorens, an all-inclusive (one-stop shopping for everything from air and transfers to rooms, equipment, lessons, guides, and meals) that has a climbing wall in its lobby, a spa, and nightly entertainment.
Note: While the villages are linked by lifts and trails, they're not by road. Be sure to allow enough time to return or prepare to shell out for a very expensive taxi.
Don't Miss:
• Splurge on lunch at Restaurant Jean Suplice, a two-star Michelin, four-Gault-Millau toque restaurant on the slopes in Val Thorens. Exquisite. Divine. Worth every Euro.
• Try your skill at biathlon, a combo of cross-country skiing and shooting, in Meribel.
• Take an afternoon break at Courcheval Aventure, with a variety sleds for sliding down a restricted slope and a snowmobile loop.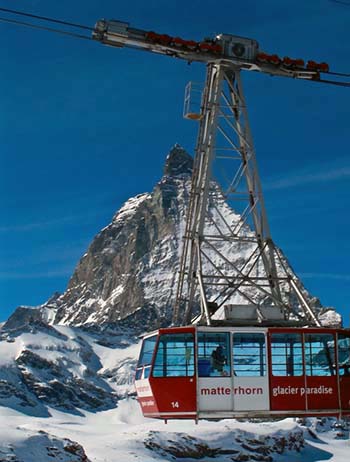 Zermatt, Switzerland [http://www.zermatt.ch/en]
Jaw-dropping, sigh-producing, staggering, stunning: All fit Zermatt, a car-free, self-sustaining, traditional village over-lorded by the Matterhorn. Neither cars nor combustible engines are allowed, so the air is pure and it's quiet, with the mosquito buzz of electric vehicles replacing the vroom of motors. The town anchors one end of Switzerland's famed Glacier Express scenic excursion train, which is a fine way to arrive.
And then there's the skiing. Zermatt's terrain comprises countless peaks etched with 54 lifts, including a mountain railway, and more than 153 miles of marked trails, not to mention innumerable acres of off-piste terrain and more than 50 on-mountain restaurants.
One of Zermatt's plusses is its elevation, which guarantees snow year round. Another is the opportunity for a two-nation vacation. From the 12, 740-foot Matterhorn Glacier Paradise summit, you can drop into Cervinia, Italy, a roughly 7-mile cruise. Before descending, wheeze up the steps to the observation deck to take in the head-swiveling panorama encompassing Switzerland, France, and Italy and 28 peaks higher than 13,000 feet. Finish cooking the legs on an 11-mile thigh-burner, Europe's longest ski run, from the summit down to Zermatt.
Don't Miss:
• Fondue at the Restaurant Gitz-Gadi followed by a 3-kilometer slide back to town on a sledge.
• The Matterhorn Museum, an underground treasure that brings to life the region's heritage and mountain-climbing legacy.
• Rise early and take the first Gornegrat Express mountain-railway train from the village center to the Gornegrat summit for first tracks atop the world.