Mine, mine, all mine, I thought greedily, as the lifts shut down and the last straggling day-trippers headed down the mountain. We were at Sunshine Mountain Resort on day three of our Canadian skiing safari. Over eight days, we notched five alpine and one Nordic areas on our must-ski belt, passed through four National Parks, visited two provinces, and crossed the Continental Divide.

It takes two hands to tick off the benies of skiing in Alberta and British Columbia: Big resorts, reliable snow, no altitude issues, two of North America's biggest verticals, funky towns, historical hotels, and eye-candy scenery. Another big motivator is the exchange rate, currently providing a 25-30 percent discount off the American dollar (so that $995 Sunshine Mountain Lodge ski week package including five days lifts, lodging, lessons and some activities is actually closer to $750).
Now add the ease of access: Fly into Calgary, and in fewer than two hours, you're in Banff, home to Ski Big 3: Norquay, Sunshine, and Lake Louise, all serviced by an efficient bus system. Continue west on the TransCanada Highway 1, and you'll cross the Continental Divide and arrive in British Columbia, where Kicking Horse and Revelstoke, two stops on Canada's Powder Highway, are easy pickings. We broke up the drive with lunch at Emerald Lake Lodge followed by a snowshoe around the lake heading west, and a stop at the Rogers Pass Visitors Center followed by lunch in Field on the return.
Now, about that skiing: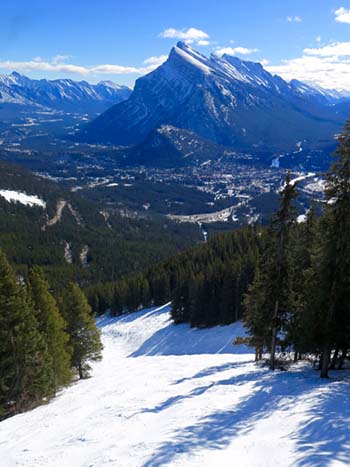 Norquay, Alberta
Ninety-year-old Norquay's 1,650-foot vertical has a split personality: One side is mostly meticulously groomed trails ranging from gentle snoozers to serious steeps; the other is au natural bumps, glades, and super steeps. Because it's Banff's intown area, Norquay makes a nice transition—if you arrive late morning, you can spend the afternoon here.
What to know: Norquay isn't resort-y, and the only lift up to the expert's summit is an ancient double, although a retrofit for this season increased its speed. Three quads access cruiser heaven.
Where to stay: Banff has countless accommodations, but if you can swing the Fairmont Banff Springs, do so. This grande dame, one of the original Canadian Pacific Railway hotels, is worth every penny. Even if you don't stay here, be sure to wander through, perhaps enjoy a drink in the lounge or a treatment in the spa.  Enjoy an afternoon tea if you have a chance at Fairmont Banff Springs the Chateau afternoon tea.
What else: If time permits, hike into Johnston Canyon, visit the historical hot springs for a soak, visit the Whyte Museum for a better understanding of the town's rich history, and mosey around in the downtown.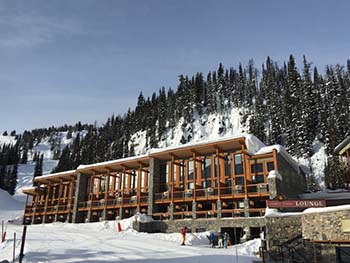 Sunshine, Alberta
Fifteen minutes from downtown Banff is the gondola base for Sunshine Village Resort, with a glorious 3,358 acres spread on three mountains with a summit-to-base 3,514-foot vert. Although it doesn't look like much from the gondola's base station, the resort expands as you ascend. The gondy stops at Goat's Eye, before rising to the compact base village with true surround-sound, above-treeline skiing ranging from groomed highways to extreme chutes. If it's snowing and a white-out, stay down in the trees; if it's bluebird, the sky's the limit.
What to know: The only access to the village is via the gondola, but eight on-mountain high-speed quads, including the heated Tee Pee Town bubble chair, make exploring easy. Although it's officially in Alberta, look for the signs welcoming you to British Columbia and then back to Alberta.
Where to stay: Sunshine Mountain Lodge is the ski-in/out lodging in Banff National Park. Stay here and score first and last tracks and enjoy the silence and beauty of this special place.
What else: Sunshine Village's 7,200-foot elevation means a loonnnggg season, one that usually begins in early November and lasts until late May.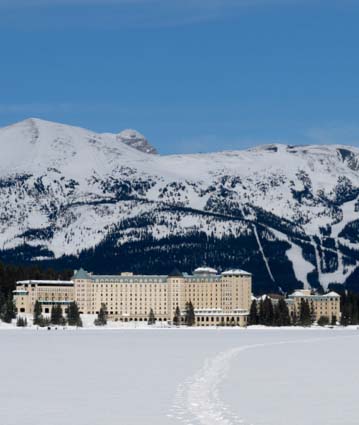 Lake Louise, Alberta
One look at Lake Louise, and feel the love. With 4,200 acres and a 3,250-foot vert, Louise has terrain for everyone—above treeline bowls? Check. Long fall-line groomers? Yup. Thighs-in-chest mogul runs? Yessirree. Glades? Uh huh. Gentle runs for the not-so-confident? Of course. And the views? Heavenly!
What to know: The glory of Lake Louise is that you can stay high on the mountain and not come down until day's end. Ride the gondola, and then head off from there.
Where to stay: Banff has the greatest selection of accommodations, but the scene-stealer is the Chateau Lake Louise, another iconic railway beauty. Sited on Lake Louise's shoreline, the hotel has a choice of dining venues, lounges, shops, and activities.
What else: When hunger strikes, try the new and excellent sushi restaurant, Kuma Yuma in the Ten Peaks lodge at the base, or join the sun-bathers dining on the terrace of the on-mountain Whitehorn Lodge Bistro. When legs cry for mercy, call it quits and head to the Chateau for afternoon tea in the lounge overlooking the lake.
Emerald Lake and Field, B.C.
Less than a half hour west of Lake Louise is Field, a two-blink mining town with a rustic charm and an inviting setting within Yoho National Park. Emerald Lake is a worthy detour. Park at the day lot and enjoy the views or explore via foot, snowshoes, or skis.
What to know: Rental cross-country and snowshoeing gear is available at Emerald Sports, a small shop by the parking lot. A snowshoe trail rims the lake and cross-country trails web the area. There are no trail fees, but consider making a donation to the club that maintains it.
Where to stay: There are plenty of guesthouse-style accommodations in Field, but for a wilderness setting, you can't beat the shorefront Emerald Lake Lodge.
What else: The Emerald Lake Lodge has a lounge and restaurant open to the public.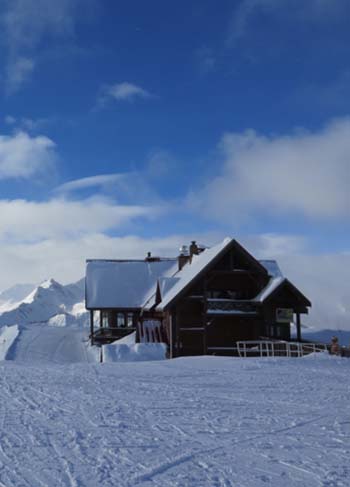 Kicking Horse, B.C.
Locals boast that Kicking Horse is Canada's only true Alpine skiing, and they coo about its champagne powder. Most of the resort's 2,824 acres are above treeline, with four bowls, 85 inbound chutes, and light glades, along with some long, sweet groomers on its 4,133-foot vertical—Canada's second highest. The views are reminiscent of being in Europe.
What to know: The lift network and infrastructure are minimal. The 12-minute base-to-near-summit Golden Eagle Express gondola is the resort's workhorse; at its 7,700-foot gondola summit is the aptly named Eagle's Eye Restaurant. From there, ski down to the Stairway to Heaven quad, which climbs to the resort's true 8,033 summit. There also are two chairs on the lower mountain.
Where to stay: Kicking Horse's base village has two ski-in/out condo hotels (Glacier/Mountaineer is most convenient) and three boutique hotels within walking distance of the lifts. Splurge on one of two Eagle's Eye Suites at the gondola summit for first tracks, 24-hour butler service, dinner and breakfast.
What else: Kicking Horse is home to North America's only grizzly bear refuge, an on-mountain enclosure sited beneath the gondola—watch to see if Boo is stretching his legs. Golden offers more lodging and restaurants.
Revelstoke, B.C.
Home to North America's biggest vertical, 5,620-feet, Revelstoke can crush inflated egos with its 3,121 acres comprising sustained fall lines, bowls, glades, cliffs, pillow drops, and heart-stopping steeps. Thanks to a 7,300-foot summit lift elevation (there's another 377 feet for those who want to hike), the snow is reliable and light. This is one mountain where it really pays off to hire a guide if you want to venture off piste. The 9.5-mile Last Spike trail zigzags down the frontside, so if you get in over your head, there's a bailout.
What to know: Revie's infrastructure is basic: a small base village with limited dining and lodging; an on-mountain day lodge; and three primary lifts—one two-stage gondola and two quad chairs, one to the summit, the other serving the north side.
Where to stay: The ski-in/out Sutton Place Hotel has condo-style accommodations, a large outdoor hot tub, indoor heated parking, complementary daily après-ski wine-and-cheese daily, and ski valets.
What else: Ten minutes down the road is Revelstoke, a railway town that has a good selection of restaurants, lounges, shops, and more accommodations. There is a shuttle bus between town and resort.
I have three passions in life: Maine, traveling and skiing. Okay, four: chocolate. Maybe five, spa-ing (is there such a word?). I guess writing would be my sixth passion. And cheese, oh yeah, artisan-crafted and farmstead cheeses. Did I mention lobster? What can I say, I'm a passionate kinda gal. You can find more of my tips for traveling through Maine at: Maine Travel Maven. My three Moon Maine guidebooks are — Maine, Coastal Maine, and Acadia National Park. They are available at bookstores and online.