Losing FF miles is easy to avoid.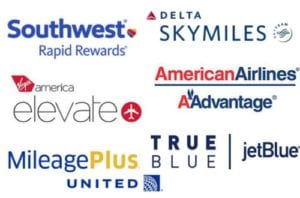 As we approach the end of 2017, many travelers' thoughts turn to frequent flier (FF) mileage runs — the idea of making a trip they might otherwise not have made to keep up status with an airline. However, while checking to see how many miles (and/or dollars)  travelers might need for status, another important thing to do is check to make sure existing miles aren't evaporating. No one wants to be losing FF miles.
Airlines vary on their policies about letting miles expire.The stricter ones require activity every 12-18 months. (As of now, Delta is the only major U.S. airline where frequent flier miles don't expire.) Of course, there are reasons why even regular travelers might miss out on flying with one airline or another. Other times, travelers may just not be traveling much in a year. Any of these scenarios can mean travelers may be losing FF miles if they don't take action.
Plus, it's easy to forget time to fly rules for different frequent flier programs. I lost enough miles for a domestic free ticket on American several years ago, when I was sure it hadn't been THAT long. It had been 18 months. And, the cost to reinstate miles is generally at least a penny per mile.
Some airlines give travelers a warning on expiring miles. But that warning often comes via email; if members haven't updated an email it might not get to the traveler's inbox. Or, it might go to spam. Or, it may get lost in a sea of ads.

The easiest thing to do is check any account members might have where they know they haven't flown — or seen a statement — in the past year.  It's also possible that a number might have been entered incorrectly. If there is an expiration date it will be listed online. Or, if a traveler can't get online, if they've forgotten their password or even their mileage number, call the airline. Or, call the travel agent, if the traveler has one, who might have this information on file. There is no good reason to be losing FF miles.
The good news: Frequent flier members don't actually have to fly to keep miles active. I just recently helped out a relative with expiring miles by requesting retroactive credit from a rental car company. Passengers can also get miles for various shopping activities. In the past, I have kept an account active by buying a package of instant coffee from Starbucks. But companies from Macy's to Petco to "Rent The Runway" (a site where women rent dresses for fancy events) might offer miles. United even includes "Seatgeek.com."
Booking a mileage award also counts as activity, so a member might get inspired for a last-minute trip. In the worst case, if the flier wants something really simple, he/she can actually BUY miles starting at about $50 — that counts as activity. It might seem silly to spend $100 or so for 2,000 miles, but it's probably a lot cheaper than losing a future vacation by losing FF miles.

Janice Hough is a California-based travel agent a travel blogger and a part-time comedy writer. A frequent flier herself, she's been doing battle with airlines, hotels, and other travel companies for over three decades. Besides writing for Travelers United, Janice has a humor blog at Leftcoastsportsbabe.com (Warning, the political and sports humor therein does not represent the views of anyone but herself.)