---
Alternative airports can make a world of difference when faced with delays.
---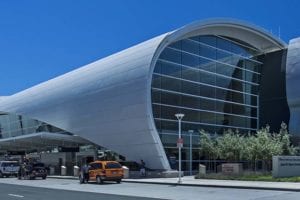 Those of us who live near San Francisco don't get much sympathy from the rest of the United States when it comes to weather. But this year — one of the rainiest on record— has been especially frustrating for travelers and travel agents alike. Alternative airports are amazingly important in our area and other places across the country.
Because San Francisco International Airport has parallel runways, it doesn't take that much rain, clouds and/or wind to stop two planes landing at the same time.  And delays, bad enough in a moderate storm, can quickly turn into travel nightmares in a big one.
Last weekend I had a client flying in and out of San Francisco on United Airlines — in theory. However, delays were averaging over two hours, and in his case, on the outbound flight, the delay was more than four hours.  Plus, the delays were getting worse by the minute. His actual final destination was in Palo Alto, between San Francisco and San Jose. Though San Jose Airport, 33 miles south, has fewer flights, the smaller airport was running on time.
San Jose was a perfect alternative airport.
United's automated booking programs don't look at alternative airports. And United's reservations agents, scattered around the country, may not be familiar with local geography and airport issues. However, when I called our travel agency help desk,  it didn't take too long to convince them to switch his flight from San Francisco to San Jose.
Despite the pouring rain, we ended up switching both flights from San Francisco to San Jose, saving my client what would have ended up being more than eight hours of delays.
This sort of alternative airport fix doesn't just work in the case of weather delays. If a flight is canceled, has a mechanical or other delay, and an alternative airport is available, my experience is that airlines will make the switch if asked, especially when there's no other real alternative except switching airlines or experiencing a delay which could be hours or even overnight.
In some cases, a flight may be canceled or delayed, and alternative flights to the original destination are sold out. An alternative airport, perhaps less popular, might be available.  In my experience, the larger airports tend to  have less expensive fares and thus fuller planes. In some cases, asking for an alternative airport could get passengers closer to their final destination.
Here are some examples: Milwaukee and Chicago are about an hour apart, ditto Boston and Providence; Phoenix-Tucson and Austin-San Antonio aren't much further apart; and in the Los Angeles and New York areas there are several airports within driving distance (I've even used Philadelphia as a backup for New York and Washington DC).  Alternative airports come in many shapes and sizes, only limited by geography and imagination.
Again, automated rebooking programs are no help when searching for alternative airports.  Airport personnel can help, if the lines aren't too long and travel agents, including online travel agents, often have special numbers to reach airlines more quickly, though passengers can always try to call the airline themselves. One way or another, this is the sort of thing where a human probably needs to be involved. And when an airline does switch the destination, they seldom provide ground transportation to the original airport, though it can happen.
In the case above, 33 miles and a less-crowded airport made a total of almost eight hours of delay difference. If the weather is really bad, a nearby or even semi-nearby airport won't help. But when the alternative is being stranded,  it never hurts to try.