A number of years ago, my wife and I waited for what seemed to be a lifetime for our bags to appear on the carousel at the Barcelona–El Prat Airport baggage claim area. Our bags never showed up. We immediately put in a claim, got our claim number, a copy of the form, and a local telephone number to contact the airline. We were going on a two-week cruise, four days later.
We were lucky. The night before our cruise began, we got our luggage. Others on our flight, going on the same cruise, didn't get their luggage until Athens, halfway through the cruise.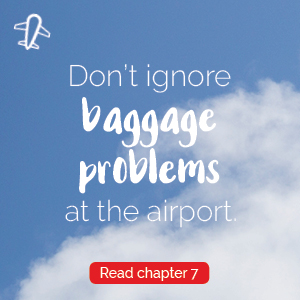 During 2015, the rate of mishandled bags by the largest U.S. airlines was 3.24 bags per thousand passengers (0.324 percent), but as almost 900 million passengers flew in 2015, that represents millions of bags.
I have a dozen tips to help you prevent or at least mitigate the problem of lost or delayed luggage.
Book direct, non-stop flights, if possible:
According to SITA, more than half of the delayed and lost luggage occurs due to luggage transfer problems. By booking direct, non-stop flights you reduce the number of transfers your bags will need, increasing the chance they will arrive safely with you.
Check your bags early:
Air travelers who arrive at the airport with minutes to spare or get stuck in the check-in line may find that their luggage misses their flight. My rule of thumb is to arrive at the airport at least an hour ahead of my departure.
If you're using connecting flights, schedule a long enough layover:
When booking connecting flights, choose long enough layovers to ensure both you and your luggage make it on to your next flight. I try to never schedule layovers of less than an hour.
Remove old airline and security tags:
Old airline tags can easily point your bags to the wrong destination. Prior to leaving for the airport, make sure no old tags or stickers are on your bags.
Remove long straps or anything dangling from your luggage:
Anything dangling from your luggage can get your bag stuck or knocked off airport baggage handling systems, which will likely, at best, delay your bag.
Check luggage tags placed on your luggage for accuracy:
A bad luggage tag can send your bags to the wrong airport. More than once I've had a ticket agent put the wrong tag on my bag. It happens when agents are rushed and pick someone else's tag from the printer. Check your tag's accuracy before your bag is placed on the conveyor belt.
Identify your ownership of your luggage inside and out:
Most travelers have an ID tag on the outside of their bag. I use two ID tags on my luggage, as they are broken off periodically. To be safe, I also keep my business card prominently displayed inside my bag, along with my itinerary with all hotels and their phone numbers listed on it. If your outside ID tag breaks off, and your airline luggage tag is torn off, it's unlikely you'll ever see your bag again, unless you've also placed identification inside it.
Make your luggage stand out:
Make it difficult for someone to steal your luggage at baggage claim by making your bags impossible to miss seeing. I use bright neon color luggage belts on my bags.
Use an electronic luggage tracker:
While my testing has revealed electronic luggage trackers are not yet reliable enough to be ready for "prime time," you could try one of these products to keep track of your luggage.
Photograph your bag and contents:
While it won't prevent your checked luggage from being lost or delayed, photographing your bag can help you recover it and ensure you are properly compensated within the limits of airline and insurance liability. The more details about your missing luggage you can provide the airline the better, to help them find it quickly.
I keep photographs of my checked luggage, its contents, and a complete packing list in my smartphone to transmit to the airline, if needed.
Pack all valuables, breakables, medications and items you positively must have in your carry-on:
Airlines accept no responsibility for valuables and breakables packed in your luggage on domestic flights, so put them in your carry-on. On international flights, baggage liability is less that that of domestic baggage (about $1,700 vs. $3,500), but all packed items, fragile or not, are covered.
Even if your checked luggage is only delayed, never pack anything in them you've got to have while traveling, such as medications, to minimize problems due to luggage issues. I pack a complete change of clothes in my carry-on, too.
Obtain travel insurance coverage for your luggage and contents:
The airlines liability for your luggage and its contents on U.S. domestic flights is limited to their actual value, to a maximum of $3,500 and much less for international flights. If your luggage is significantly delayed or lost and you need to replace it, travel insurance is your best bet.
Using one or all of the above prevention methods will not guarantee you'll never have lost or delayed luggage, but using them will improve the odds yours will arrive safely with you at your destination. If your bags are lost or delayed, following my other suggestions can minimize your loss.
After many years working in corporate America as a chemical engineer, executive and eventually CFO of a multinational manufacturer, Ned founded a tech consulting company and later restarted NSL Photography, his photography business. As a well known corporate, travel and wildlife photographer, Ned travels the world writing about travel and photography, as well as running photography workshops, seminars and photowalks. Visit Ned's Photography Blog and Galleries.