---
A dozen cruise embarkation secrets to start a cruise successfully
---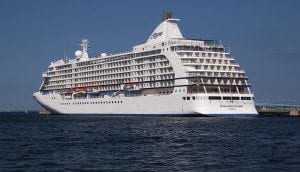 It's winter in the northern hemisphere. The new year starts tomorrow. Snow and cold is in the air. Many are thinking escape, warm temperatures, light breezes and Caribbean cruises.
A bad start on a cruise can ruin it. To start a cruise well takes preparation before reaching your cruise and understanding how to make cruise embarkation easy.
I've got a dozen cruise embarkation secrets to help you get through your embarkation.
Check in online:
Check into your cruise online at least a few days before you leave. Fill out all the forms so you don't waste time at the cruise terminal. Some cruise lines, at some terminals, will only require your passport or another acceptable ID to board if your online forms are complete and you upload a photo of yourself.
U.S. citizen? Don't fall into the no passport trap:
Some cruises, which start and end in the U.S. don't legally require a passport for U.S. citizens — unless something goes wrong. That's the problem with leaving your passport at home when cruising. If the ship has a mechanical failure and ends the cruise at a foreign port, you'll need your passport to fly home. If you or a companion become sick or have an emergency and need to return to the U.S., you'll need your passport to fly. All international flights require all passengers have a valid passport in order to board their plane.
Fly to your port of embarkation early:
Flying to your port of embarkation? Particularly in winter, severe weather delays and flight cancellations can occur. While it costs more to fly early and stay overnight at your embarkation port, not having to worry if your flight will be on time more than compensates for the expense, in my opinion. Planning to arrive early can literally save your cruise. I leave at least one day prior to a cruise from a domestic port and two days for an international port of embarkation. The extra time permits me to explore the port city.
Don't forget a carry-on:
It takes time before your luggage will get to your cabin after you drop it off at the cruise terminal. Since you want to keep your valuables, breakables, medications and essential items with you, just like you do when you fly, put them in your carry-on. Don't forget to pack a change of clothes, swimwear, and perhaps a jacket and hat in it. They'll tide you over after boarding, prior to getting your big bag.
Don't bring prohibited or illegal items on to your ship:
Many ships don't permit passengers to bring alcoholic beverages on board for cruise consumption. Some allow a couple bottles of wine or a few cans of beer. It's not worth the trouble you'll encounter if caught bringing prohibited or illegal items on to your ship.
Tag your bags:
When you arrive at your port of embarkation, don't forget to put on the luggage tags from your cruise line so your bags will arrive in your cabin without delay from your terminal drop-off. With the ship underway you don't want to have to sweat about where your luggage is.
Arrive early or late:
Many cruisers arrive exactly when check-in begins, when lines can be long. If you wait a while, after most people are already on board, you'll breeze through embarkation. I'd rather not deal with the longer lines and have more time on board to eat, unpack, explore and maybe have a swim.
Buy priority boarding:
If you want to board early, but avoid the long lines, and don't have cruise line status, some cruise lines allow you to purchase priority or VIP boarding. If you really hate the lines, go for it.
Go to your cabin as soon as possible:
After boarding it's a good idea to check that your cabin is configured properly and what you reserved. Put your valuables in your cabin's safe immediately, including your wallet and credit cards. They aren't needed aboard the ship.
Turn off your cellphone's data:
While on board a cruise ship at sea, your home cellphone plan won't be sufficient and might not be economical at your ports either. Consider getting an international cellphone plan from your provider before you leave home. You might want to purchase an Internet plan from your cruise line too. That way you can use their WiFi on your cellphone to stay in touch with the outside world. Otherwise, turn off your cellphone's data.
Explore the ship:
Once you've left your valuables in the safe, it's a great time to explore the ship to find out where everything is and think about where to go and what to do while at sea. You might want to eat while exploring.
Be prepared for the Muster Drill:
The Muster Drill is a safety drill that occurs prior to sailing. Participation in the drill is mandatory. Don't think about avoiding it. If you decide to swim prior to the drill, make sure you know when it will be held so you can be dressed in dry clothing for it.
Follow these tips to get an easy, painless start to your cruise. It will help you enjoy yourself on the cruise to the max.
I wish all my readers a happy and healthy new year.
After many years working in corporate America as a chemical engineer, executive and eventually CFO of a multinational manufacturer, Ned founded a tech consulting company and later restarted NSL Photography, his photography business. Before entering the corporate world, Ned worked as a Public Health Engineer for the Philadelphia Department of Public Health. As a well known corporate, travel and wildlife photographer, Ned travels the world writing about travel and photography, as well as running photography workshops, seminars and photowalks. Visit Ned's Photography Blog and Galleries.