This Rooms to Explore feature focuses upon places to stay throughout the country and the world that become part of a visit to a destination. This segment features Kura Hulanda in Curacao. These are hotels, inns and other accommodations that help to bring the local history, culture and lifestyle alive in a very meaningful way — where the sightseeing and travel experience begin in the lodging itself. When I'm lucky enough to come across such places, I take pleasure in sharing my fortunate encounter, and my observations, with others.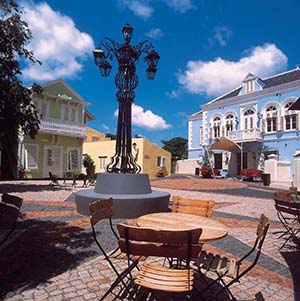 Most travelers to Curacao are attracted by its white sand beaches, fascinating history and rich cultural tapestry, and with good reason. During my recent visit, I discovered a unique place to stay which provides a dramatic introduction to not just the island but also to major chapters in the story of mankind.
The Sonesta Kura Hulanda Village & Spa is an inviting and intriguing virtual neighborhood nestled in the capital city of Willemstad.  The boutique resort is scattered throughout 16 meticulously restored 18th and 19th century Dutch Colonial houses which are set among lovely courtyards interspersed with pools, restaurants, a spa and fitness center, and more.
The setting alone acquaints guests with Curacao's colorful Dutch colonial past, but that's just the beginning.  Sharing the lovely grounds is a fascinating museum that is compact in size but world-class in terms of its collections and the stories they relate.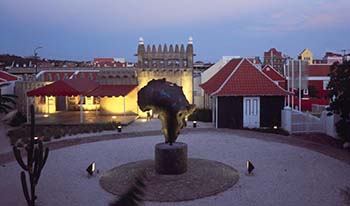 The Kura Hulanda Museum – the name means "Dutch courtyard" in the Papiamentu native language of the island — focuses upon the predominant cultures of Curacao, and their African roots. It contains the largest African collection in the Caribbean.
It's fitting, yet ironic, that the museum occupies the site of a former slave merchant's home and courtyard where men, women and children once were sold to the highest bidder. Replicas of twin pillars remind visitors of times past when slaves were punished by being tied to them and whipped.
Exhibits in the museum include areas devoted to the Origin of Man, Mesopotamian relics, West African Empires, Pre-Columbian gold, the African slave trade and Antillean art.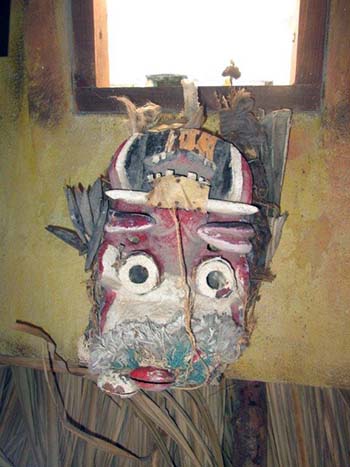 Among items in the Origin of Man display are fossils and skulls from archaeological finds in Africa.  The Lands of Abraham area includes more than 400 artifacts, some from 5,000 years ago. Original relics dating as far back as 3,000 BC represent several empires that once held sway in present-day West Africa.
A variety of items, including historical documents, help to relate the story of African-Americans in North America. They follow the path from slavery and conflict to the eventual assimilation of their descendants. Among objects in the collection are animal traps that were used to recapture escaped slaves, a cage in which people were locked and made to sit in the hot sun and branding irons which seared the initials of their owners into the flesh of slaves.
One of the most moving displays is a replica of the hold of a slave ship. It demonstrates how people were crowded onto wooden platforms where they could hardly sit, much less stand, to be transported from their homeland to their new lives as slaves in a distance and different place.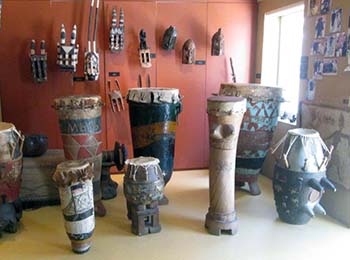 The sharp contrast between that fate and the civilizations which once thrived throughout Africa is one of the most dramatic chapters which is related at the museum. It provides reminders that the continent was the birthplace of humanity and civilization, and that while Europe was shackled in its Dark Ages, much of Africa was experiencing a renaissance following the decline of early Nile Valley civilizations.
The close connection with cultures and history at the museum extends to the 82 guest rooms that are scattered about the Village. To avoid the cookie-cutter feel of a typical hotel, each room and suite is unique in size and shape. Furnishings include hand-carved mahogany and teak antiques set against a backdrop of original art and decorative hand-painted walls that were created by local artisans.
For more information, log onto kurahulanda.com.
Photos by Victor Block.

After gallivanting throughout the United States and to more than 75 other countries around the world, and writing about what he sees, does and learns, Victor Block retains the travel bug. He firmly believes that travel is the best possible education, and claims he still has a lot to learn.  He loves to explore new destinations and cultures, and his stories about them have won a number of writing awards.