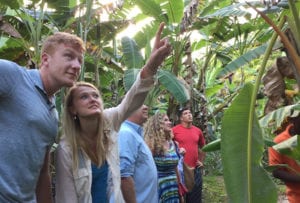 At Zimbali Retreats, the tall, lean man who goes by the name of Fire scrambled around among the foliage surrounding the very — very! — modest wooden lean-to which serves as his home. After collecting several herbs and spices, he seasoned the simple, nourishing meal that he was preparing. I would never have thought that soy, plantain, carrots, and callaloo flavored with coconut milk could be so tasty.
This Rooms to Explore feature focuses upon places to stay throughout the country and the world that become part of a visit to a destination. These are hotels, inns and other accommodations that help to bring the local history, culture and lifestyle alive in a very meaningful way — where the sightseeing and travel experience begin in the lodging itself. When I'm lucky enough to come across such places, I take pleasure in sharing my fortunate encounter, and my observations, with others.
As my wife Fyllis and I enjoyed our lunch, Fire recounted his life story and described how he has lived off the land on a mountainside in Jamaica for 33 years. He grows what he needs to survive, espouses a close connection with Mother Nature and follows the Rastafarian philosophy of kindness and simplicity.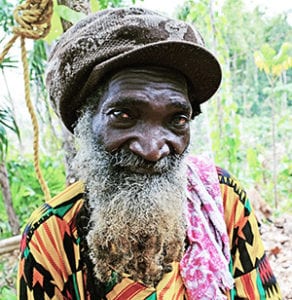 I was somewhat taken by surprise when Fire's smartphone rang and he answered, acknowledging with a rather sheepish smile, "There goes my reputation."
This once-in-a-lifetime experience was but one among many that Fyllis and I enjoyed, and will long remember and treasure, after our visit to a unique mini-resort perched on Jamaica's Canaan Mountain. While only a 30-minute drive from the bustling town of Negril, Zimbali Retreats immerses its guests in a hidden corner of the "real" Jamaica and introduces them to places and people with which few visitors come into contact.
Fire is just one example of who, and what, await visitors to this isolated oasis which, while off the beaten track, is easily accessible to those who seek it out. It offers an intriguing variety of things to see and do for both the day visitor and those who choose to spend a night or more in order to experience hidden treasures of Jamaica that many people miss.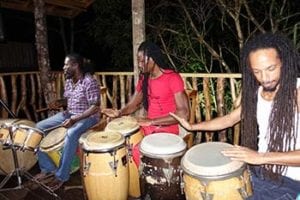 Zimbali Retreats is as much a concept created by its owners as a place of lodging. Alicia Swainbank is a Rastafarian by birth who grew up in the hills where the property is located. Living on the family farm she learned everyday practices — like making juices from just-picked fruit and oil from coconuts — which focus upon using the natural bounty of the setting that's available to those who know how to take advantage of it.
As the son of a Navy pilot, her husband Mark grew up a child of the world. Formative years spent in Africa instilled in him a longing for a lifestyle that is in close harmony with nature. Together they have created an environment which combines their interests and expertise with opportunities for guests to return home nurturing a complete understanding of Jamaica than would otherwise be possible.
The six accommodations available to overnight guests are very much at home in the surrounding forest. They're perched among the trees and offer comfort along with casualness.
The resort dining room has been rated the best restaurant in Jamaica on TripAdvisor for five years. The farm, which includes more than 1200 fruit trees, provides a steady supply of fresh produce. Multi-course farm-to-table lunch and dinner culinary demonstrations in the cooking studio, some accompanied by the sounds of African drumming, are true foodie experiences.
As if these imaginative opportunities for involvement with the local culture weren't enough, they don't represent the entire list. Guests may arrange for a consultation or tour with Bongo Roache, a Rasta elder and certified herbalist who has dedicated his life to healing with plants and herbs. An introduction to another aspect of local life is available from Lesha, who crochets colorful Rasta clothing that's favored by the likes of Keith Richards. Ishanti, the Artist in Residence, offers lessons in wood carving and leather work.
Another very meaningful and memorable involvement with local life comes from checking out the EACH project, the acronym for "Empress Alicia's Children's Help." This ongoing program provides a variety of assistance to both children and adults in the community. Typical activities range from upgrading bathrooms at a local school and providing equipment for collecting rainwater to distributing money to purchase school books and supplies, lunches and computers.
Travelers who spend time at Zimbali Retreats return home with an enhanced awareness of the many facets of the life and culture that come together in Jamaica, and which elude many visitors. That understanding is combined with an appreciation of the countless attributes which make the island country much more special than the outstanding, but not unusual, sun, sand and surf attractions that are the goal of many vacationers.
For more information, call (855) 946-2254 or log onto zimbaliretreats.com.

After gallivanting throughout the United States and to more than 75 other countries around the world, and writing about what he sees, does and learns, Victor Block retains the travel bug. He firmly believes that travel is the best possible education, and claims he still has a lot to learn.  He loves to explore new destinations and cultures, and his stories about them have won a number of writing awards.